One of the best ways to lower the amount of weight you are carrying in winter is to get an ultralight backpack. Years ago when I set out to find a light winter backpack, I settled on the Granite Gear Leopard A.C. 58. Up until now, it was my gold standard. It was built with Granite Gear's award-winning "AC" (AirCurrent) suspension, made with durable 100- and 210-denier high-tenacity Cordura nylon, and has a 58 liter/40-lb. capacity. At around 3 pounds (lid removed) it allowed me to keep my total winter pack weight at around 28 pounds, or 32 pounds with snowshoes attached (both base weight + consumables). It worked so well that when my pack began to show signs of wear, I resisted the newer Granite Gear packs and instead picked up a second-hand Leopard that I kept around as a backup.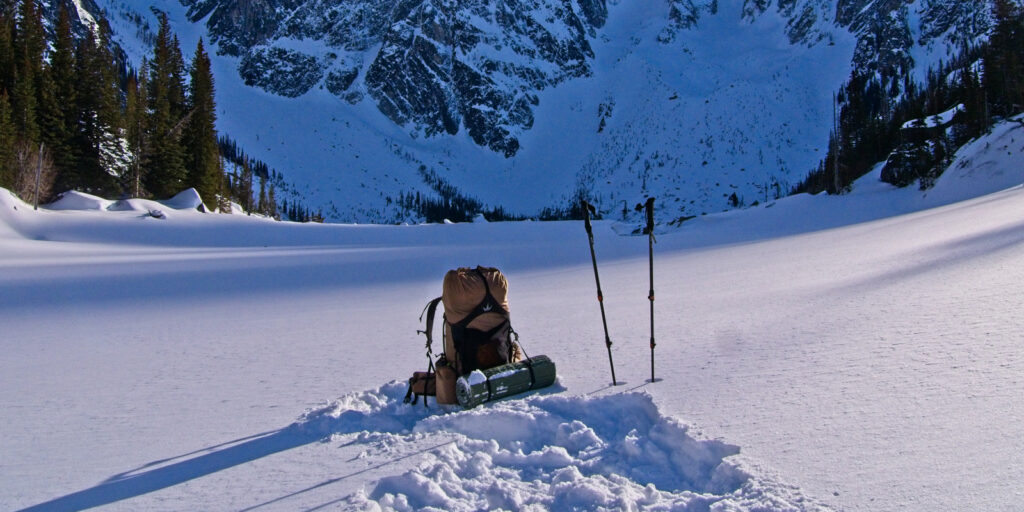 Other hikers I know started using the newer and lighter Granite Gear Blaze and Crown2. One hiker friend switched to a Hyperlite backpack, but found it too uncomfortable for winter loads and switched to a Granite Gear Blaze.
I remained skeptical that these lighter ultra-light packs could be as comfortable or as durable, but after hearing other hikers express their satisfaction with the Blaze and Crown2 I gradually began to reconsider. The idea that I could shave off half a pound of pack weight was attractive.
The Leopard A.C. 58 proved to me that winter travel was possible with a pack weighing around 3 pounds. But is it possible to go lower? Low-pack weight is helpful because winter gear is heavier. When you need to add avalanche gear (shovel and probe), a warmer sleeping bag, a dedicated base layer, a puffy jacket, down pants, goggles, balaclava, mittens, etc. to your pack weight, it is difficult to justify any unnecessary weight. Winter gear requires that every item be negotiated for weight and durability, which is why I continue to consider lighter gear, including lighter packs. Obviously, packs that weigh 5, 6, or even 7 pounds don't make sense.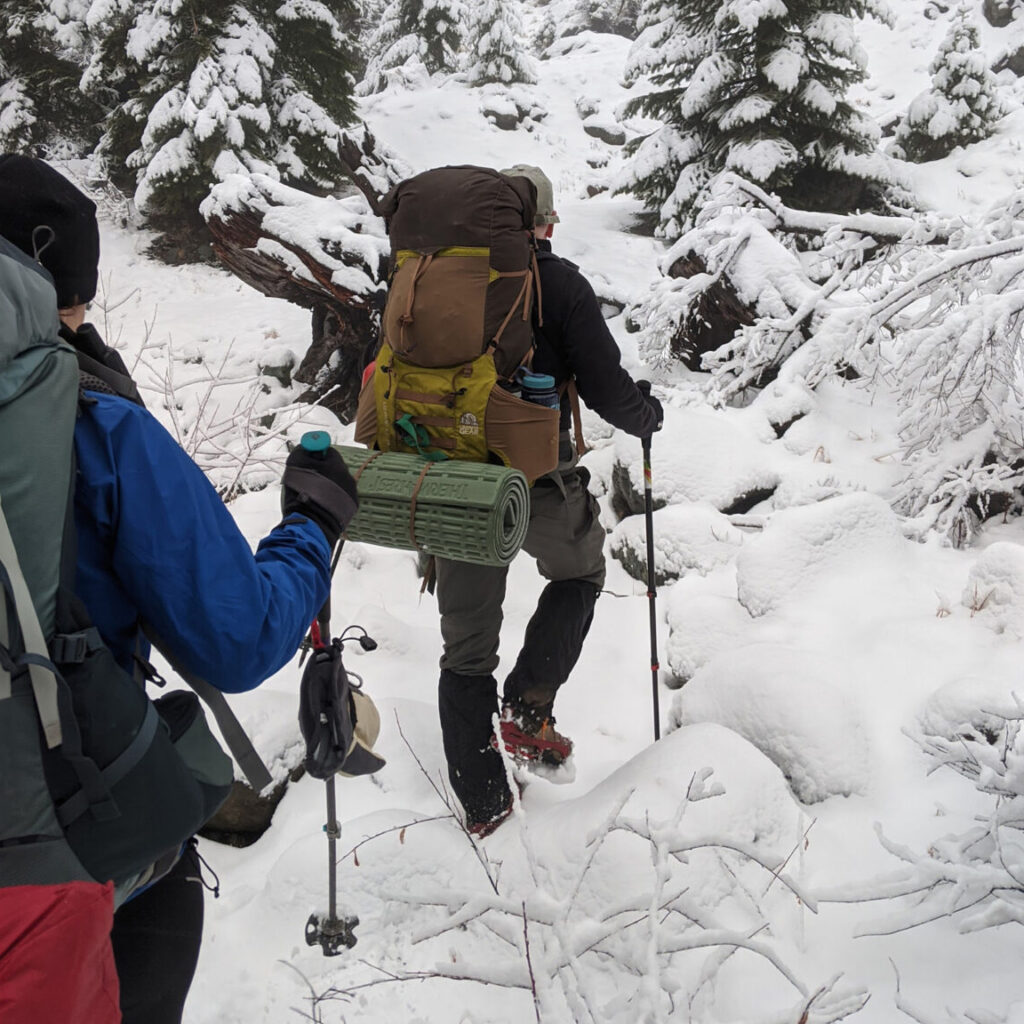 Essential winter backpack requirements
For a backpack to work well for winter travel, in addition to comfort and durability, it needs four other specific features:
55–65 Liters of carrying capacity. The Crown3 is a 60-liter pack which is enough to carry all necessary winter gear (including a shovel, 4-season tent, etc.) in PNW conditions and 3 days of food, without a pack lid.
External carrying capacity: It needs to be able to carry all liquids on the exterior of the pack, along with a closed-cell pad, snowshoes, ice ax, and crampons. The reason all liquids go on the exterior is to prevent links from spoiling essential gear such as sleeping bag, camp clothes, and insulated jacket. Pack bladders don't work well in winter. The mouthpiece and bladder can freeze leaving you with a useless sack of ice. Worse, bladders are notorious for leaking. If your essential down insulation and clothing get wet you will be at risk of hypothermia. So all liquids go on the outside of the pack.
Ways to secure external gear: There needs to be a way to secure all this exterior gear—water bottles, flasks, and fuel bottles—so that if you fall into deep snow you don't lose these items. Also, if they are loose and just sitting in a side pocket in a non-secured way, you risk having them come loose and slip down mountain slopes where you may be unable to recover them.
A way to attach snowshoes: The reason for attaching snowshoes to the pack is that you may need to hike miles before reaching snow level or snow that requires flotation. There are many ways to attach snowshoes to a pack—under the lid, on the sides, or on the front. I prefer the front side so I can use and access the side pockets. I also don't want them on top of the pack because this creates torque when you lean side to side making it harder to balance in steep terrain.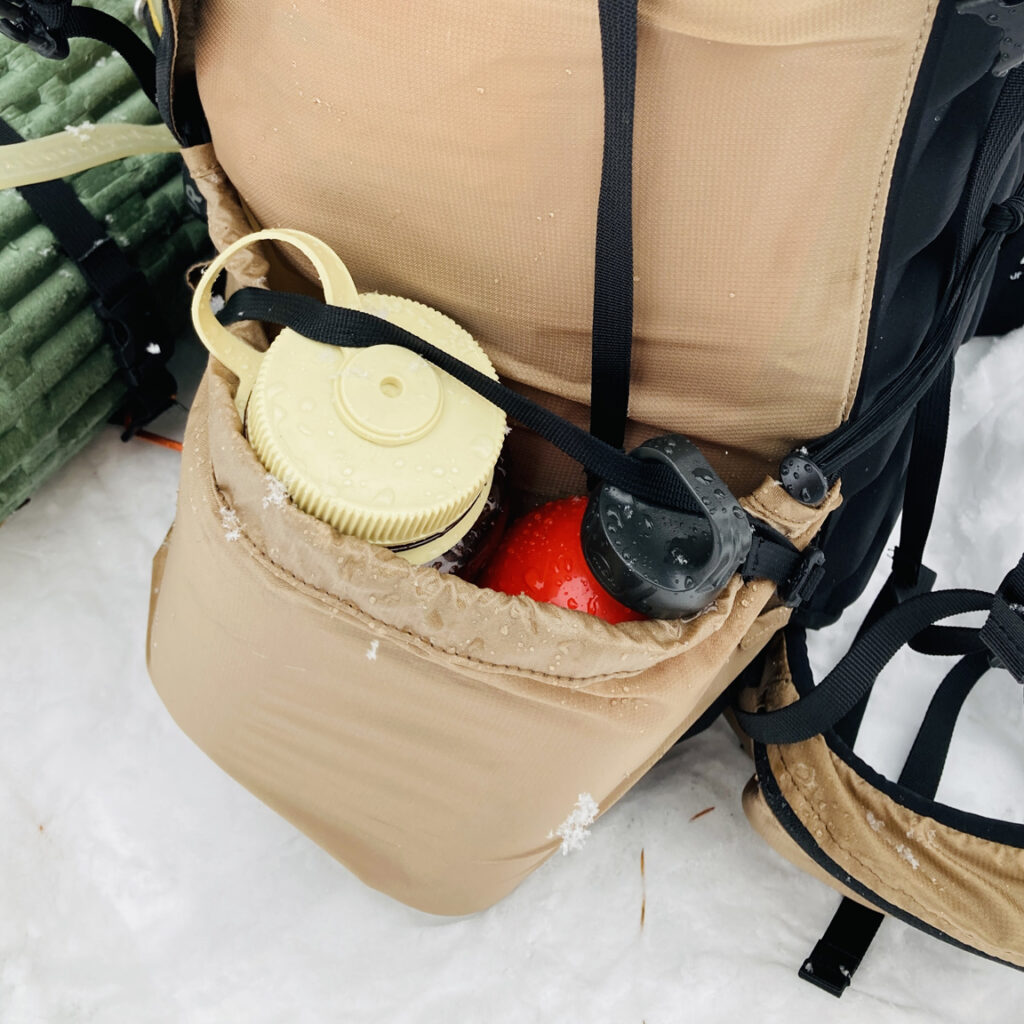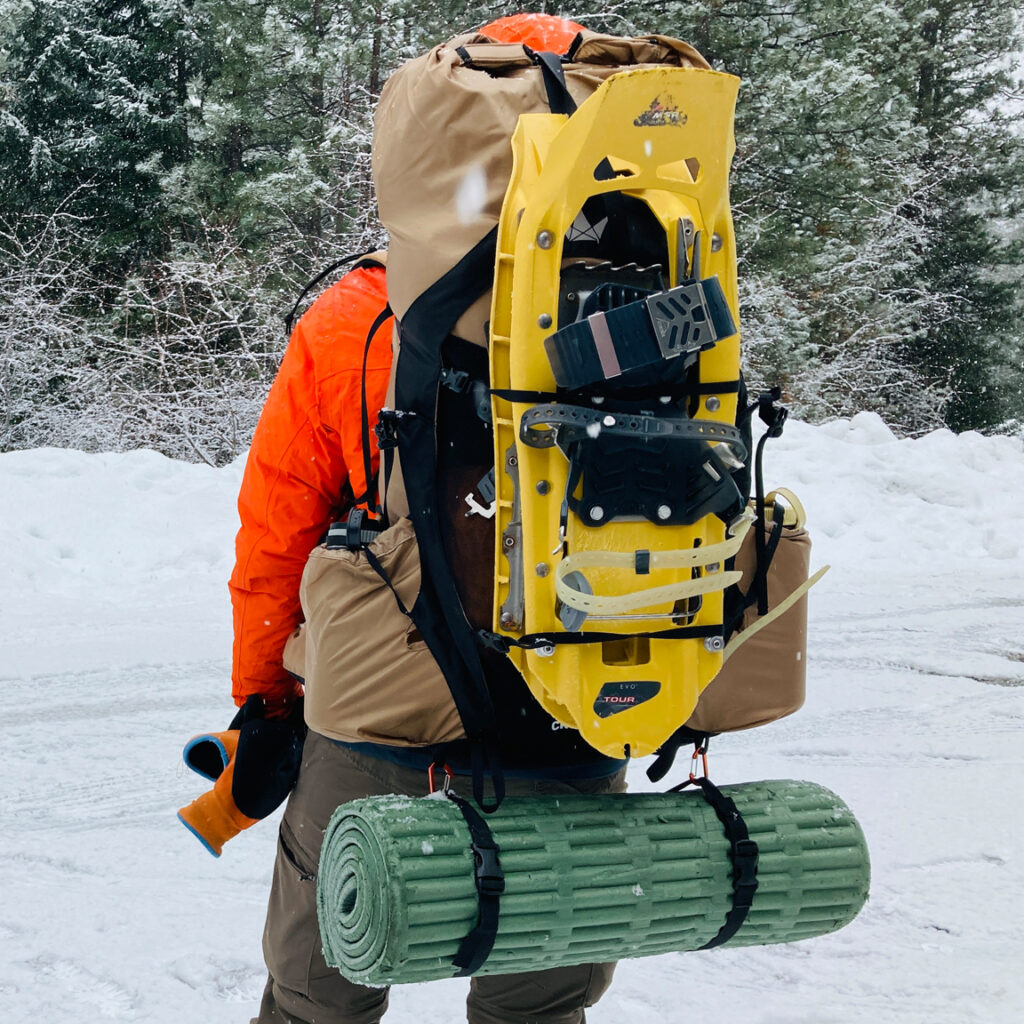 The older Leopard A.C. 58 has small side straps that can be used to secure any Nalgene and fuel bottles in the side pockets and gear loops on the hip belt for attaching a Nalgene bottle or flask with a MiniWire Carabiner. The new Crown3 has small side straps too and more durable side pockets, but unfortunately, no gear loops on the belt. To solve this problem you can purchase a water bottle holder that allows a water bottle to be attached to the shoulder strap or hip belt. I prefer the weight on my hips.
Thus far, I have tried the new Crown3 on two trips, an overnight 8-mile snowshoe trip and an overnight 15-mile trip that required attaching the snowshoes to my pack for the first 2 miles. With snowshoes attached, the total pack weight was 31 lbs.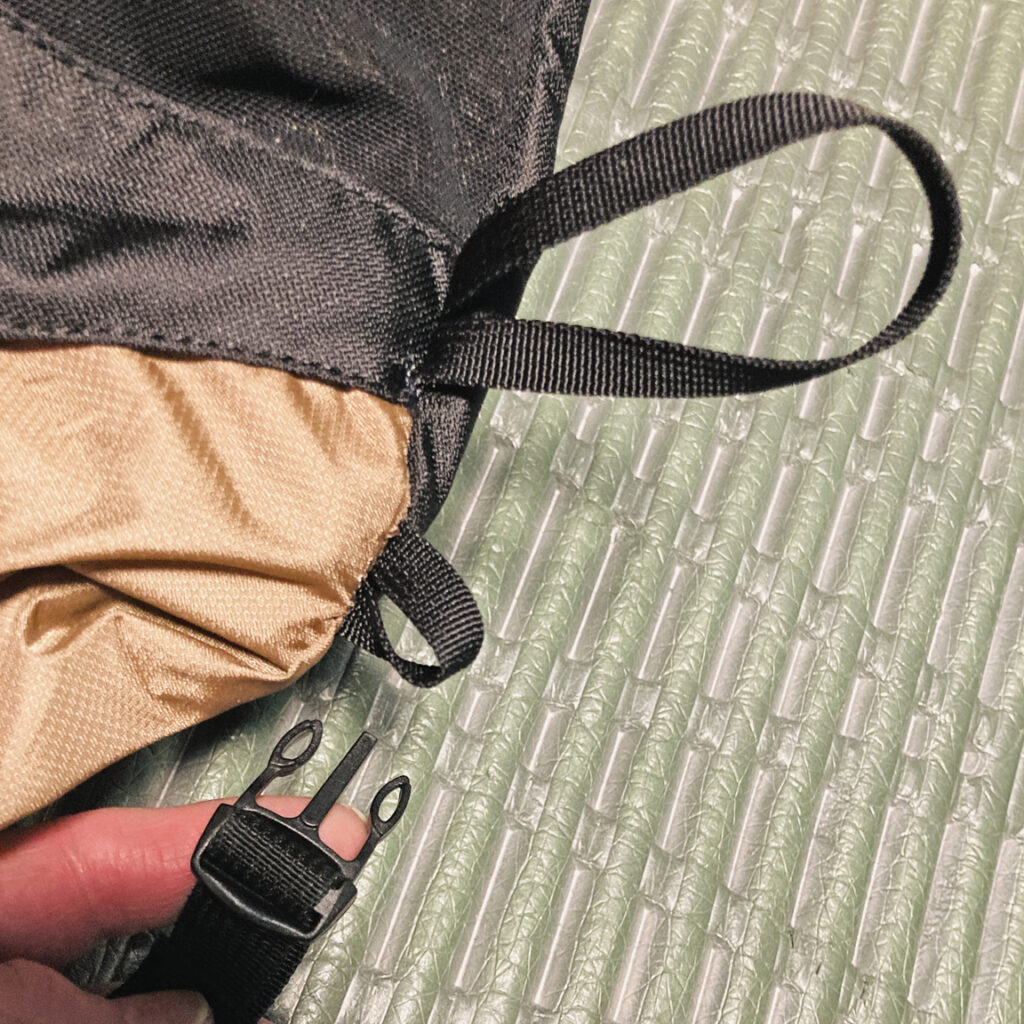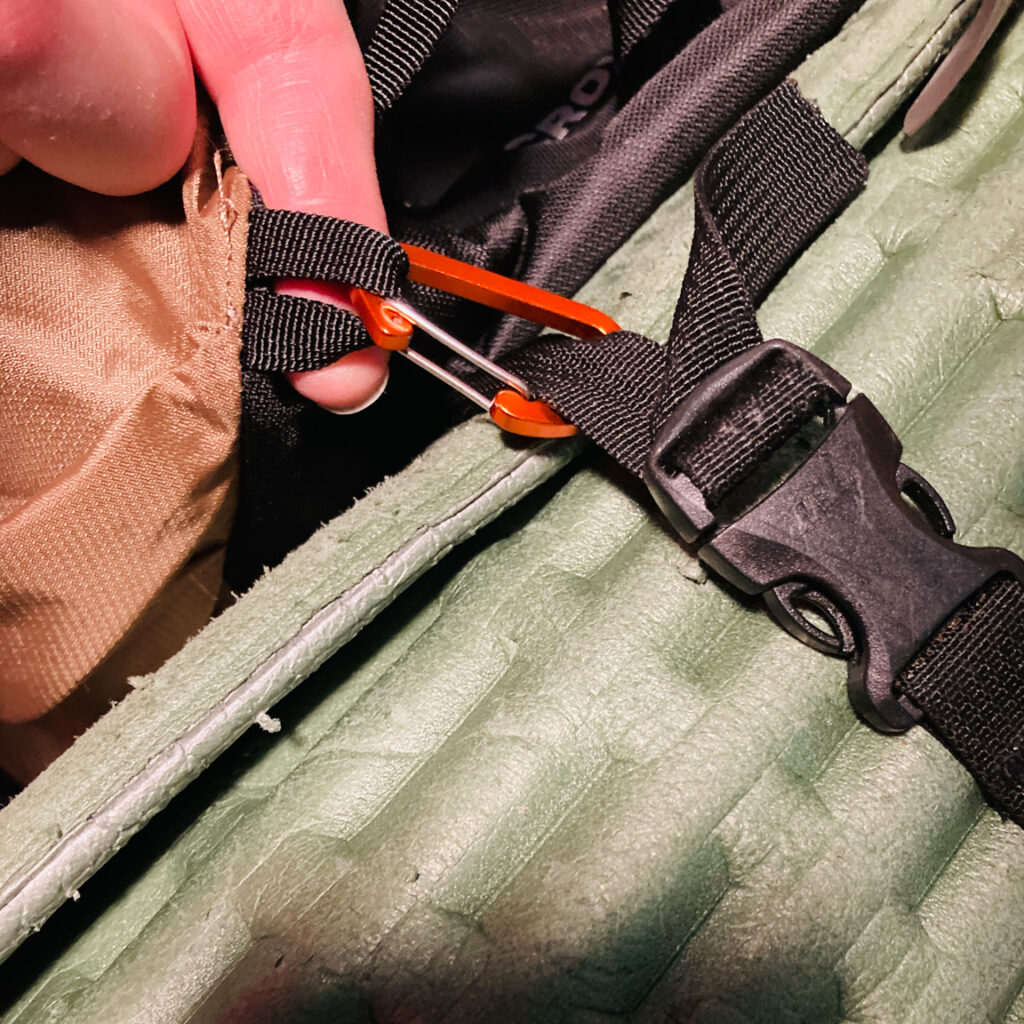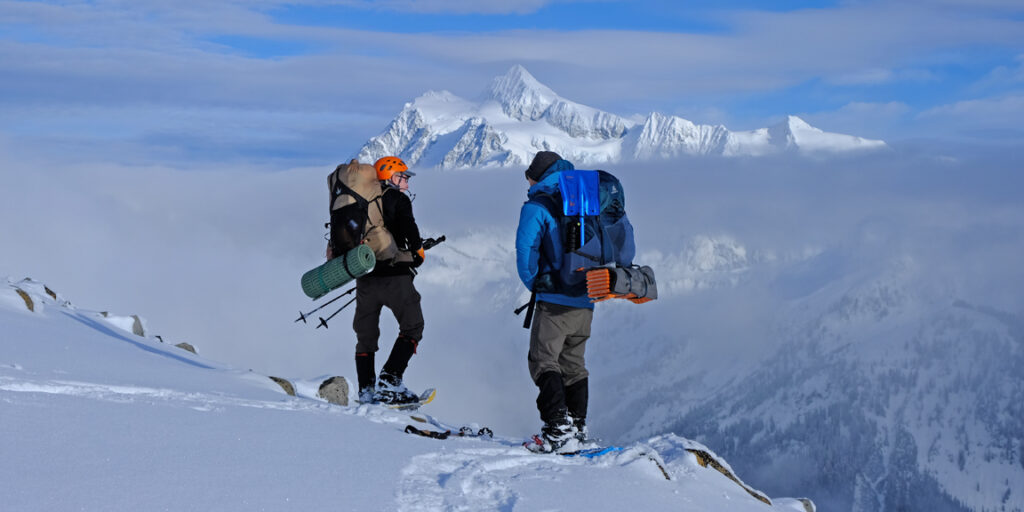 Pros and Cons
Pros
Comfortable fit
Lighter weight (2 lbs. 4.8 oz. — around 10 ounces lighter than the Leopard A.C. 58)
Durable materials: It is made out of 100- and 210-denier high-tenacity Cordura nylon, similar to the Leopard 58, but with more durable side pockets.
Easy to use roll-top lid (fewer straps than the Leopard A.C. 58)
Front straps that allow snowshoes to be attached
Side straps for securing gear in the side pockets
Bottom gear loops for attaching a closed-cell pad
Large gear loops for ice ax
A stretch mesh front pocket with a wider top opening is useful when managing layers in the cold
The new lid design is much lighter than the old one and it converts to a chest pack. Although I don't use the lid, I might use it as a chest pack if it was waterproof so it could be used to protect a camera from rain and snow.
Cons (updated March 19)
The cons for this pack are mostly minor. I can work around them, but they are problems Granite Gear could fix in future editions.
There are no gear loops on the hip belt to attach a small Nalgene bottle for handy water or microspikes or mittens. This was my number-one complaint about this pack, but I purchased Granite Gear's bottle holster and that solved the water bottle issue. The water bottle holster easly fits the hip belt of other packs too. However, a few gear loops for clipping on items such as microspikes or mittens would still be helpful. This problem could be easily fixed by Granite Gear by adding a few gear loops (vertical daisy chain) behind the hip belt pockets. Or, instead of a small daisy chain, it could be one loop at the top of the belt behind the belt pockets (close to the pack, not close to the buckle).
Color: Bright colors add safety to winter gear. We hike in hunting season, in whiteouts, and we have to find our way back to camp in cloudy weather and snowstorms. Having easy-to-see gear is an important safety feature for winter travel. An orange rain cover will help, but a red, orange, or yellow pack is the easiest solution.
The front straps could be a couple of inches longer. When the stretch mesh front pocket is loaded the back straps are barely long enough to reach around a pair of snowshoes.
The lack of a front daisy chain on the bottom makes it harder to attach crampons or micro-spikes.
The two small gear loops on the bottom are so small the buckle of a gear strap will not fit through them. The small loops present a challenge for attaching a closed-cell pad (assuming the larger loops are being used for an ice ax). There are several solutions. Granite Gear could offer small attachable gear straps as a separate item. These could be the same design as the small gear straps on the front and sides of the pack. These would fit through the small loops. It is possible to buy small 10mm gear buckles but then you have to make the straps. Straps are much more efficient than using a cord.
First overall impression
This is a comfortable and easy-to-use backpack for winter travel. As far as I'm concerned I would not consider using any pack that weighs over 3.5 lbs. For comfort, ease of use, and functionality, the Crown3 pack meets my needs for winter backpacking and I will likely continue to use it unless I can find something better. I plan to retire my old Leopard 58. The Crown3 has a few design limitations, but these are manageable. I will certainly measure other packs against it as I continue to try available options. I do recommend this pack. Check back for updates as I continue to use it on more demanding trips.
If you have any comments or suggestions, please add them below.