Be Part of the Winter Backpacking Team

Important Group Information

Most of the trips posted will be one or two night trips.
A few will be longer.
Trip Planning: Cloudy weather will cancel some weekend plans. Some trips will be rescheduled for weekdays. Good-weather weekends are not always possible. Weekday trips, therefore, will sometimes be arranged on short notice. For most trips, there needs to be at least one day that is partially clear. Hiking in snowy weather, even near white-out conditions, is acceptable, provided there is some clearing in the forecast.
Beckon, Probe, and Shovel Practice: When there is low cloud cover in December and January some trips will be converted to single day avalanche rescue practice (beckon use and search) at Snoqualmie Pass at the far end of the Alpental Access Road (Source Lake Trailhead-Alpental Lot 4/Upper lot).
Group Size: Group size will usually be 3-6. Some will be 8–12.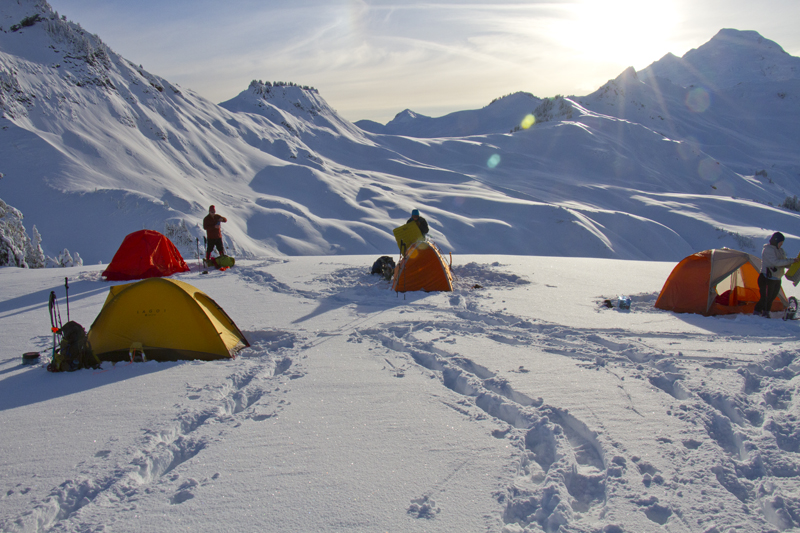 Expectations
Where are some good places to backpack during the winter months? Most winter hiking lists stress low-elevation trails with no snow, such as trails along rivers. The purpose of Winter Backpacking is to seek out snow for as much of the year as possible. Snow camping is the lowest impact method of camping and, of course, the snow is beautiful. Always expect and be prepared to camp on snow or ice.
Skiing, snowboarding, and short snowshoe trips are considered normal, but for many people, hiking has a "season" that doesn't include winter. Most trails are considered impassable in winter, but with the right skills, equipment, and route finding, it is possible to enjoy hiking and backpacking in the winter, especially in the mild winters of the Pacific Northwest.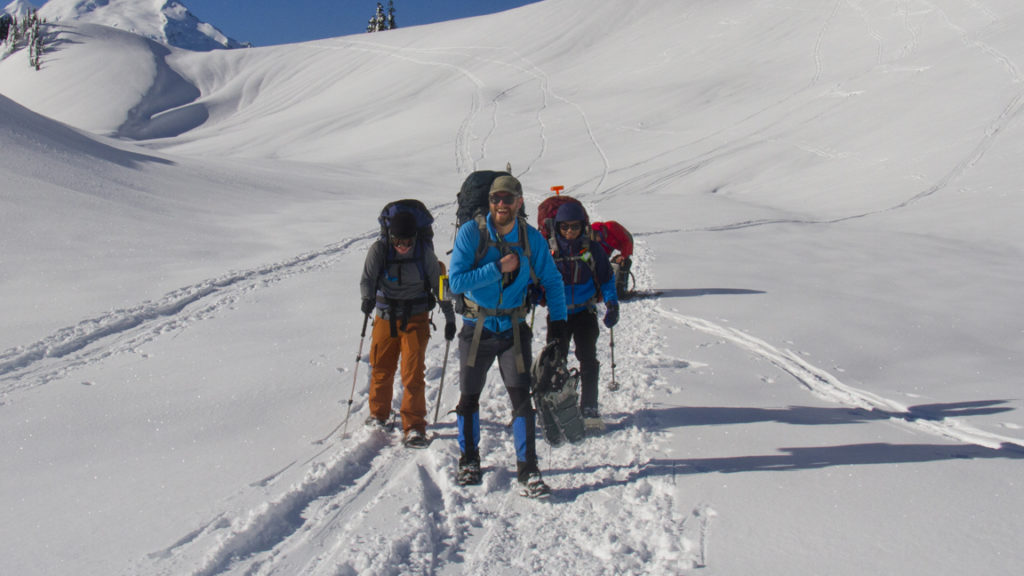 In the PNW most people hike July-September and this puts considerable strain on the trails. Oregon is now expanding permit areas and the same is likely to happen in Washington State in the years to come. The Enchantments had over 17,000 visitors in 2017 with 3000 overnight permits issued (over 20,000 people applied). These permits are just for May 15 through October 31.
One solution is to turn this around and hike September to July, rather than July to September. The advantage is more freedom, solitude, and less environmental stress. This approach requires lighter gear, route-finding skills, snow travel skills, and avalanche awareness, but the rewards are higher. Winter backpacking allows hikers a true backcountry experience.
Most trips will be in Wilderness Areas, National Parks or Alpine zones. These are very special places and it is up to us to protect them.

Fires, trail dogs, human waste, etc. Everyone is expected to follow leave-no-trace (LNT) practices. The standard LNT practices were developed and promoted in the 1970s and 80s after National Park visits dramatically increased from around 3 million (1958) to 20 million (1967). Today the number of annual visitors exceeds 300 million, but leave-no-trace recommendations have changed very little.
Those managing National Parks and Public Lands are unable to protect the land and for this reason they rely on recommendations and LNT education to encourage people to be better stewards of the outdoors. Education and awareness are thought to be the best methods, partly because regulations can't be enforced and people often retaliate making the rules counter productive. With the standard leave-no-trace guidelines failing, it is worth considering how we can do better? Here are some LNT 2.0 suggestions:
Travel more off-season and less during the high season
Always camp on snow when possible (easy to do in the PNW, September–July)
No campfires (campfires are unnecessary and usually prohibited in Alpine areas due to the lack of organic materials and the impact fires have on the landscape)
Only use liquid fuel or canister stoves (no alcohol or wood "twig" ultralight stoves)
Travel in smaller groups (3–8)
Use WAG bags (pack out human waste)
Leave pets at home (Pets are great companions, but unfortunately impact ground-nesting birds and other wildlife.)
Do not run or travel fast on trails as this activates the prey instinct of predators, resulting in human/predator conflicts, with predators being put down.
Avoid including specific locations or names of destinations in social media posts.
Have thoughts and suggestions for better LNT practices? Your thoughts are welcome.

We are not just sharing a fragile land with millions of other human visitors, but with many species that have no other home. We may be the last generation to experience this privilege. Let's do what we can to create a better LNT hiking culture.
Respect other hikers in the group. Be considerate of others and respect the quality of their experience. If, for example, you want to bring music, bring ear-buds or headphones. We want to have fun, but for safety and consideration of the group, let's keep it smoke-free, drug-free (non-prescription drugs), and limit or avoid alcohol (drinking alcohol in the cold lowers your core temperature).
For most trips, we will stop for coffee on the way to the trailhead and stop for food and drinks after the hike. It helps if everyone avoids having other plans that inconvenience the group. We will try to carpool whenever possible, so bring a contribution for the driver if you are a passenger. As a courtesy, a change of shoes and shirt is recommended for the drive back to help keep the cars clean.

Safety
Backpacking in the Cascade Mountains is dangerous and people get injured and killed doing it. None of the planned trips are risk-free. If you are seeking safe, risk-free recreation, you should probably consider some other activity. There are many risks including falling from high elevations, hypothermia, and avalanches. If you are concerned about predators, such as bears, mountain lions, or humans, bring bear spray. Please do not bring lethal forms of self-defense.
Avalanche Gear
Everyone is encouraged to bring at least a transceiver (also called a "Beckon"). If you can, please bring transceiver, probe, and shovel. We have seen avalanches on the trails even when NWAC had posted "Low" on the Avalanche Danger Scale.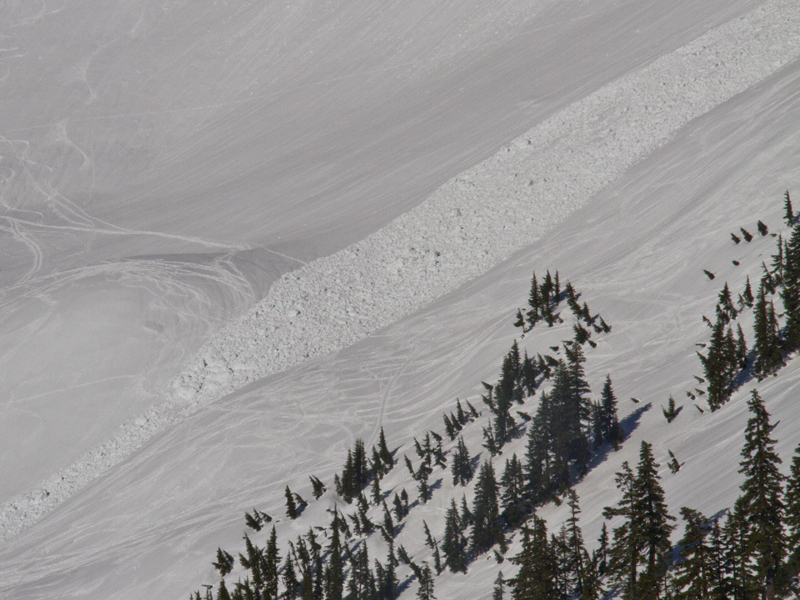 As examples, these are the avalanche gear choices I use:
Black Diamond Pieps DSP Sport Beacon. 11.6 oz with batteries and case. (Usually around $240–300) All avalanche transceivers use the same frequency and will work together.
Backcountry Access B-1 EXT Bomber Avalanche Shovel. 1lb 5oz. (About $50)
Black Diamond QuickDraw Tour Probe – 240cm. 10.4 oz (About $60) Probes are usually 240cm to 320cm. Longer is better.
This gear combination will cost $350–400 and add 2lbs to your pack and another 11.6oz around your torso. It may seem like a lot of money and weight, but it is insurance that could save your life or help you save someone else.

Just as there are many ways you can die from automobile accidents, winter backpacking involves dangers. Avalanches can push you off cliffs or into rocks and trees at very high speeds. You can also be buried and suffocated, die from hypothermia, or be crushed. You cannot outrun an avalanche. Once buried, you will be unable to move, so your transceiver must be turned on to the "send" mode so that others can find you. Your batteries will last over 200 hours in transmit mode, so turn on and test the beckon at the trailhead and leave it on. Avalanche gear will not guarantee your safety. Rather it will increase the chances that you will be located if buried and it will increase your ability to help recover others.
Recommended reading: Avalanche Essentials: A Step-by-Step System for Safety and Survival by Bruce Tremper, Mountaineers Books (Paperback).

Liability
Everyone must read and agree to the release of liability. Provide (email) a clear statement such as "I have read and accepted the terms of the release of liability."
Let your loved one know you are involved in these activities and that you have agreed to the release of liability. Put the name of a contact person in the lid or outer pocket of your backpack.
We travel in a group to increase safety and help one another, but there are no "guides" and no one has signed up to take responsibility for your safety or comfort.
There are no avalanche experts, no first responders, and no medical professionals provided.
There is usually no phone service in the wilderness.
Everyone is a learner trying to increase his or her skills.
Be prepared for the same risks and take the same precautions you would take if you were backpacking alone in winter conditions.
Arrive self-sufficient. Use a checklist and do a visual gear inspection before packing.
Organizers are only trip organizers and may have no prior knowledge of the trail conditions or the planned route.
YOU are responsible for evaluating weather, avalanche, and terrain conditions and managing the known and unknown risks you are accepting.
Necessary Gear and Redundancy
Some types of gear are required. Along with the usual ten essentials upgraded for cold weather, you must have mountain terrain snowshoes and boots suitable for snowshoes. Trekking poles with snow baskets are recommended. Bring warm layers and have 5+ R-value under your sleeping bag (two air mattresses are recommended, one air, one foam, or two foam). Usually a 15-degree or 0-degree sleeping bag will work for most trips. If high wind is a potentiality in the forecast, bring goggles, balaclava, hard-shell clothing, and heavier gloves.
Arrive self-sufficient. If you bring a heavy tent, expect to carry it yourself. Gear redundancy adds safety. If, for example, someone's air mattress fails, someone else can give up a foam mattress. If a stove fails, someone else can share.
You will need to adjust your gear based on circumstances. Late winter is different from early winter. When the days are longer and sunnier you must be prepared to avoid severe sunburns and snow blindness.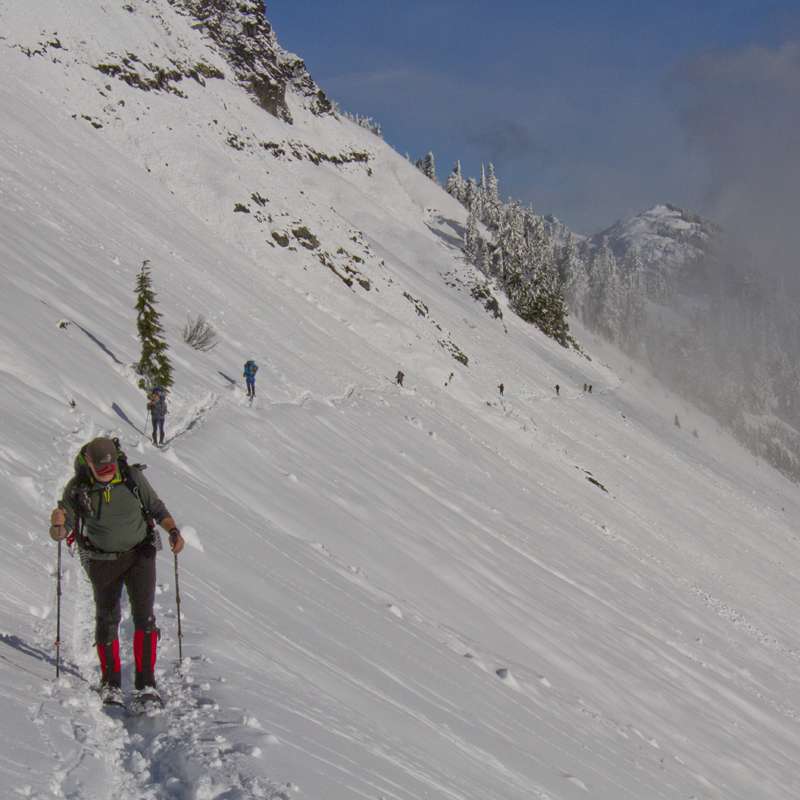 Pack Weight
You can bring a heavy pack and many people do. However, if your pack exceeds 35lbs without food or snowshoes, it should be possible to reduce the weight. Replace necessary gear with lighter versions. Consider discarding items that are not on the suggested basic winter gear list. Do not compromise warmth or safety by going too light, but avoid overpacking. Heavy packs increase the chances of injury, accidents, exhaustion, and hypothermia. Even with snowshoes attached and food and water, a weekend winter pack should be no heavier than 45lbs. A weekend pack with necessary gear, including snowshoes, food, water, and avalanche gear, can be 30–35lbs. If you have experience with heavier packs (regularly climb Mount Denali), then fine.

Difficulty, Experience, and Conditioning
Many people sign up with no prior snow camping experience and enjoy the experience. It helps if you read the tip sheet and ask questions from those with experience.
You do not have to be a young super athlete, but you do need to be in good mental and physical shape with sufficient conditioning to keep up. Snowshoeing with a heavy winter pack can be difficult and exhausting. Some trips require snowshoeing uphill all the available hours of daylight. Some trips are short, but others can be up to 12 miles and 5000ft of elevation gain in one day. Know what kind of trip you are signing up for and don't sign up for a trip that is beyond your abilities.
You should be experienced enough to know your abilities. If you have never snowshoed before, do some short day snowshoe trips first. Ranger-led day trips are also available for beginners (https://www.nps.gov/mora/planyourvisit/rangerprograms.htm, http://www.discovernw.org/store_winter-snowshoe-program-at-snoqualmie-pass_SNOWSHOE01.html). You can also test some of your gear capabilities by winter car camping. One of the main skills you need is the ability to layer clothes while hiking and in camp so as to not overheat or lose heat.
Additional Valuable Tips

With the right skills and practices, it is possible to stay warm at all times. Please read the tips found here: https://winterbackpacking.com/winter-backpacking-tip-list-1.pdf.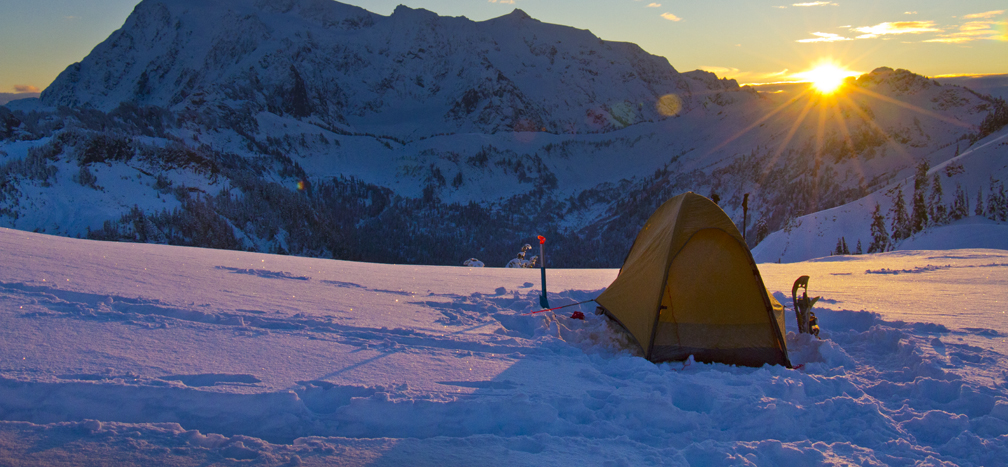 The Wait List
Everyone is welcomed. Diversity is valued and we want to give new members opportunities. Some trips have a wait list. If so, sign onto the wait list. To increase your chances of going, see "Special considerations for the Wait List" below.
Special Considerations for the Wait List
Selection from the wait list will be based on who signs up first, with exceptions to the group limit made for considerations that enhance the safety of the group such as:

ability to provide transportation, preferably AWD/4WD (most trips will only require two or three vehicles)
known previous experience with winter backpacking (preference will be made to always include at least one other person with known winter experience)
ability to keep up with the group (especially important for long trips) and willingness to stay together
gear readiness (it helps if you communicate that your kit is equipped for the anticipated conditions)
first-aid skills
willingness to bring avalanche-gear (transceiver, shovel, probe)
If any of the above describes you, send me a private message, because it could make a difference.
You must be over 18.