In my ongoing quest to find the best ultra-light backpack for winter backpacking, I recently tried Outdoor Vitals' Shadowlight™ Ultralight Backpack. This is my first impression.

Most ultralight packs are designed for light loads and 3-season thru-hikers. In recent years larger size ultra-light packs have become available. The challenge is finding ones that are adaptable to winter backpacking requirements, such as a 30–35 pound weight limit, 50–60 liters of capacity, and the ability to put all liquids, a closed-cell pad, an ice ax, and snowshoes on the exterior. The Shadowlight Ultralight Backpack is one such option.
The Shadowlight comes in two sizes, 45 and 60 liters (short, regular, and tall; with a range of hip belt sizes (31", 32"–36", and 37" and up). The maximum recommended carry weight is 35 lbs. The pack is made of Outdoor Vitals' own special Spectra/Robic ripstop fabric, which, according to the company allows them to "cut incredible weights while retaining top-of-industry durability and strength." What's more, Outdoor Vitals states they "added a 24-inch frame to transfer the load from your shoulders to your hips for ultimate comfort when your load creeps up in weight whether it be a long water carry" or "winter trips." For these reasons, I decided to try out this pack for winter backpacking.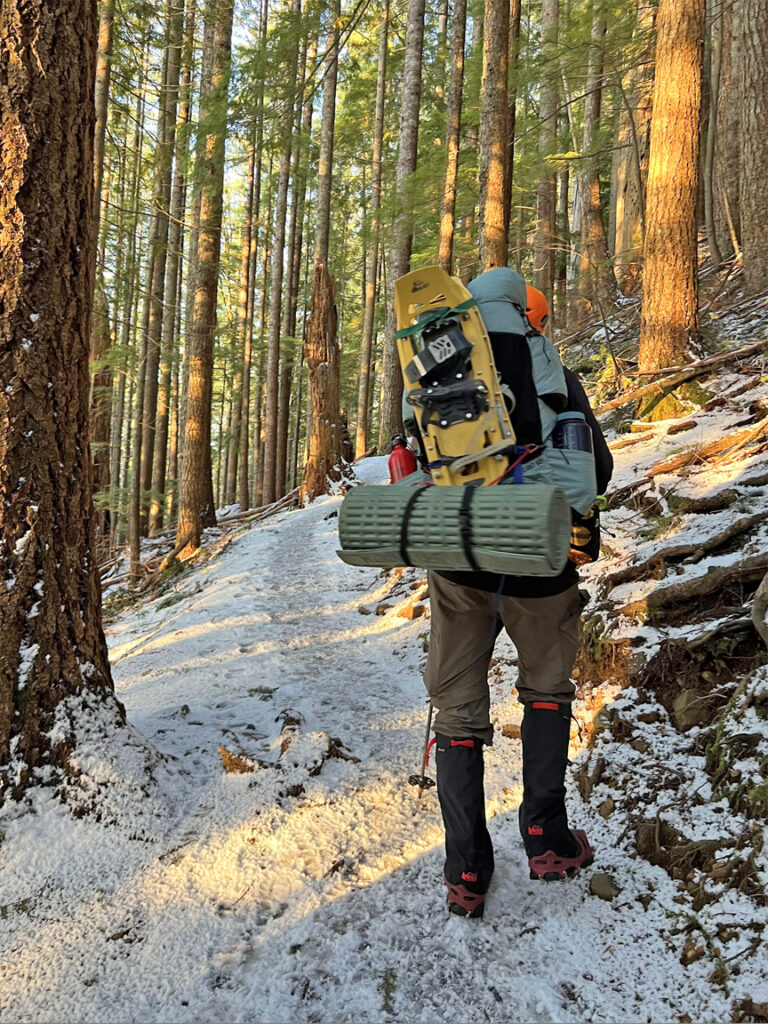 I often need to carry a 0-degree sleeping bag, avalanche probe and shovel, and 4-season tent, so I chose the 60-liter option. The perfect winter backpack has external lashing points, like an Alpine pack, but most Alpine packs are too small or too heavy. The Shadowlight lacks the external lashing points I need to secure snowshoes and a closed-cell pad, but with 2 small wire carabiners, some utility cord, and two small straps I was able to attach both snowshoes and closed-cell pad to the pack. It would be preferable if they would add six lash points (small loops would do), but making this adaptation was not difficult.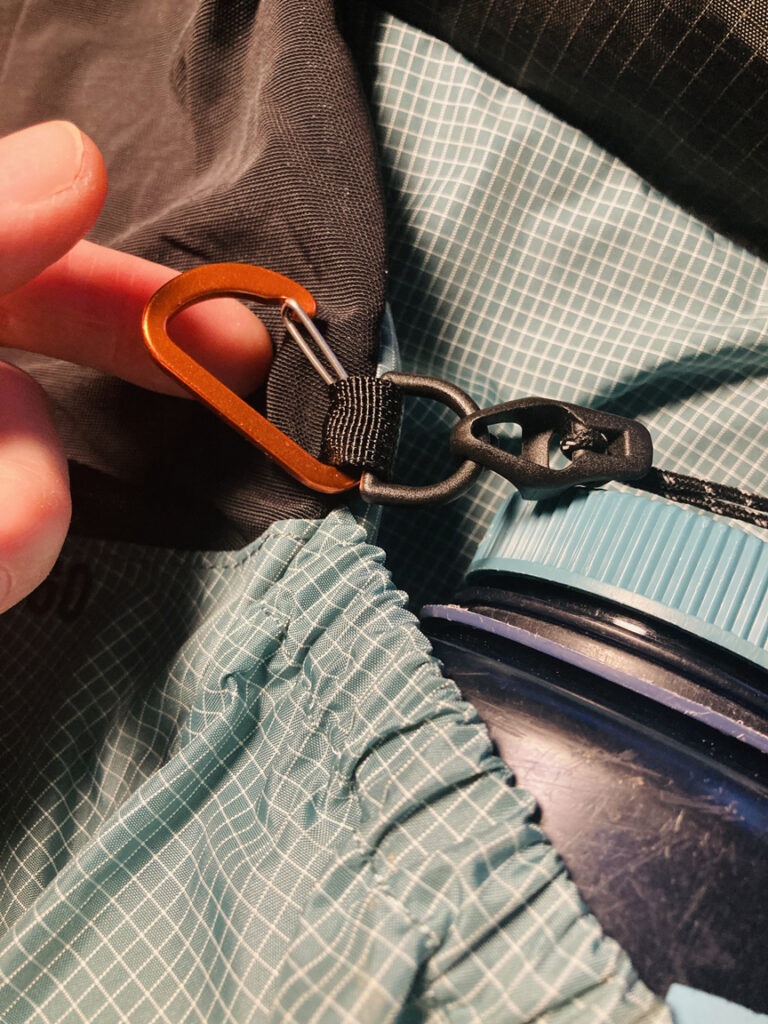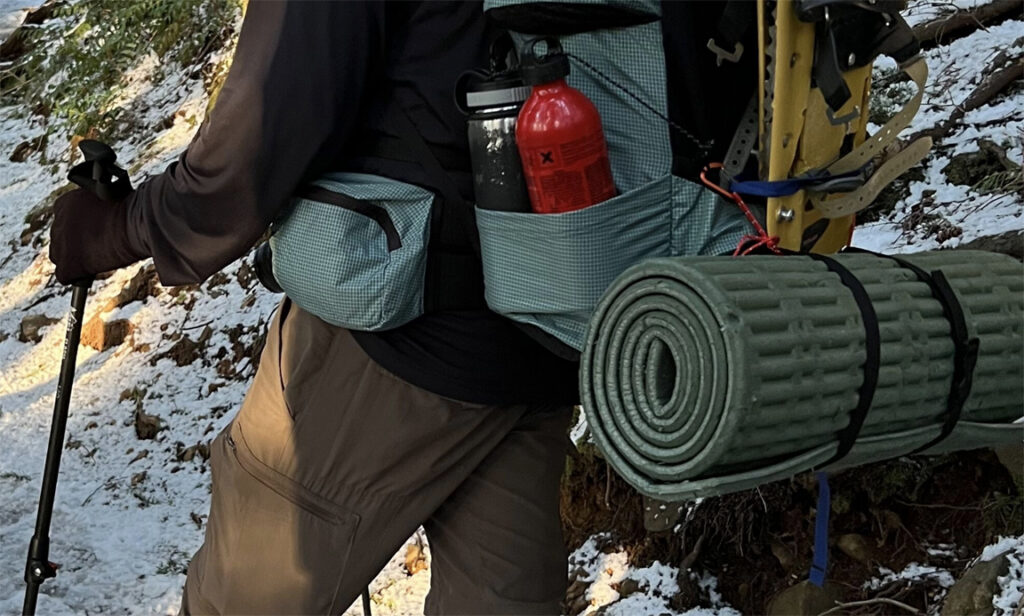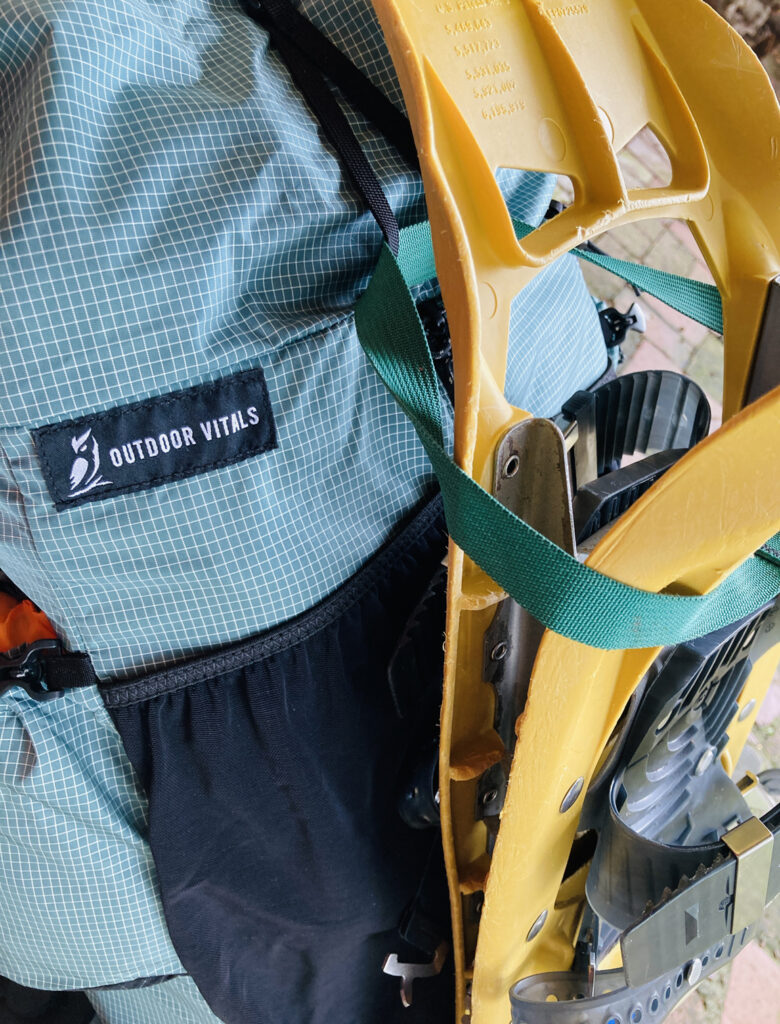 To test the Shadowlight, I loaded the pack up with my full winter gear and set off on an 8-mile day hike with 3,100 feet of elevation gain. Total pack weight, base weight, and consumables (including two days of food) came to around 29 lbs. My overall experience is that the gear fits well and the pack is comfortable.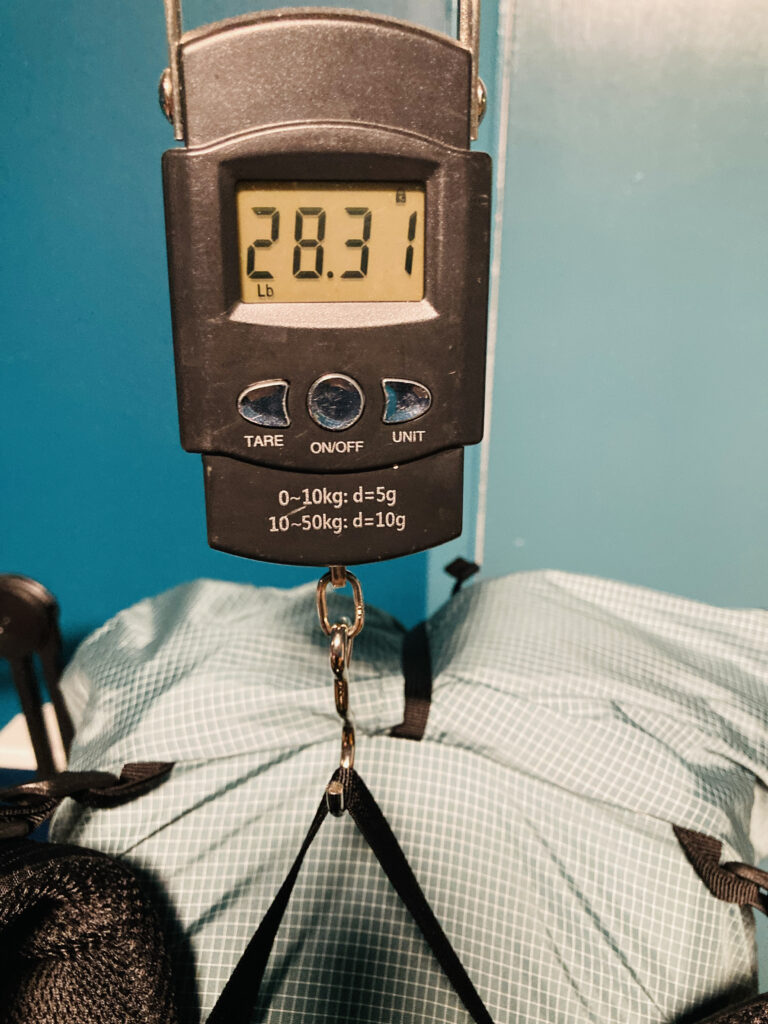 The side pockets allow for all fluids to be stored on the outside. The pockets are a bit tight, but okay. I added a Granite Gear water bottle holder to the hip belt for easy access. The Shadowlight pack comes with a water bladder holder and I appreciate the ease with which I could remove it because it is not something I would use for winter backpacking. Every other pack I've used has had extra material sewn into the pack to hold a pack bladder and this extra weight cannot be removed.
Pros and Cons
Pros
Comfortable fit
Lighter weight: 1.99 lbs. (nearly 5 oz. ounces lighter than my Granite Gear Crown3)
Durable materials: 100D Robic Nylon w/ 200D Spectra Ripstop, 210D Robic Nylon w/ 400D Spectra Ripstop.
Easy to use: The roll-top lid and front zipper that allows access to some gear without unloading the pack
Cinch cords for securing gear in the side pockets—an important feature for hiking in deep snow where such items can fall out and get lost in the snow.
Gear loop for ice ax
A stretch mesh front pocket with a wide top opening is useful when managing layers in the cold
Easy to remove pack bladder pouch
Lowest cost 60L backpack under 2 lbs. I'm not completely sure about this point, but I haven't seen any. Let me know if I'm wrong.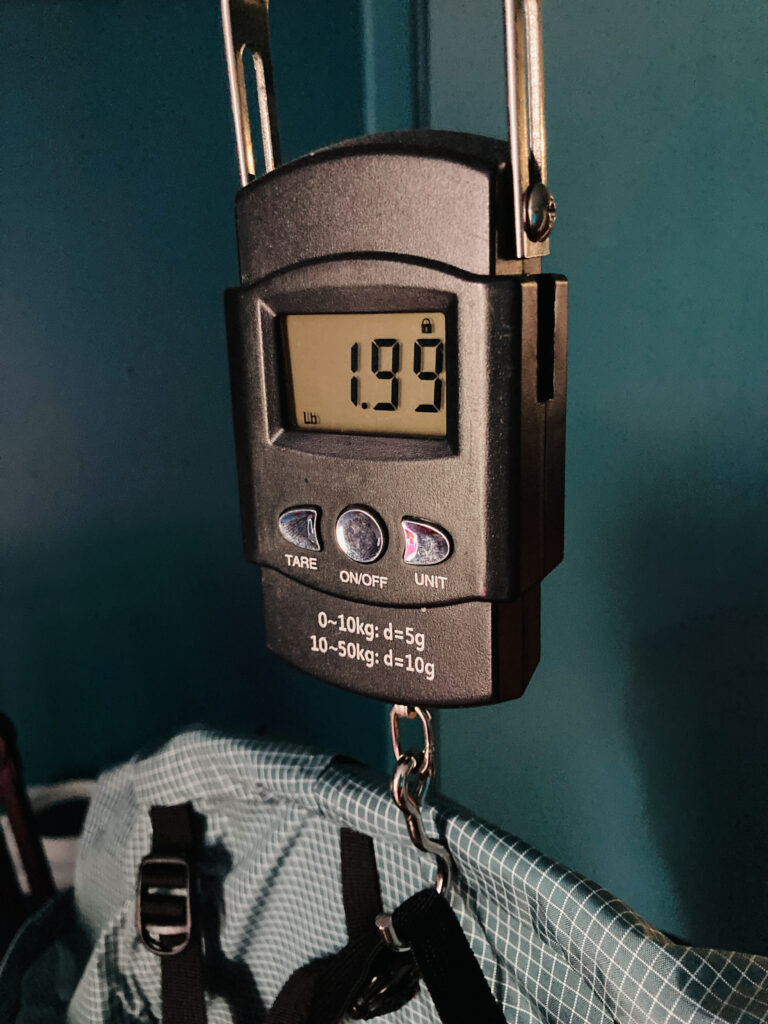 Cons
The cons for this pack are mostly minor. I can work around them, but they are problems Outdoor Vitals could fix in future editions.
No external lashing points to allow snowshoes or closed-cell pad to be attached. Although there are solutions, purpose-made external lashing points would be preferable. Four lashing points on the front of the pack (two on each side) for the snowshoes and two on the bottom for the closed cell pad would be perfect. A daisy chain on the bottom would also work and allow for crampons or micro-spikes. This is the biggest problem with the pack for winter use.
Front center zip provides only limited utility. The access will not create an opening large enough to remove a winter sleeping bag, so it is still necessary to unload the pack to take out the sleeping bag. This is a minor issue because most Alpine-style packs don't have a front zip anyway. I'm not sold on the necessity of this zipper and if there is to be a zipper, it might make more sense to have it on the bottom so the sleeping bag can be removed.
Color options: Bright colors add safety to winter gear. The Shadowlight comes only in dark blue and Arctic green. We hike in hunting season, in whiteouts, and we have to find our way back to camp in cloudy weather and snowstorms. Having easy-to-see gear is an important safety feature for winter travel. An orange rain cover will help, but a red, orange or yellow pack is the easiest solution.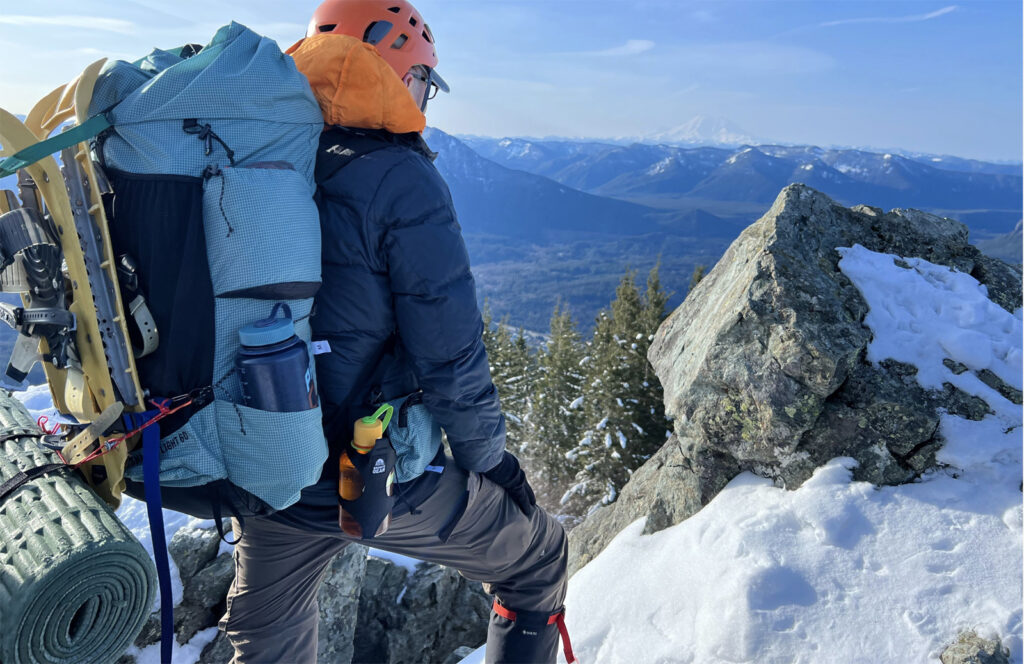 Overall impression
Despite the lack of purpose-made lashing points for essential winter gear, this limitation can be overcome with relative ease and for that reason, I do recommend this pack. If Outdoor Vitals would add external lashing points and maybe eliminate the front zipper and top side pockets, this might be the perfect winter backpack. Since perfection is not available, I will make due. If you don't want to workaround Shadowlight's lack of purpose-made external lashing points for snowshoes, you could still use this pack for winter conditions that don't require attaching the snowshoes to the back. That is, routes where you will be putting on your snowshoes at the beginning of the trip or when no snowshoes are needed because the snowpack is too firm to require flotation.
I know some winter backpackers are carrying loads exceeding Shadowlight's 35 lb limit, but I strongly recommend dialing in your kit weight to stay below 35 lbs and preferably below 30 lbs. If you can do that, and it is possible, this is an excellent ultra-light pack. Winter gear is heavier and every ounce one can trim off the backpack itself adds comfort and speed. Most of the hikers I know who are carrying 40 lb packs are using backpacks that are 1–4 lbs heavier than necessary. Most of the needless weight is either the pack or tent or both.
The slightly less than 2 lb weight and comfort of the Shadowlight will motivate me to use this pack whenever I can. Although winter is about to officially end for 2023, I'll still be snowshoeing and hiking on snow high in the Cascade Mountains well into June. Check back for updates as I continue to test the utility and durability of this pack.
If you have comments or suggestions or thoughts about winter backpacks, please share your comments below.
I'm not a paid reviewer or brand representative for any company. My reviews are solely my opinions. If I think a particular gear might be useful for winter backpacking I will review it. Sometimes companies reach out to me and send gear and sometimes I reach out to companies. In this case, I reached out to Outdoor Vitals.