The Mariposa 60 backpack is Gossamer Gear's bestseller. Here are my thoughts and first impressions. With a 35-pound weight and 60-liter capacity, it passes the bar for winter backpacking. It has a removable internal frame, 7 pockets, a comfortable hip-belt and shoulder straps, and weighs only around 2 pounds. You have a choice between small, medium, and large and you can configure the hip belt size as needed.
To test the pack, I did a short 8-mile hike with 3000 feet of elevation gain on rock, ice, and snow terrain, and I noticed no discomfort issues. I will need to try it out on longer trips and in harsher conditions to know for sure, but my first impression is positive.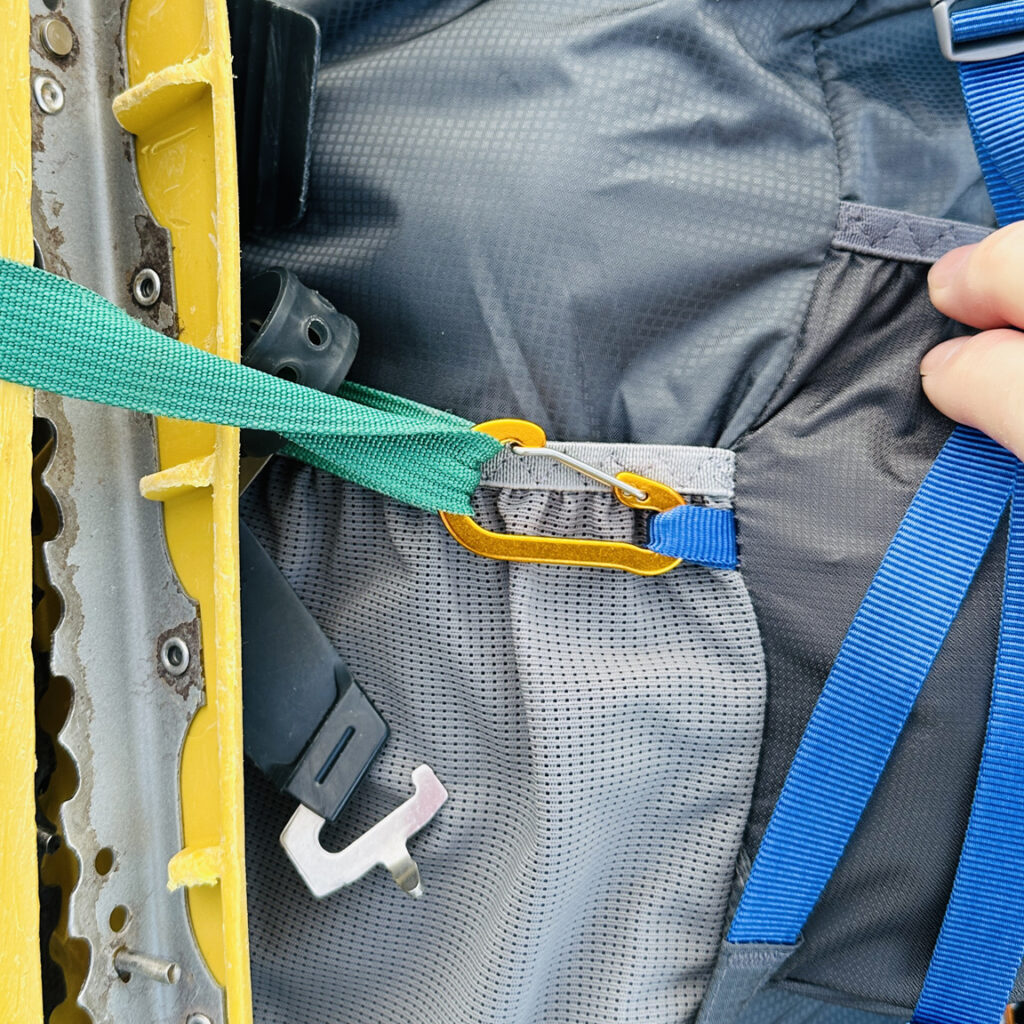 There are no ultralight backpacks made specifically for winter backpacking except perhaps the extinct Granite Gear Leopard, which weighed in at 3 pounds. By today's standards, 3 pounds bearly makes it into the ultra-light category. Ultra-light pack designers are just not concerned about fitting in a zero-degree sleeping bag, four-season tent, and snow shovel, or attaching snowshoes. Winter backpackers simply have no choice but to look around for available options that can do the job anyway. The Mariposa 60 is one of the best options.
Gossamer Gear has dialed in the Mariposa 60 to the lower limits of what is possible in the nylon pack category. Nylon packs with a 60-liter capacity seem to reach their weight reduction limit at around 2 pounds. Beyond that, I expect comfort and durability will suffer too much or one must switch to a pack made of the more expensive Dyneema material. The weight capacity for most Dyneema packs maxes out at around 24 pounds of gear.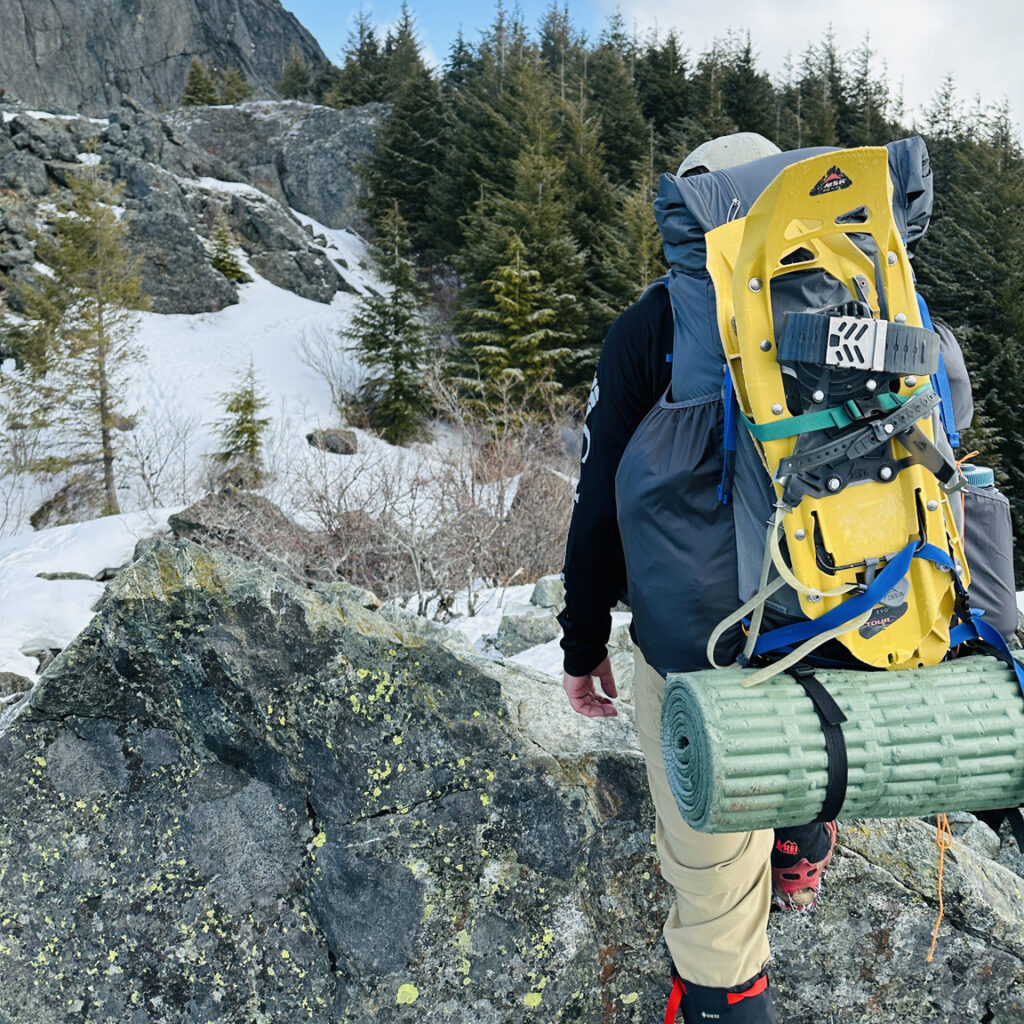 Gossamer states that it will deliver "a very comfortable carry even when overloaded with 35 pounds of gear" or again, it is "best with loads under 30 lbs but will handle up to 35 just fine." This is an important weight limit that appears to be the limit for most new 60L ultra-light packs. Plenty of winter backpackers can exceed 35 pounds if they have to strap on snowshoes, so you should know your gear weight requirements before considering this level of ultra-light.
A winter load (base weight with consumables) of around 27–32 pounds is attainable (including avalanche gear and snowshoes attached to the pack). Much less than that and you are probably not carrying everything you need to be safe and comfortable in cold weather conditions.
With complete gear, including snowshoes and avi-gear, water, fuel, and about 3 pounds of food, the pack weighed 30.62 pounds for this test hike. So I expect I could hit 32–33 if I were hauling gear for harsher conditions and carrying additional food with a bear vault. But I would not expect to exceed 35 pounds. If you think you'll reach or exceed 35 pounds, you are probably better off trying to locate an old Granite Gear Leopard 58 or some other pack that can handle 40 pounds.
Tip: When you are carrying heavy loads, remember to lift the pack carefully using the pack handle between the straps. Raise the pack and rest it on your leg before slipping on the shoulder straps. Do not lift it by a single strap because this can break the seam at the edge and it will progressively tear off the strap.
Pros and Cons
Pros
Comfortable fit
Lightweight (I'm using a medium: 2.03 lbs)
Durable materials: 100 and 200 denier Robic nylon.
Gear loops for ice ax and trekking poles
Eighteen gear loops: Small but plentiful. It may take some time to confirm their durability. It might also be better to distribute the snowshoe weight to the sides rather than the front (one each side) to lower the stress on the small loops. That is, I may need to modify how I carry snowshoes with this pack.
A stretch mesh front pocket with a wide top opening is useful when managing layers in the cold
Large capacity side pockets. I found it easy to store my water and fuel bottles on the exterior. The side pockets are well designed with elastic at the tops to help prevent gear from falling out.
Generous hip belt pockets. I didn't have hip belt pockets on my old Leopard pack, but I am beginning to like them. A useful place to store a headlamp and snacks.
Cons
The cons for this pack are mostly minor. I can work around them, but they are problems Gossamer could fix in future editions.
Restrictive pack lid design: Rather than an expandable roll-down main compartment lid, their "Over-the-Top closure system" simply folds over and doesn't seal well if it is not able to completely fold over to the top opening. This limits the pack's ability to handle overflow gear. This gives the Granite Gear Crown3 and Outdoor Vitals' Shadowlight™ a slight capacity advantage. Even with Granite Gear packs in the past, I have occasionally needed more capacity. The workaround solution for me is to attach an ultralight (2 oz) 10-liter daypack to the front of the pack. I may need to do this with the Mariposa.
No side-pocket cinch cords for securing gear. Although the side pockets are well-designed, cinch cords are an important feature for hiking on ice and in deep snow where such items can fall out and get lost in the snow. On hard snow, it happens that you can slip and be going down the slope head first with gear coming out of the side pockets. This lack of cinch cords is however mitigated by one deep pocket on the left side and the gear loops which allow for a cord to be attached.
Color options: Bright colors add safety to winter gear. The Mariposa 60 comes only in gray and light green, similar to the Outdoor Vitals' Shadowlight™ Ultralight Backpack. I'm not sure why color is disappearing from contemporary design but I'm not happy about it. We hike in hunting season, in whiteouts, and we have to find our way back to camp in cloudy weather and snowstorms. Having easy-to-see gear is an important safety feature for winter travel. An orange rain cover will help, but a red, orange, or yellow pack is the easiest solution. Gossamer does make a yellow pack so hopefully they will add that color option to the Mariposa.
More expensive: At $285, this pack is $45 more than the Granite Gear Crown3 and $43 more than the Outdoor Vitals' Shadowlight™
Limited air circulation on the backside.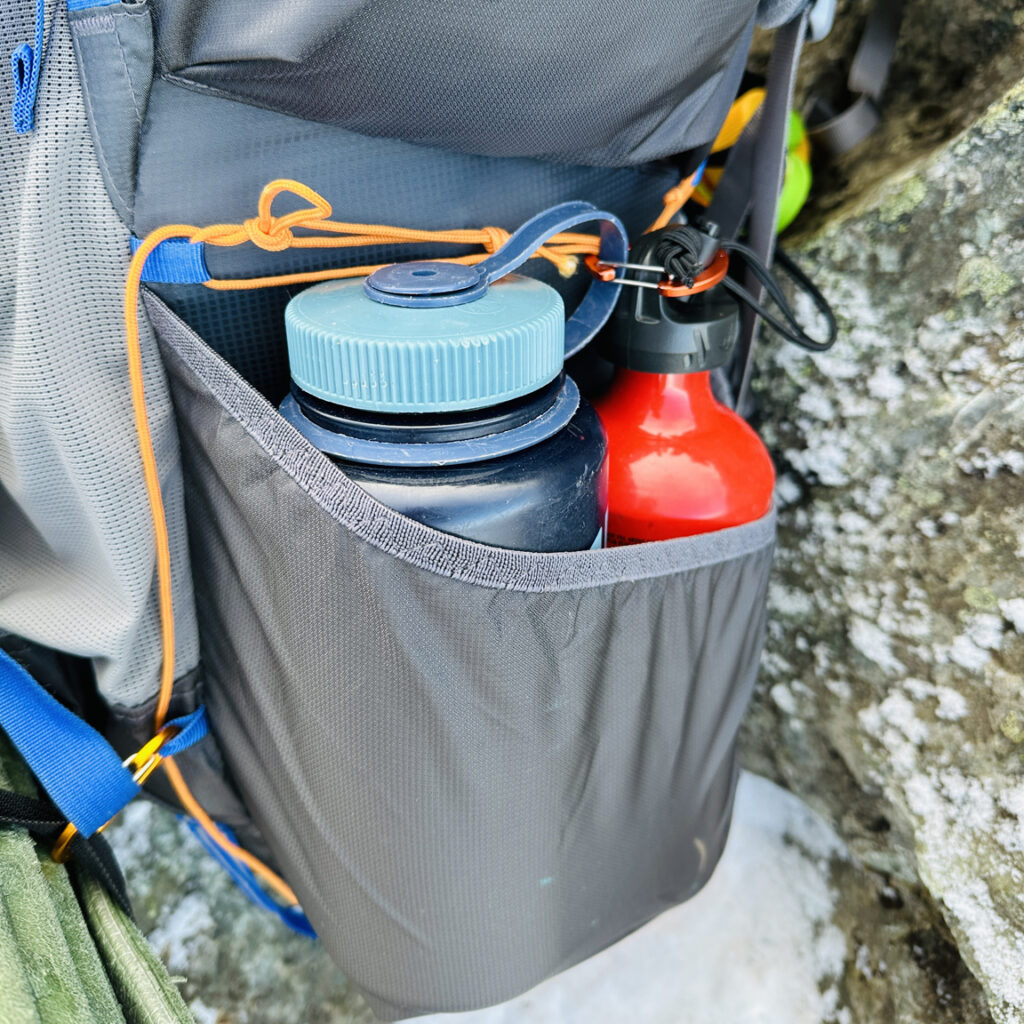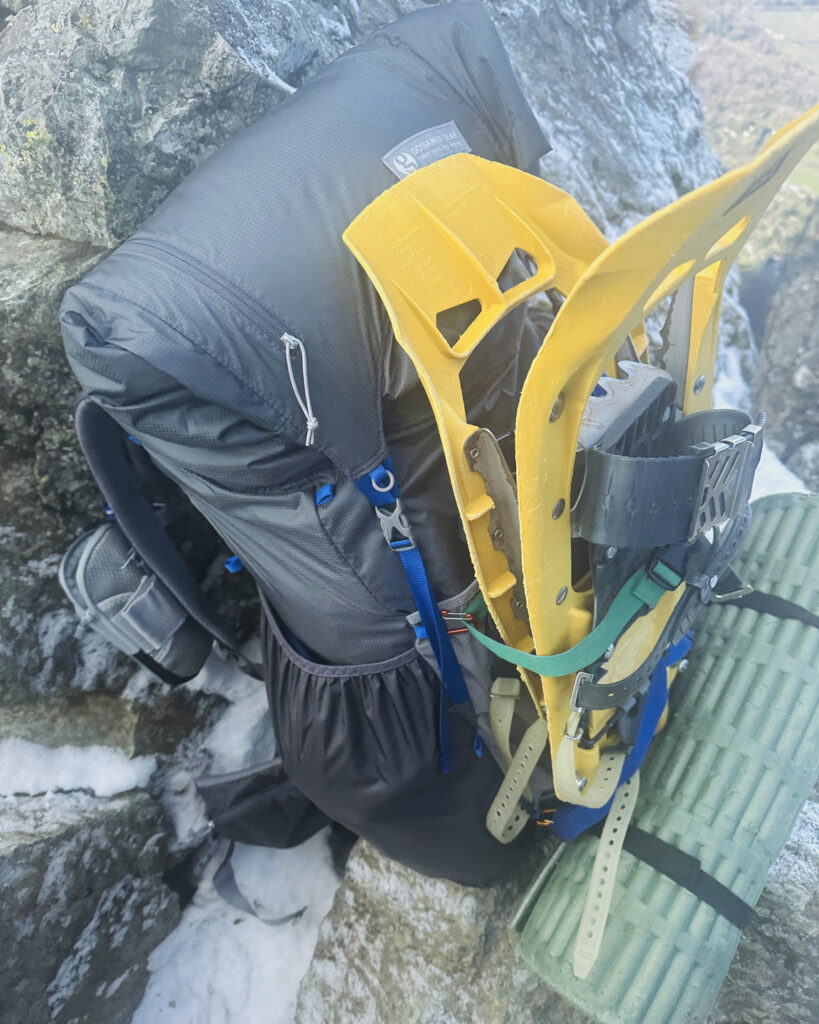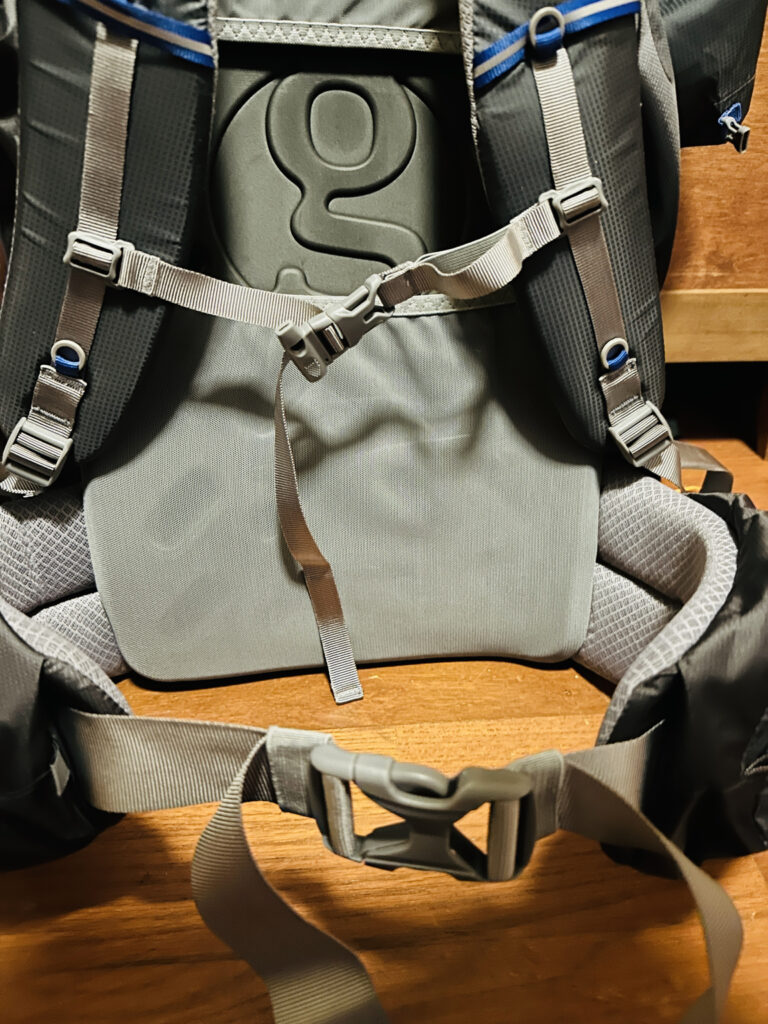 Overall impression
I plan to continue using and testing this pack unless I find something better. It's light, comfortable, and has sufficient capacity for my winter backpacking needs. The smartest thing about this pack is the sixteen small gear loops. These loops make the pack easily adaptable to carrying winter gear.
Let me know what you think
Can you fit your winter kit in a 60-liter pack? What pack are you using and how much weight would you save by switching to a Gossamer Meriposa 60? Add your comments below. I'm interested to hear your thoughts and experiences.