Usually, I carry at least three pairs of gloves in winter. No glove serves every purpose on a winter backpacking trip. For that reason, I select a combination of different gloves to meet different requirements.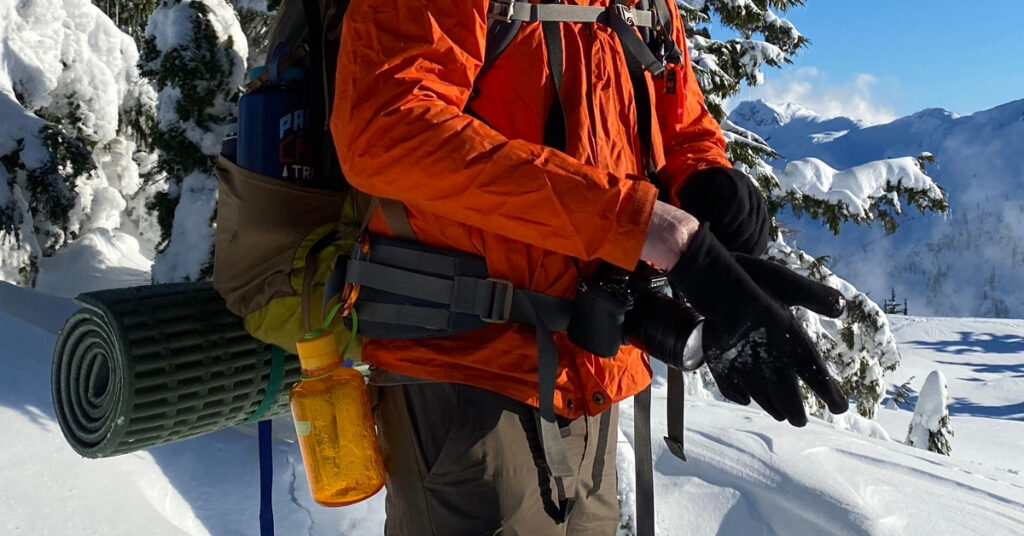 When I'm packing gloves for winter backpacking, I am concerned with three conditions—cold, wind, and moisture. I only want to carry what I will need, so I pack gloves depending on likely conditions, which here in the Cascades will be moderate cold (20–45ºF) or deep cold (0–20ºF). I also think about the likelihood of my gloves getting wet from rain, melting snow, or my hands exposed to high winds. Together, these factors determine which gloves I will be carrying. I am almost always carrying two to three pairs of gloves.
Liner gloves
(For hiking, camp, and sleeping)
I always bring fleece liner gloves. These are the gloves I wear while hiking—my trekking gloves. I sometimes wear them while sleeping. For those two reasons, I wear these gloves more than any others.
Gloves can get wet from sweat, rain, or from contact with the snow, so I often bring two pairs. Ideally, I hope to have one dry pair for activities at camp. I have found that circumstances rarely allow wet gloves to fully dry out on a short winter trip. Once gloves get wet they are useless and I rely on a backup pair. Even without contact with wet melting snow, it is helpful to change liner gloves once you stop hiking and start setting up your tent. Sweaty gloves, especially in windy conditions, will make your hands painfully cold.
In the shoulder seasons, the liner gloves also provide UV protection on large snow fields.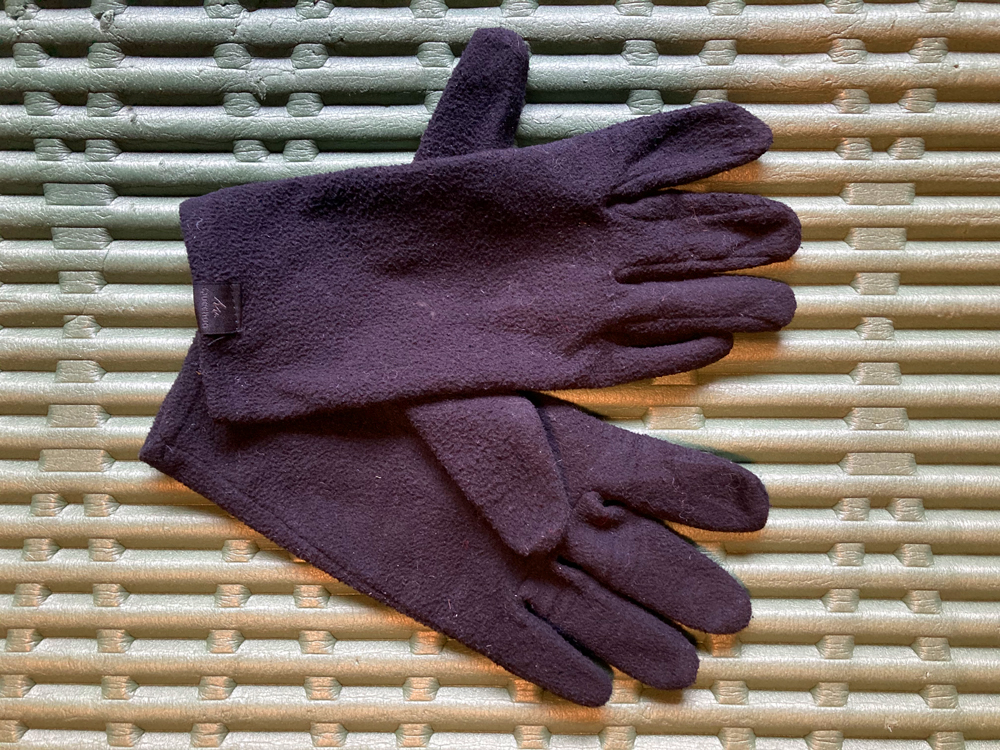 I started using REI liner gloves ($19.95), which are thin, lightweight, and comfortable for hiking. I have also used Smartwool Liner Tech gloves ($24.00). Both of these gloves tended to disintegrate over time when used with trekking poles. For this reason, I switched to Forclaz Trek 100 fleece hiking gloves, which weigh slightly less than an ounce (0.90 oz., $2.99–4.99, sold by French retailer Decathlon). The fleece gloves have proven to be more durable and less costly to replace.
Waterproof Thermal gloves or freezer gloves
(For hiking and camp, for wet or windy conditions)
Several backpackers have started using waterproof thermal gloves or what some might call "freezer work gloves."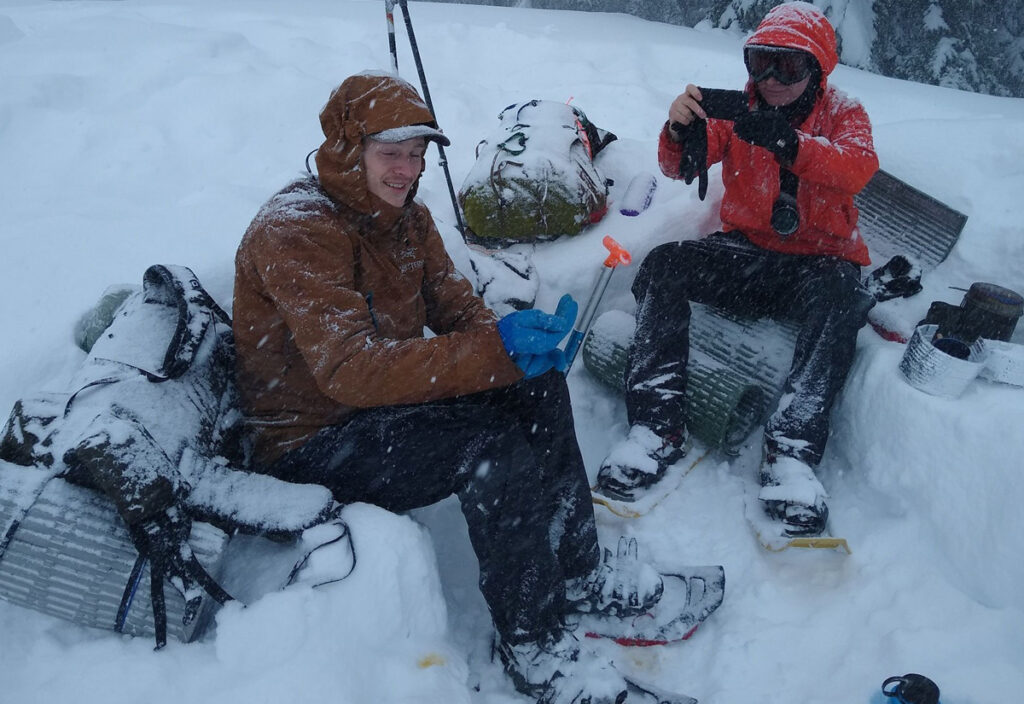 This type of glove has clear benefits. They are relatively light and much warmer than fleece liner gloves, adding extra comfort at the beginning of a hike in the early morning. They are a bit too warm for hiking in winter most of the time but sometimes just right, and excellent during camp setup. Most important, they provide much more wind protection than liner gloves and they are 100% waterproof. Finally, they are inexpensive (usually $10–12). They would also keep your hands warm and dry during an avalanche rescue.
I would not want to sleep wearing them because they are too warm and don't breathe well.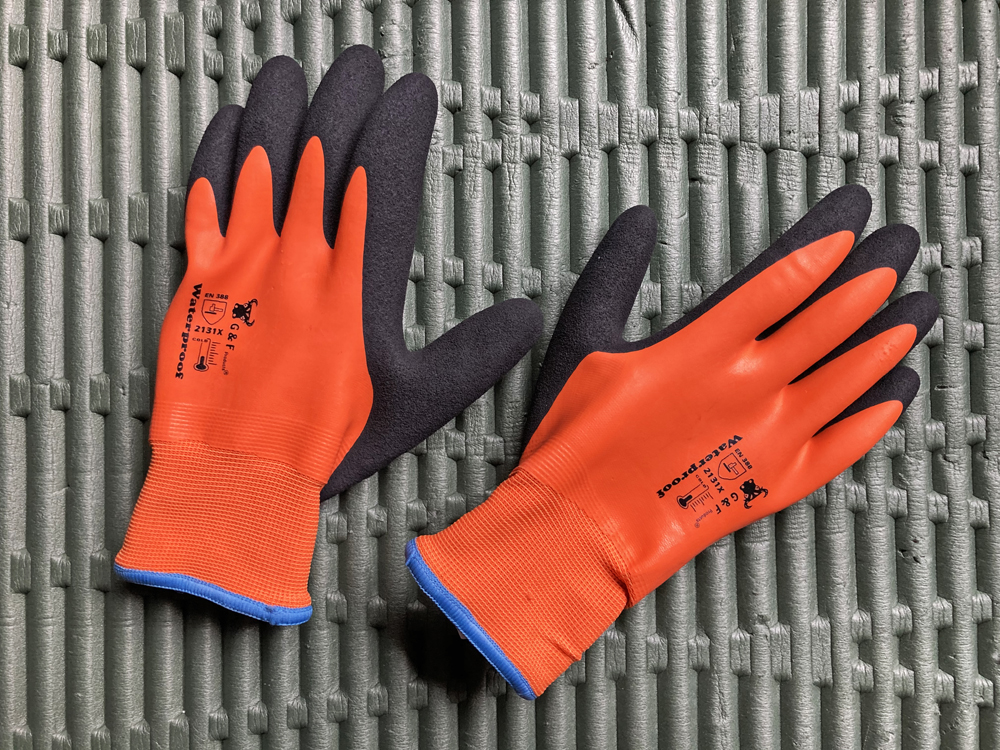 There are many types of waterproof thermal gloves, such as the Showa 282 TemRes Gloves ($16.64). Some gloves in this category use cotton materials or are very loose-fitting. Avoid the cotton ones and look for synthetic ones. I chose the "G&F Waterproof Double Thermal Winter Gloves" (4.65 oz., $11.99) because they are synthetic (no cotton) and they fit well. You'll notice a small thermometer graphic on the gloves to indicate use for cold work conditions, rather than just gardening. The sizes run small, so I use large when I would usually use the medium. These gloves solve the wet snow issue and provide enough dexterity to set up a tent.
Mid-weight gloves
(For hiking and at camp)
In addition to two pairs of liner gloves, I pack insulated gloves for warmth. They weigh slightly under 3 ounces (2.85 oz.). Depending on expected temperatures, I would either take mid-weight or more heavily insulated gloves.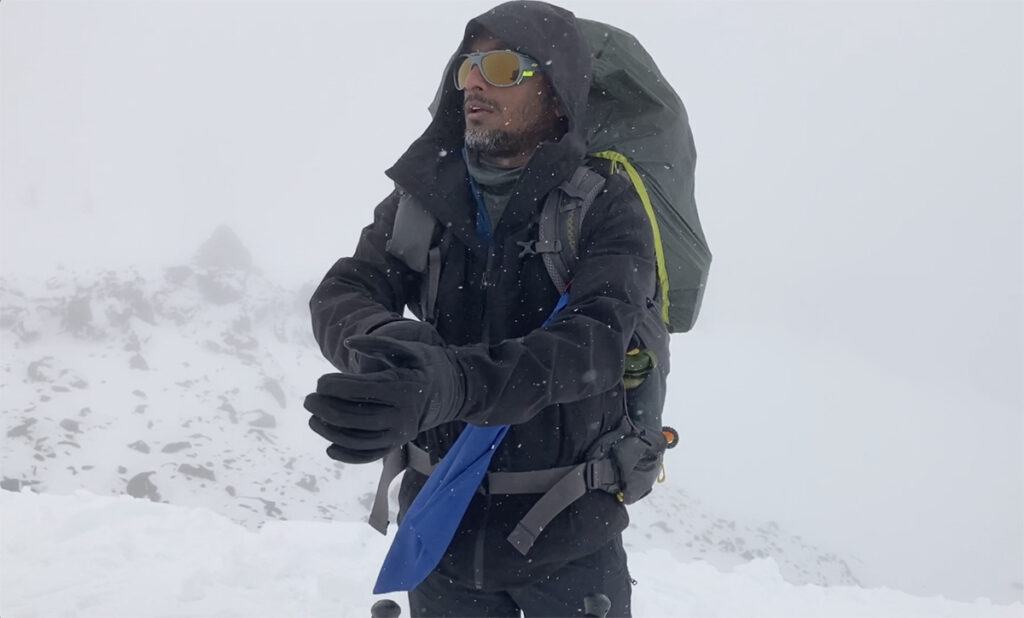 Either way, I rarely need these gloves. I mostly rely on the liner gloves. However, there are times when warmer gloves are desirable. Because they are not needed much, they are not exposed to much wear and tear and don't need to be made of heavy materials. For mid-weight gloves, I wanted lighter gloves than those sold for outdoor recreation. The lightest pair I found were insulated gloves that have a thin nylon shell, no Gore-Tex shell, and only very thin vinyl reinforcing. They are just low-cost formal wear. I have not been able to find these online (the brand label only says "Pro-TEX" (2.85 oz.), but if I were looking for a replacement, I would look for winter gloves in a regular clothing store. That said, I am unlikely to replace them because I have decided to switch over to waterproof thermal gloves (mentioned above) which are more versatile and just as warm.
If you are looking for a higher-quality mid-weight glove intended for hiking, there are many. The MEC Surprise Gloves are one of the lightest and most affordable ones I've seen ($39.95/6 oz).
Heavy-weight gloves and/or mittens
(For camp and hiking in windy or deep cold condition)
For windy and cold weather, I use to rely on a pair of Gordini Gore-Tex Gauntlet Snow Gloves (7.95 oz., $18.73). These offer windproof, waterproof, and breathable protection, but my fingers would sometimes feel cold in harsh windy conditions.
Gloves vs. Mitten for extreme conditions
For cold weather, I have switched from full-finger gloves to insulated mittens. The mittens provide better circulation for your fingers and that translates to warmer hands. The argument against mittens is the loss of finger dexterity. But thick gloves, such as the Gordini's don't provide much dexterity either. For that reason, if you want a pair of gloves for harsh conditions, consider mittens. If you are in any doubt about which are warmer—full finger gloves or mittens, put a full finger glove on one hand and a mitten on the other and then stand around camp or do some task such as digging a cooking pit. Without a doubt, the mittens are much warmer.
I chose Outdoor Research's Alti Gore-Tex Mitts ($199), which combine inner and outer mittens. These double-layer mitts offer good warmth with both wind and moisture protection. The inner mitts fit over my liner gloves allowing three layers of warmth.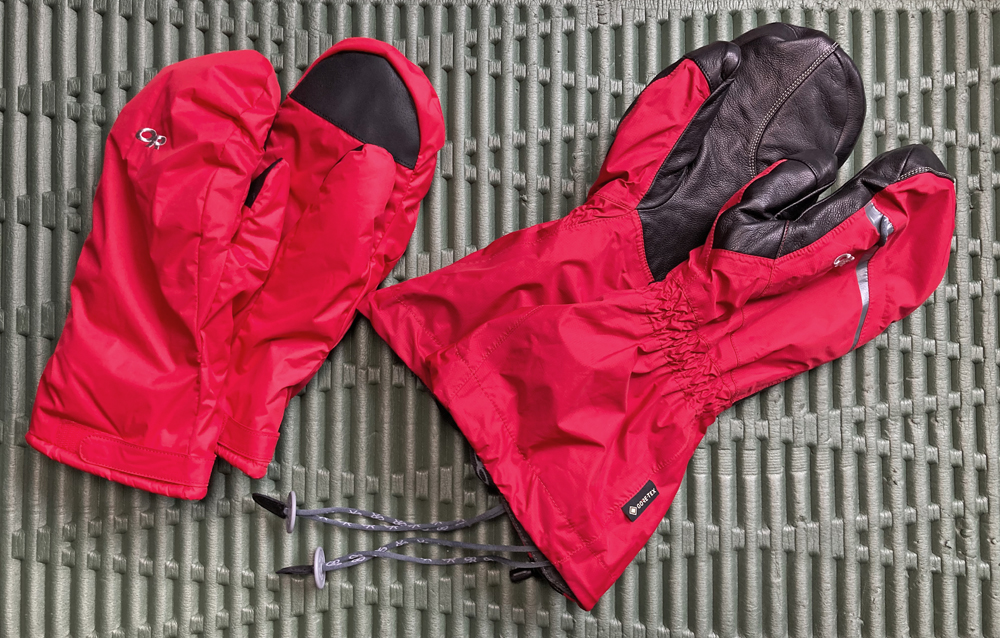 The Alti Mitts are expedition-level mittens designed for extreme conditions—"8,000-meter peaks and Arctic expeditions." They have PrimaLoft Gold insulation which is perhaps the best type of synthetic insulation available—certainly better than down for wet conditions. This feature is why I chose them over comparable down-fill alternatives.
Generally speaking, expedition-level gear is not necessary for the Pacific Northwest at elevations between 3,000–7,500 feet (where most of our trips occur). Bear in mind that an 8,000-meter peak is 26,246 feet. The highest elevation I have camped at in Washington State is 12,000 ft (Mount Adams, near the summit). When Mount Adams is 0 degrees on the summit, lower elevations will likely be 10º F (10,000 ft) or 20º F (6500 ft).
Around camp, on most trips, I usually use thin liner gloves or just keep my hands in my jacket pockets.
That said, high winds can create brutal wind-chill conditions and I don't want cold hands in difficult situations. That's when expedition-level mitts help you take care of your hands. I've seen hikers using leather climbing gloves in extreme winds and experiencing unbearable hand pain. Having the right gloves is important.
"Small errors can turn into big problems." Always keep this saying in mind when you are winter backpacking. One such error is dropping a glove on a mountain and having it blow away, leaving your hand exposed in dangerous wind and cold. As with other gear, it needs to be secure at all times. One solution is to wear a clip or small wire-carabiner that you can clip your mittens too if you need to remove them to perform some task.
Here are some other similar expedition-level options (some of which I have seen available at much lower sale prices):
Black Diamond offers a variety of options, the coldest rating being the Absolute Mitts (–20/–40º F, $249.95, PrimaLoft Kodenshi, 15 oz.) See also Mercury Mitts (–10/–20º F, $109.95, 9.2 oz.)
Mountain Hardware Absolute Zero™ Down Mitt ( $200, 800-fill goose down, 11.7 oz.)
Rab Expedition 8000 Mitten ($199.95, 850-fill goose down, 9.9 oz.). See also their Endurance Down Mittens ($135., 650-fill duck Down, 8 0z.)
Marmot 8000 Meter Mitts ($275, 700-fill Down liner and PrimaLoft Insulated shell, 12.07 oz.)
If you are on a budget, consider laying heavily insulated gloves with lower-cost Gore-Tex mittens that can fit over them, such as REI's Minimalist GTX Mittens ($44.95). If you prefer gloves, see Black Diamond's Helio Three-In-One Gloves ($202, 8.2 oz.).
Convertibles
There are also fingerless mitten gloves or "convertible" gloves, meaning that you have partial fingers with the finger ends open and a mitten cover that goes over the fingers. The mitten cover can be removed when you need finger dexterity. Outdoor Research, Black Diamond, Forclaz, and others, make convertible mittens in what might be categorized as mid-weight gloves—all very suitable for mild Pacific Northwest conditions.
I don't use convertible gloves, but some of the hikers I know seem happy with them.
Heated Gloves
Heated gloves and other electronic devices such as action cameras and cell phones, can interfere with avalanche transceivers. You can keep cameras and phones 12 inches or more from your transceiver, but you will likely want gloves while holding the transceiver during a search. Transceivers are more likely to be disrupted by electronic devices while in search mode. Electronics create a ghost single that can confuse the direction arrows and distance readings.

Heated gloves are also less reliable than traditional insulated gloves. Depending on the gloves and settings, you can expect 2.5–6 hours of battery life.
The Multi-Glove System table
The table below shows the gloves I use for winter backpacking. The reasons and conditions are charted according to purpose, benefits, and limitations. It is rare for me to see a reason for packing all four pairs of gloves.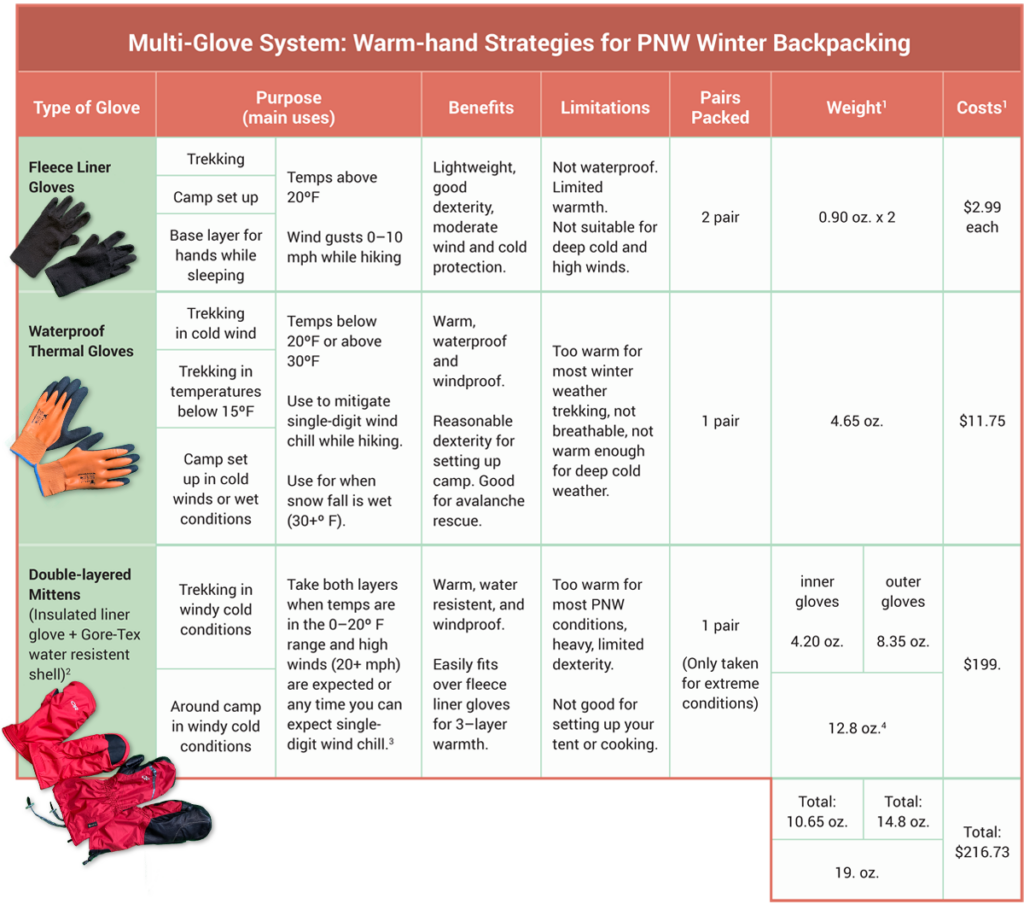 The evolution of my glove strategy
My original strategy depended on replacing wet gloves with extra gloves. This strategy had serious limitations because gloves can become wet quickly. Waterproof thermal gloves have become the solution to wet conditions. I also found that the gloves I used for winds and deep cold, the Gordini Gore-Tex Gauntlet Snow Gloves, could not keep my hands completely warm for long periods of time in the cold and windy conditions. This led me to upgrade to double-layered mittens. The old strategy worked well compared to just carrying one pair of winter gloves. The new system is much more versatile and bulletproof, but the mitts do add weight.
The old system
This strategy was okay but lacked sustained water protection and wind-chill resistance in some conditions.
2 fleece liner gloves + mid-weight insulated gloves (possible wet snow and moderate temperatures) or
2 fleece liner gloves + heavy-weight insulated gloves (possible wet snow + cold and windy conditions)

The new system
2 fleece liner gloves + waterproof thermal gloves (moderate temperatures, some wet and/or high-wind conditions) or
2 fleece liner gloves + waterproof thermal gloves + heavy-weight insulated double layer mittens (cold and high winds, with or without high winds)

Cost
The big cost is in this strategy is the OR double layer mitts. That said, notice that the gloves that get the most use are not expensive and will cost little to replace when necessary. The higher-priced mitts get less use and will hopefully last for many years.
In cold windy weather, I want to enjoy my time in the wilderness with no worries. This means having a glove system that I know with confidence will provide all the protection my hands need in the harshest conditions likely to occur.
---
Have any questions or thoughts. Share your comments below.