If you're wondering what to take on winter backpacking trips or how I keep my winter pack weight around 26–30 lbs, use this list for comparison purposes. I will try to improve this list with links and new information as well as new gear choices as gear evolves.
Bear in mind that many people hike in winter using different gear. Hikers have different preferences. Most hikers I know use 3-season tents and canister stoves, different packs, and different sleeping bag brands. This is fine. Decide for yourself what gear you want to use, as there are many good brands making similar gear.
I use a liquid fuel stove, but canister stoves will work on most trips. Some canister stoves are more likely to fail or underperform then others in more extreme colds and high elevations. I will be gathering information about canister stoves (makes and models) from hikers I know to add to this page later. 3-season tents will also work on most trips. More about 3-season tents in winter are available here: https://winterbackpacking.com/3-season-vs-4-season-tents/
However, you should avoid pack bladders and water filters in freezing weather. Pack bladders will freeze and you will want a hot water bottle at night anyway, so Nalgene bottles are better. More about water management can be found here: https://winterbackpacking.com/how-to-keep-your-water-from-freezing/
This checklist includes all the gear I use for 2–3 days, over-night snowshoe, and backpacking trips. Some gear choices vary depending on weather and terrain conditions, so not everything on the list is taken on all trips. At the end of the list, I also include a clothing checklist, which includes items I wear while hiking, as well as after the hike clothes that stay in the car at the trailhead, such as fresh a shirt, socks, and regular shoes. Having a fresh shirt keeps the sweat off the car seats and make stops at restaurants more pleasant.
Many of the items I use are no longer made (tent, pack, snowshoes, etc.), so I have sometimes included options I would consider if I had to replace what I'm using now. These are listed in italics.

Pack Weight
I try to keep my pack weight below 30 lbs for 2 and 3-day trips. The one factor that tips this scale sometimes causing my pack weight to reach 30, 32, or even 34 lbs is having to attach my snowshoes to my pack before reaching the snow. So be aware that it is often necessary to strap snowshoes to your backpack (adding an additional 4 lbs). This, of course, may mean that you have to carry some extra cord or straps to make this possible.
IMPORTANT: A heavy pack increases the chances of injuries and balance-related accidents on steep terrain so it is important to keep weight down as much as possible without sacrificing safety. Use this list to compare gear weights if you need to lower your pack weight. My list is a light and ultralight gear list that provides a base weight around of 20–25 lbs. The weight of each item is included in the list.
How to reduce pack weight
Most unnecessary weight can be found in the big three—the pack itself, the tent, and the sleeping bag. Each of these items can be around 3 lbs or less and still be durable enough for winter backpacking. If you have a heavy pack, look first at upgrading the big three. Next, get a small cooking scale and weigh each item in your pack. Record the weights on a list. You will likely only have to do this once. Some people make fun of people who count ounces, but if your pack is needlessly heavy, knowledge is a helpful strategy. Compare your weights with the weights shown here. Doing this may help you find 5–15 lbs of unnecessary weight that can be eliminated. Pack everything in your pack and use a digital hanging scale to weigh your final total. First, weigh your "base weight," which is everything except fuel, water, and food. Then weigh your total weight.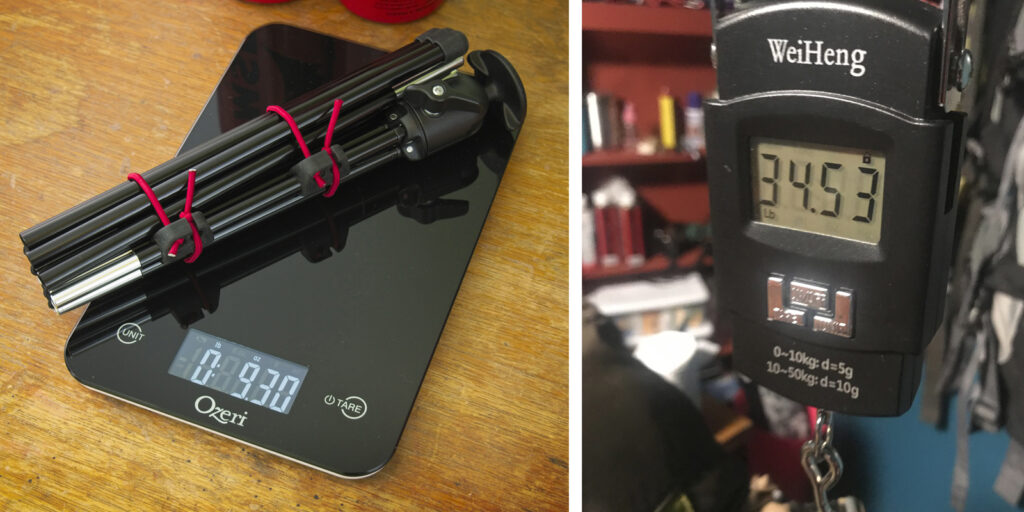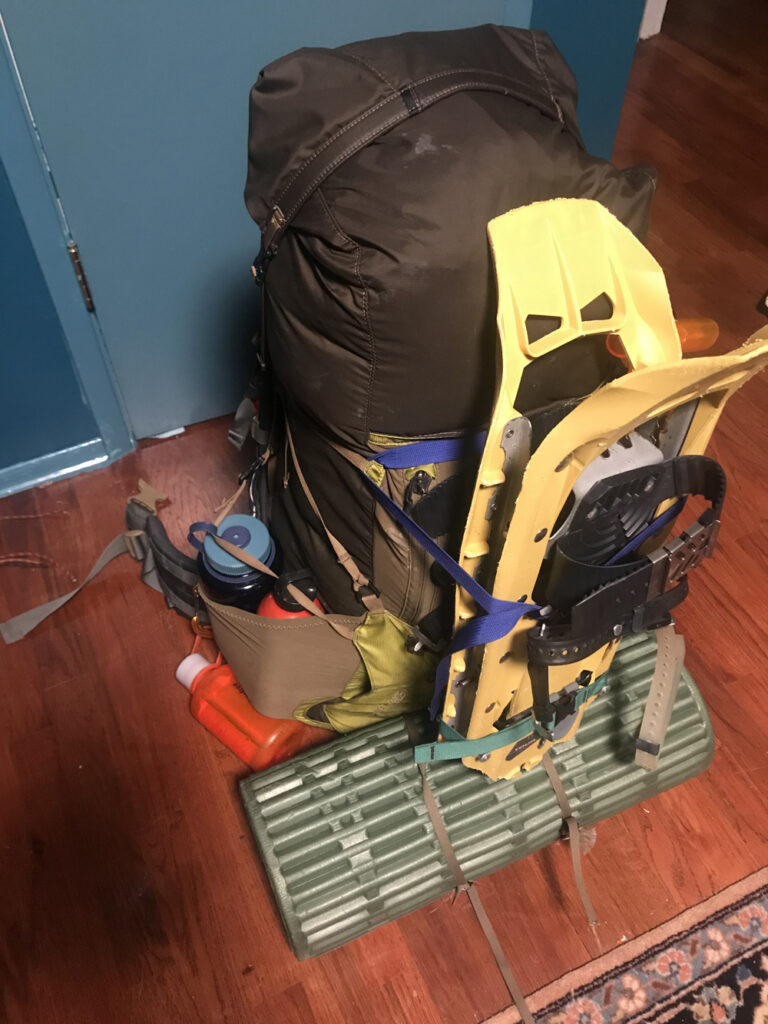 Everyone is different, and some people willing carry items that others wouldn't. Many of the people who hike regularly with me in the winter make very different gear chooses. It's fine for people to have different needs and preferences, but if your pack is heavier than you want, use this list to discover possible weight-saving gear choices.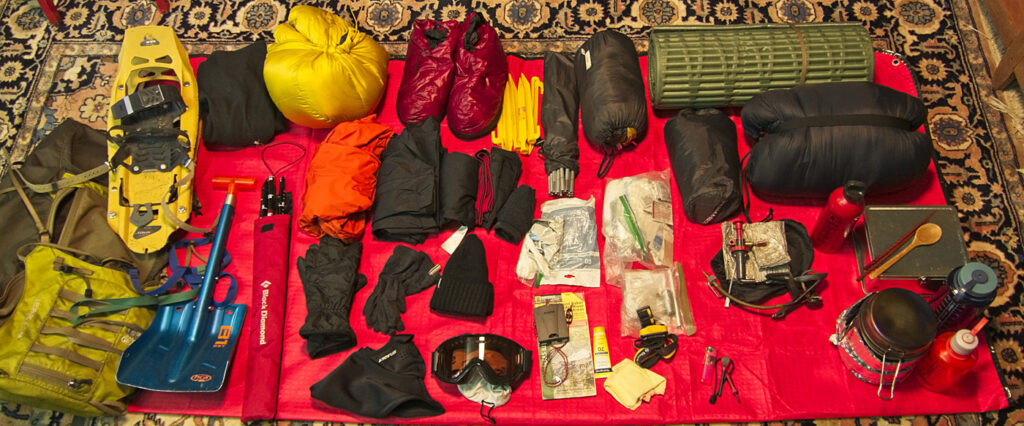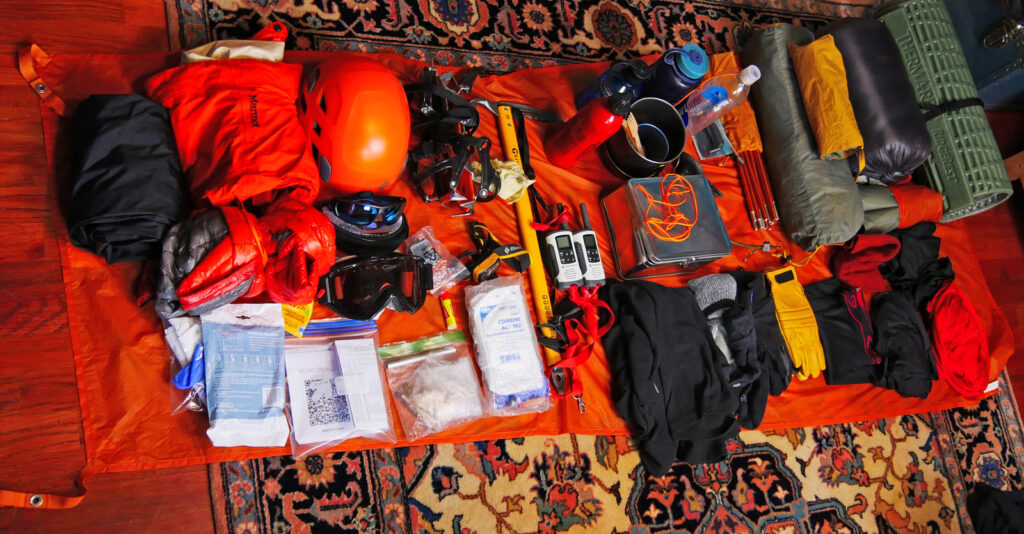 The Gear Checklist
The Basics (1 lb, 10.5 oz)
First Aid* 4.00 oz.
Bandage roll (4.5″ x 4YD)
ABD pads (2 quan.,5″x9″)
Triple layer pads (3 quan.,3″x4″)
Large band-aids (3 quan.,2.5″x3″)
Band-aids (3 quan., 3 inch)
Band-aids (2 quan., 2 inch)
Antiseptic towlettes (2 pks)
Iodine prep pad (1)
Alcohol prep pad (1)
Antibiotic ointment pads (4)
Burn cream (3 pk)
Burn jell (1 pk)
Hydrocortisone cream (1 pk)
Ibuprofen tablets (4)
Moleskin (5 pre-cut pieces)
Leukotape (1 yrd)
*All items packed with labels and expiration dates. Burn cream/jell because of stoves. Moleskin and/or Leukotake because of blisters. ABD pads or large bandages because of potential injuries (esp. ice axe, crampons)
Extra First Aid
Scissors (0.55 oz.)
Tweezers (0.30 oz.)
Duck tape 2×50″ (0.60 oz.)
Hygene supplies
Wag bag or Biffy Bag (2.55 oz.)
Extra toilet paper (0.55 oz.)
Sanitary wipes (2) (0.45 oz.)
Latex gloves
Toothbrush + paste (1.40 oz.)
Repair kit
Sewing repair kit (0.50 oz.)
Air Mattress repair kit (1.05 oz.)
Tent pole repair sleeve
Stove maintenance kit (partial) (0.55 oz.)
Navigation gear
UV Protection
Sunglasses (1.15 oz.) or Glacier Glasses
Sunscreen (1.10 oz.)
Chap-stick (0.14 oz.)
Lumination
Fire-starters (take two types)
Flint (0.55 oz.)
Lighter (full .80 oz.)
Big Three+
Backpack
Sleeping system
Sleeping Bag (rated 10º to 15º for 20–35ºF weather) (42.60 oz.)
Sleeping Bag (rated 0º to –10º for 10–30ºF weather) (53.00 oz.)
Sleeping Bag (rated –20º for 0 to –10ºF weather) (58.00 oz.)
Dry sack or plastic bag to protect sleeping bag (0.40 oz.)
Stuff sack (0.95 oz. or compression sack or strap for compression)
Sleeping pad (air) (17.50 oz.)
Solid core foam pad (13.75 oz.)
Tent
Traction
Micro-spikes (13.45 oz., shoulder season)
Crampons (rarely taken)
Ice axe with leash (rarely taken)
Mountain-Terrain Snowshoes (64 oz.)
Wind and rain Protection
Avalanche Safety Gear (3 lbs .24oz)
Packed clothing (3–4 lbs)
Down jacket (18.55 oz.)
Shirt (smart wool) (10.10 oz.)
T-shirt (extra) (4.30 oz.)
Base-layer underwear—leggings, Capilene (3.60 oz.) or nylon
Base-layer shirt (Capilene )
Liner socks (wool 1.60 oz.)
Socks (thick wool 2.60 oz.)
Liner gloves (and/or Smartwool, extra) (2.00 oz.)
Gloves (midweight)
Gloves (heavyweight, depending on cold and wind conditions)
Wool beanie
Waterproof stuff sack (0.40 oz.)
Cooking Supplies (4–5 lbs)
Stove Kit (29.05 oz.)
Water Supply gear
Luxury gear
Circumstantial / Miscellaneous gear
Many of the items on my gear list above will only be included in my pack depending on weather and terrain conditions. Here are some other contingent items:
Extra fuel (as a safety measure, I recommend every team member have a stove, a lighter, and extra fuel)
Cathole Trowel (2.85 oz. Not necessary in snow conditions. Pack your poop out.)
Pack cover (3.15 oz. Not necessary in temperatures below freezing.)
Ice Ax (16.50 oz. Not useful in early-season fresh snow.)
Crampons (28.00 oz. Not useful in fresh snow and not recommended for regular hiking boots.)
Seat pad (2.15 oz. Optional, just use full-size pad)
Tent ground cloth (4.45 oz. Not necessary on snow.)
Water filter (13.75 oz. Problematic and not recommended in freezing weather.)
Pants (extra) (10.00 oz. Recommended if river forging and/or wet weather is anticipated.)
Vapor Barrier Socks (1.80 oz. Unnecessary unless you are using highly waterproof boots.)
Hydro Flask (full) (29.50 oz. Use for temperatures below 20–15ºF)
Compression bag (3.35 oz. Use for large synthetic or expedition sleeping bags. Be aware that over compressing sleeping bags is not recommended.)
Snowshoe extensions (13.05 oz.) (Recommended for deep fresh snow, especially for heavier hikers)
Lithium batteries (0.80 oz.) (not recommended for avalanche beacons because of sudden battery death without warning)
Alkaline batteries (extra, recommended for winter cloudy trips)
Bear vault food container (32.00 oz. A generally helpful tool that is required in some locations.)
Bear spray (12.30 oz. If you want self-defense, this non-lethal tool is the only method I recommend.)
Down Booties (3.85 oz. optional)
Wool insoles for booties (1.40 oz. optional)
Clothes checklist (wearing)
Rather than search for hiking clothes on the morning you will be leaving for the trailhead, use this list or a list to gather everything you need in one place.
Briefs (2.80 oz.)
Hiking pants (14.70 oz.)
T-shirt (4.25 oz.)
UV shirt with hoody (known as a "fishing shirt" 7.85 oz.)
Thermal shirt baselayer 3.60 oz.)
Buff (1.45 oz.)
Liner socks (wool, 1.60 oz.)
Socks (wool) (2.60 oz.)
Belt (2.00 oz.)
Liner gloves (2.60 oz.)
Cap (1.75 oz.)
Gaiters (6.30 oz.)
Boots (3 lb 2.70 oz.)
Hiking poles+snow baskets (15.65oz. Attach to your pack to make sure they get to the trailhead the day of the hike.)
Regular Extras
Camera (wearing) (1 lb 12.90 oz.)
Lens cover & harness (4.06 oz.)
Extra battery (1.75 oz.)
Extra Flash card (0.15 oz.)
Plastic bag for the camera (0.40 oz.)
Cell phone (4.00 oz.)
Keys (0.70 oz.)
Wallet (1.25 oz.)
Glasses (+ extra 1.60 oz.)
For the car
After-hike car clothes
Shoes
Socks
Shirt
Plastic bag for boots
Gas money
Forest/Park/Snow pass
Cell phone charger cord
Saw (for downed trees)
Tire chains (+pliers and gloves)
Flashlight
If stuck in storm:
Run the motor about 10 minutes each hour for heat.
Open the window enough to avoid carbon monoxide poisoning.
Periodically check the exhaust pipe to be sure it does not become blocked.
Food (examples)
These are just some examples. I tend to carry small meals in general with the strategy of snacking often. Most hikers just use package food that only requires adding hot water to the package. I prefer dishes with fresh vegetables and sauces on rice noodles, pastas and breads, homemade muesli, etc. If I am hiking only for 2–3 days, I can manage the extra weight and avoid pre-packaged foods. That said, I will carry a few pre-packaged extra meals for backup purposes.
Cooking fresh meals does require cleaning a pot or fry pan. To wipe clean pots I recommend using a piece of Lavash bread. In some instances, I will just put the dirty cooking pot in my bear vault and clean it when I get home.
Snacks
Nutella/Walnut burrito (3.60 oz.)
Trail bars—Fruit/nut bars (3) (4.50 oz.)
Snickers (1.95 oz.)
Lunch
Sandwich (peanut butter & jam) (6.60 oz.)
Lavash or baguette and hummus
Lavash and Baba ganoush
Nuts
Sushi (first day)
Burrito (first day, walnut + greens)
Diner options
Pho (broth, rice noodles, chopped vegetables with peanuts, tahini, chili oil, and soy sauce).
Tortellini (Spinach) with added sun-dried tomatoes
Tortillas (Bean or Cheese) (9.35 oz.)
Bulgur with walnuts, herbs, olive oil
Couscous with walnuts, herbs, olive oil
Tea (0.23 oz.)
Cookies (2.20 oz.)
Chocolate (2.00 oz.)
Backup meals (pre-packaged)
Thai noodle soup (2.20 oz.)
Ramen (2.50 oz.)
Miso soup (0.45 oz.)
Breakfast options
Muesli (toasted oats with nuts and dried fruit) (11.00 oz.)
Oatmeal (plain, 2 packs) with added raisins (2.70 oz.)
Almond milk for Muesli (9.20 oz.)
Mocha/Coffee/Cocoa (1.15 oz.)
Lunch
Sandwich (peanut butter & jam) (6.60 oz.)
Bagel & Cheese (5.85 oz.)