Key considerations
Trip planning starts with finding 1) accessible trailheads, 2) routes with manageable risks, and 3) destinations that are worth the effort.
In the winter months, trailheads are often closed and/or covered in snow. This means accessible trailheads tend to be close to major roads or ski resorts.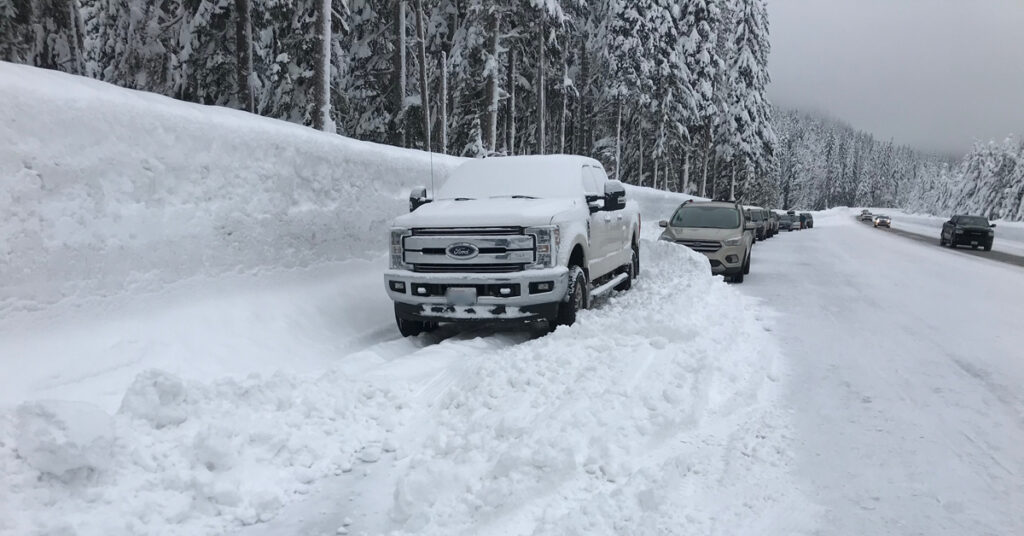 A major consideration is the snowpack. If the snow is deep and not yet compacted, snowshoe travel is difficult and can even be impossible. Elevation changes can also affect snow levels. Some routes, for example, might have 4 miles of a closed forest road with little snow followed by 4 miles of snow deep enough to require snowshoes.
We can start planning by considering questions such as:
What are the weather and avalanche conditions?
Can the trailhead be reached?
What are the elevations and snow conditions?
What distances are involved?
Where does the route cross dangerous avalanche slopes and how can these be avoided?
Avalanche conditions
Check the avalanche conditions here: https://www.nwac.us/avalanche-forecast/current/
Note the danger level and type of avalanche risks.
You can learn about how to read avalanche reports in these tutorial videos:
Weather Data
Always check weather temperatures and wind speeds, not just cloud cover.
Check weather conditions here: https://www.mountain-forecast.com/
I recommend bookmarking specific mountains.
Pay attention to each elevation you will be in. Sometimes there will be rain at low elevations and snow and wind at higher elevations. Conditions around freezing are common in the Pacific Northwest and make staying dry difficult. Ideal winter travel tends to be in colder conditions 15–25ºF, which is cold enough to stay dry, but not so cold as to require expedition level gear.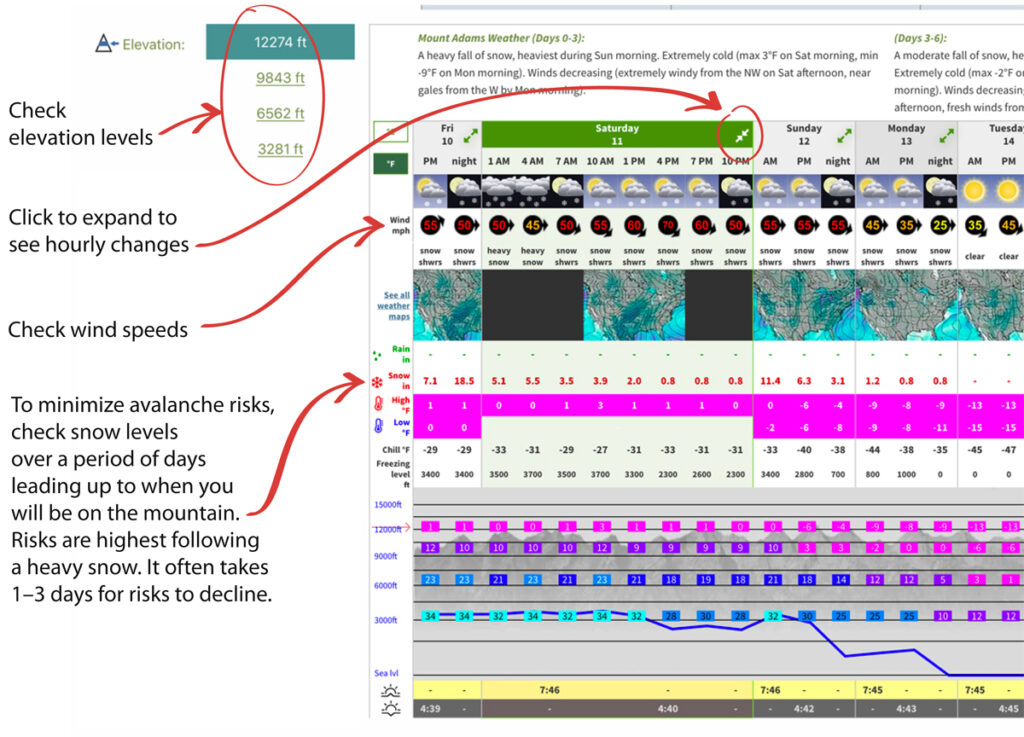 Why Rain Gear is always Mandatory
Even on clear days, you must be prepared for rain. The sun can melt snow in the top of the trees causes what is equivalent to a major rain shower coming down in the forest. Rain gear is essential for wind protection too.
It is important to consider not just snowfall, but wind conditions. More about planning for wind here: https://winterbackpacking.com/preparing-for-winter-wind/
Basic notes for months of the year (what to expect)
September–October: An occasional early season snowfall can provide snow camping opportunities in September and October.
November: November is often the most challenging month because the weather is wet and cloudy and not quite cold enough to stay dry. It is essential to always stay dry in winter to avoid hypothermia risks. For this reason, few trips occur in November, unless weather is colder and drier than usual.
December and January: These months tend to be cloudy and daylight hours are fewer. Distances usually have to be short because the snow is deep and travel time is slower. Trip planning is difficult, but some of the most amazing heavy-snow trips occur during these months. There are many cloudy days in the winter and the few that have sunshine are not going to always fall perfectly on the weekends. If you are flexible about when you can go, I can sometimes reschedule for a bluebird weekday, which is better than canceling. Short snowy trips in December are good opportunities for people new to snow camping to test gear and learn techniques.
February to March: Opportunities for longer trips on compacted snow increase.
April–June: There is still abundant snow at high elevations. The days are longer, the weather clearer and the snow consolidated making longer and more frequent trips possible.
July–September: The snow melts out and snow camping is only possible on the higher elevation destinations.
I have had some great trips in mostly cloudy whiteout weather, but generally speaking, I am more inclined to go if there is at least some partially clear conditions in the forecast. Unfortunately, that partially clear sky sometimes turns into sustained whiteout conditions.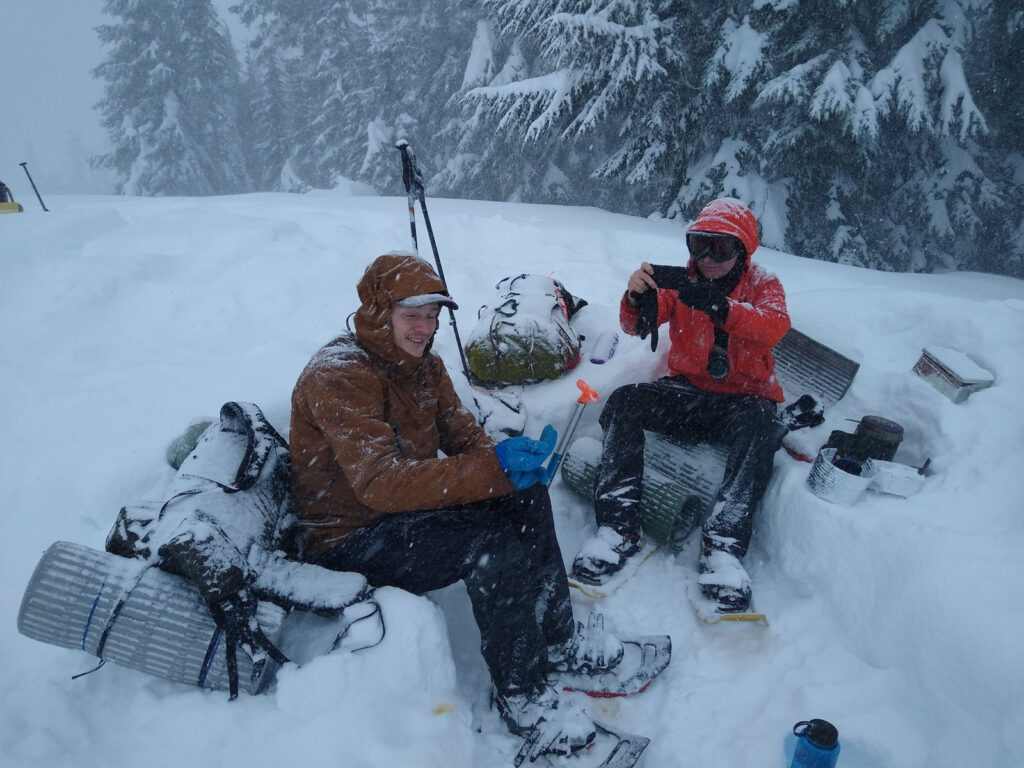 Trail evaluation
In the shoulder seasons, the snow is high up and trails can often be approached by using the forest roads. Day hikers are often fooled by the clear conditions at the trailhead only to find themselves in deep snow, slippery ice, and windy conditions as they move a few thousand feet higher up the trail. Not being prepared with rain gear, gaiters, microspikes, trekking poles with baskets, can place you at risk.
Once the forest roads close or get covered in snow, the forest road can only be hiked if the distances are short enough. Bear in mind that some forest roads are scenic, but most are not, so in most cases you want to avoid hiking long forest roads. Many people go on snowshoe hikes on forest roads, but there are better routes.
In most instances, the routes I hike in winter are routes I have already hiked in summer and the shoulder months. When the trails are covered in snow, it is good to already be familiar with the route, the terrain, and general directions. Be mindful that in winter it is not always possible to see the sunrise, sunset, or north star.
Here are a few additional steps to follow when checking out a route on a map for winter trips.
Start by checking the avalanche forecast and slope aspect information.
Check slope angles on a topographical map, such as Caltopo. (Here's a tutorial for using Caltopo: https://www.youtube.com/watch?v=2188-p_uFMY)
Check where the trail is in the higher risks slopes (30–55º slopes) and use satellite imagery to evaluate tree cover and how anchored the snow may be. Look for alternative routes or ways to navigate around these danger areas.
Check the sunlight position on the trail. Google Earth allows you to see sunlight on 3D images of the landscape. This means you can evaluate the amount of sun on slopes at the time you plan to cross those slopes. You can also identify whether your planned campsite will be in the first morning light.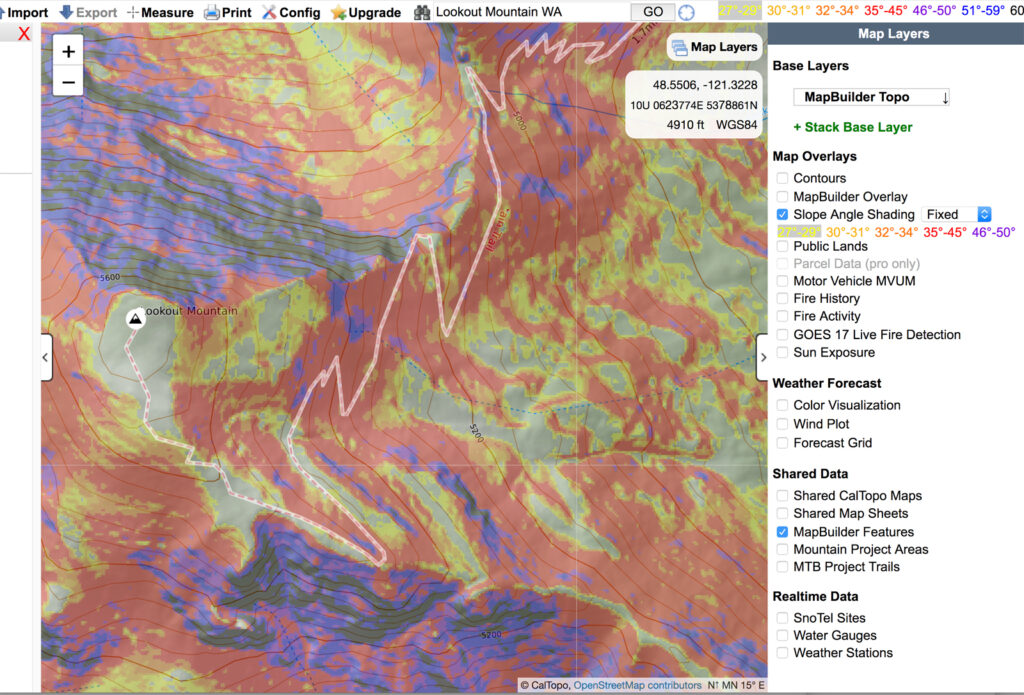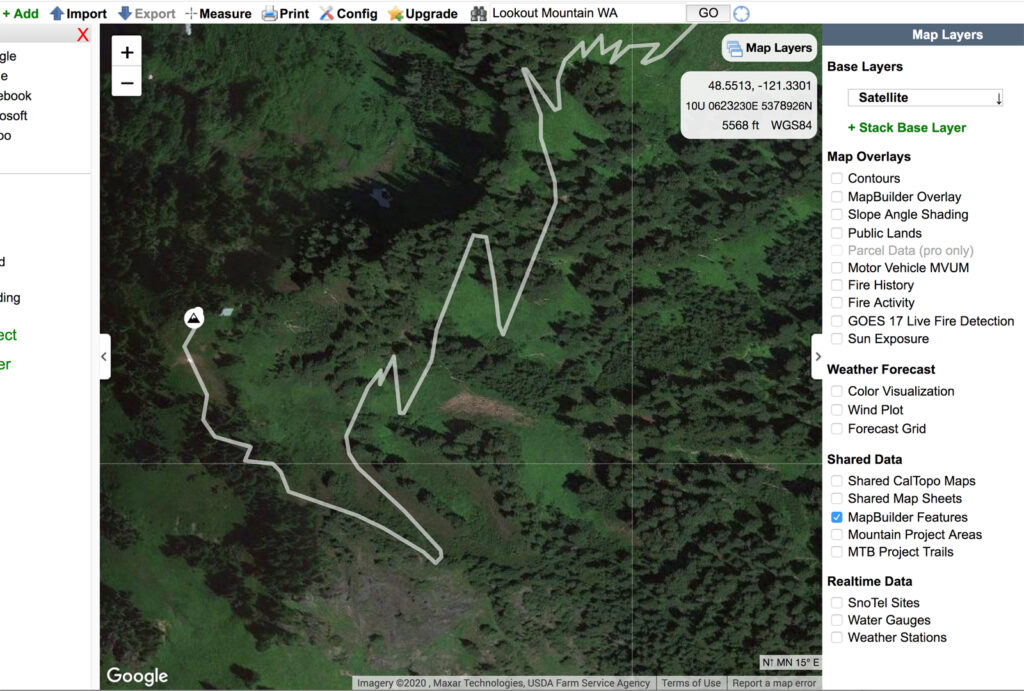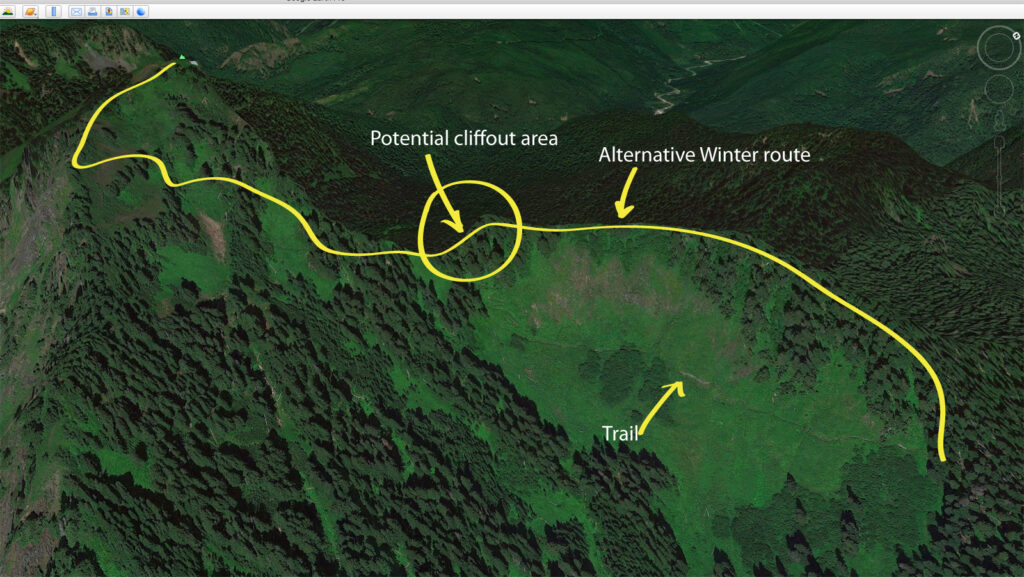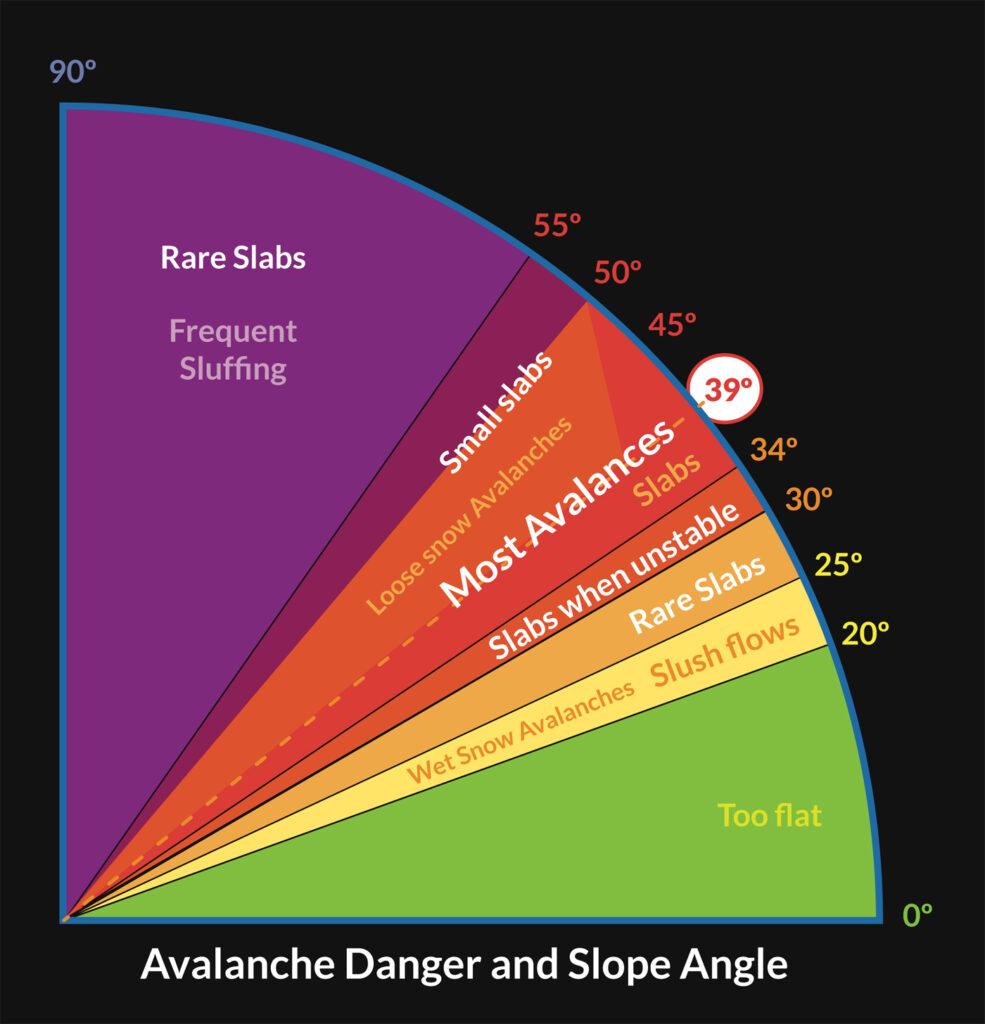 I will be updating and improving this page. Any suggestions you have are welcome.