From late October to March a typical cold-weather backpacking trip in the Cascade Mountains can involve preparation for snow camping in temperatures ranging from 10 to 35º F with 5–25 mph winds. The gear shown here is for such a trip.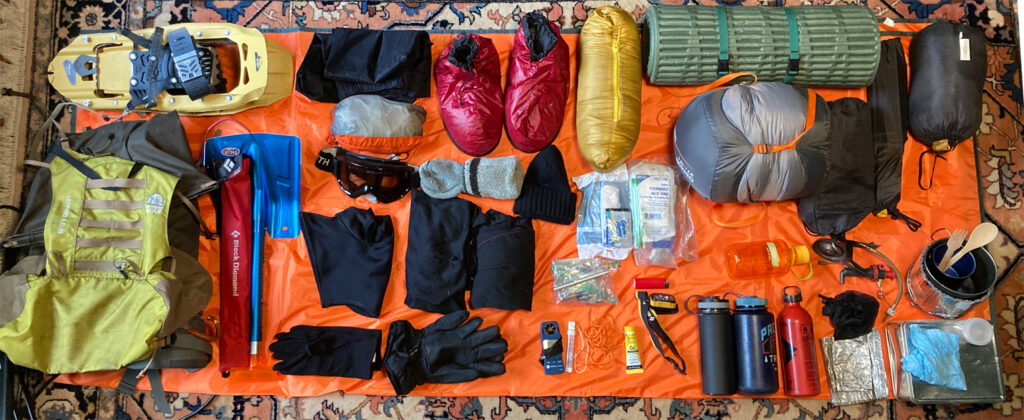 (For labels, see photos below.)
The winter backpacking gear shown here is my own preferences, which have been evolving. Many people who hike with me carry different gear, although they do follow the same basic principles.
This information is intended for beginners. I'll share both what's in my winter backpack as well as what I wear while hiking, which includes items not in my pack.
The visual inspection
Before I head out, I lay out all my gear and do a visual inspection using a printed checklist. This helps me avoid leaving behind a critical piece of gear. This process includes considering any special weather conditions and the recent snow forecast. I also inspect critical gear for wear and tear, such as snowshoe straps, headlamp and beacon batteries, and my stove.
Manage your gear weight
For a fuller and more detailed gear list that includes gear weights and items for the shoulder seasons, see A Winter Backpack Under 30 lbs.
Variations
Depending on conditions and the time of year, my gear will vary. The biggest considerations are which tent and sleeping bag to take. Sometimes I take a 3-season tent and other times a 4-season tent. I may take either a 15º, 0º, or –20º rated sleeping bag. On some trips, I may take a lite or heavy down jacket, or heavier base layers. On some trips, I take a bear-resistant container (required in National Parks) and on others, just a metal lunchbox. Sometimes I will bring extras such as down booties, walkie-talkies, a camera tripod, an anemometer (wind speed gauge).
Some gear is essential for nearly all trips, such as
a headlamp,
first-aid kit,
rain/wind protection,
UV protection,
water storage,
stove,
firestarters,
navigation tools (map, GPS, compass, altimeter),
avalanche gear (beacon, shovel, probe)
This list of essentials is similar to 3-season ten essentials lists, with the addition of avalanche gear and my own preference to not carry a knife. I have found no need for a knife, but there are small scissors in my first-aid kit for first aid purposes. For a more detailed look at gear essentials, see The Fifteen Essentials for Winter Backpacking.
For most trips, basic wind and UV protection are standard. This includes a hardshell rain jacket, rain pants, hooded shirt, and goggles. If high winds are expected, I may switch out my lightweight rain pants for a heavier version that has full-length zippers because they are easier to put on when wearing snowshoes. In the shoulder seasons and low winds, I will substitute goggles for glacier glasses. If crampons are needed, I'll wear stiffer boots.
Basic gear
4-season tent with snow stakes
Sleeping system: solid-cell mattress and air mattress
Water storage: hip-belt bottle, a hot-water bottle, and thermos
Cooking system: Liquid-fuel stove, windscreen, fuel bottle
Cookware: 1-liter pot, pot lid (important to have a lid that seals the heat in the pot), insulated pot cozy (prevents food from cooling down too quickly), bamboo eating utensils, ultra-light wash towel
First-aid kit
Toilet kit: Wag bag, extra toilet paper, hand wipes
Tool & repair kit: tools and parts for the stove, tent pole brace, extra headlamp batteries, air mattress patches
Headlamp
Sunscreen
Lighter
Navigation gear (not shown)
Luxury items: Anemometer and thermometer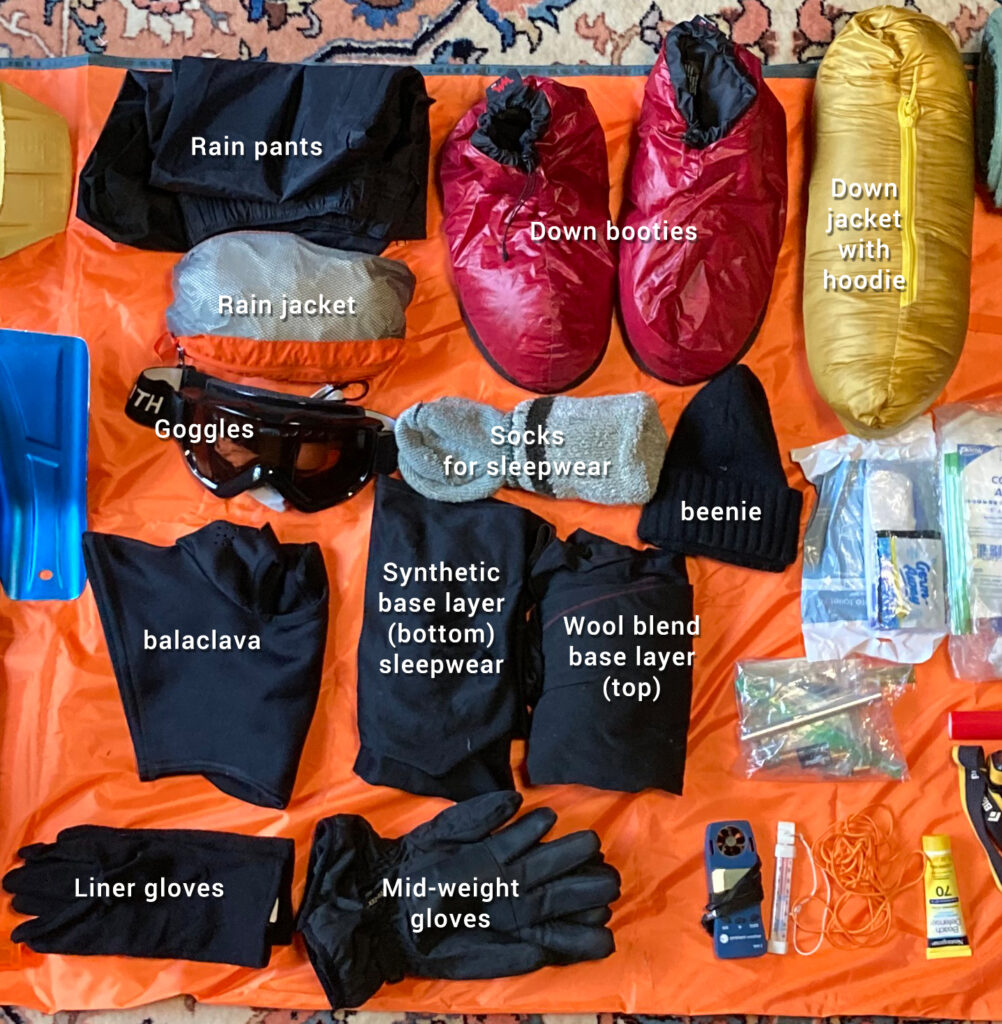 Camp clothes: Down jacket, base layer (top & bottom), sleeping socks
Balaclava
Extra liner gloves
Mid-weight gloves
Beenie
Rain jacket
Rain pants
Goggles
Luxury item: Down booties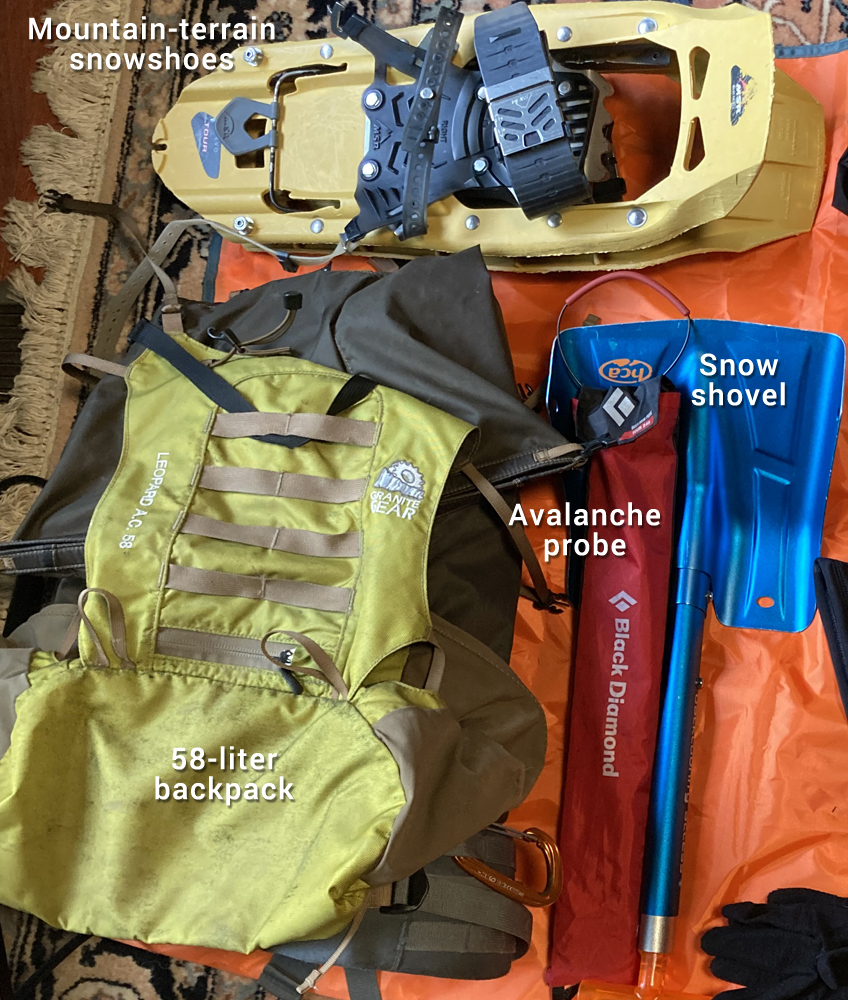 Gear that I take that is not in my backpack
The gear that I put in my backpack is not all the gear that I carry with me. Some gear, including important safety gear such as my avalanche beacon, is worn while I hike. Other gear may or may not be included in my pack weight, such as gear that is stored in my pack while hiking for at least part of the journey, such as micro-spikes and snowshoes.
Here's a visual loadout of what I usually wear, with some adjustments depending on temperatures and wind.

(For labels, see photos below.)
One of the main considerations is regulating my body temperatures while hiking. Typically, there is a short time at the trailhead when everyone is putting on their hiking boots, gaiters, and backpacks. During this time, I will often wear a fleece pullover and maybe a rain jacket to stay warm. About 20 minutes into the hike (usually an ascent), I'll stop to pull off extra clothing to keep from overheating and getting wet from sweat.
Unless there are strong winds, I don't usually need many layers or very warm clothes while hiking up a mountain. But once I reach the camp, the first priority is to set up a tent, get out of the wind, and layer up, starting with a fresh dry base layer.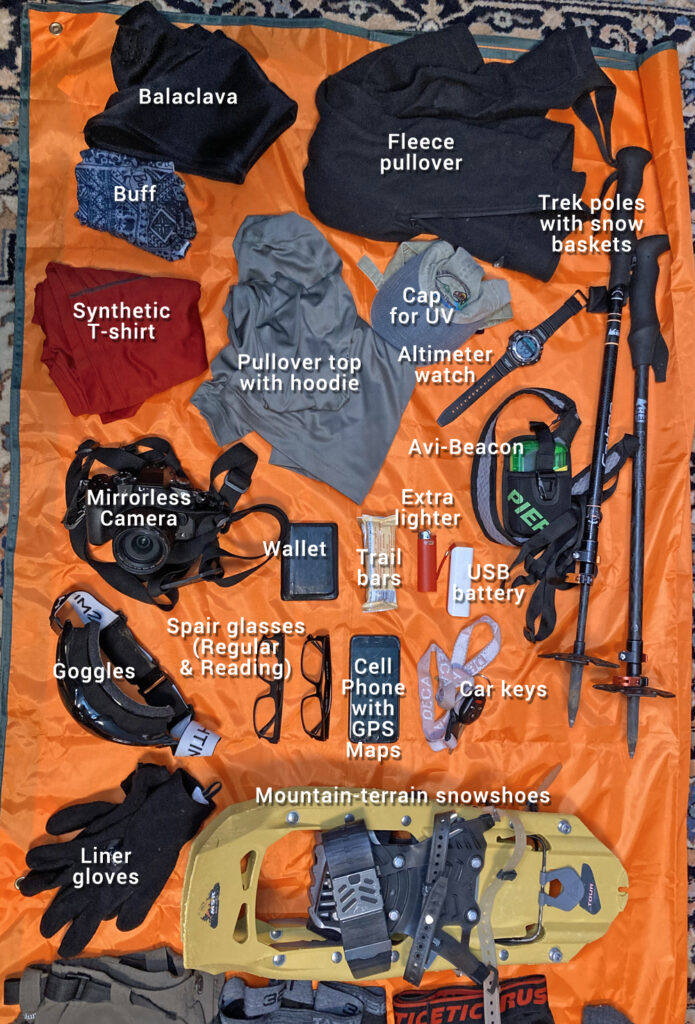 Pullover top with a hoodie for wind and UV protection
Synthetic t-shirt. In temps closer to 10º F and below this is substituted with a thermal, wool blend, or Capilene base layer.
Fleece pullover
Buff
Balaclava
Cap (mainly for sun protection)
Liner gloves
Extra glasses (both regular and reading)
Cell phone
Cell phone backup battery
Extra lighter
Trail bars
Wallet
Car keys
Altimeter watch
Avalanche transceiver with case
Trekking poles with snow baskets
Mountain-terrain snowshoes
Goggles for wind and UV protection, sometimes substituted for glacier glasses
Non-essentials
Mirrorless camera
USB backup battery for phone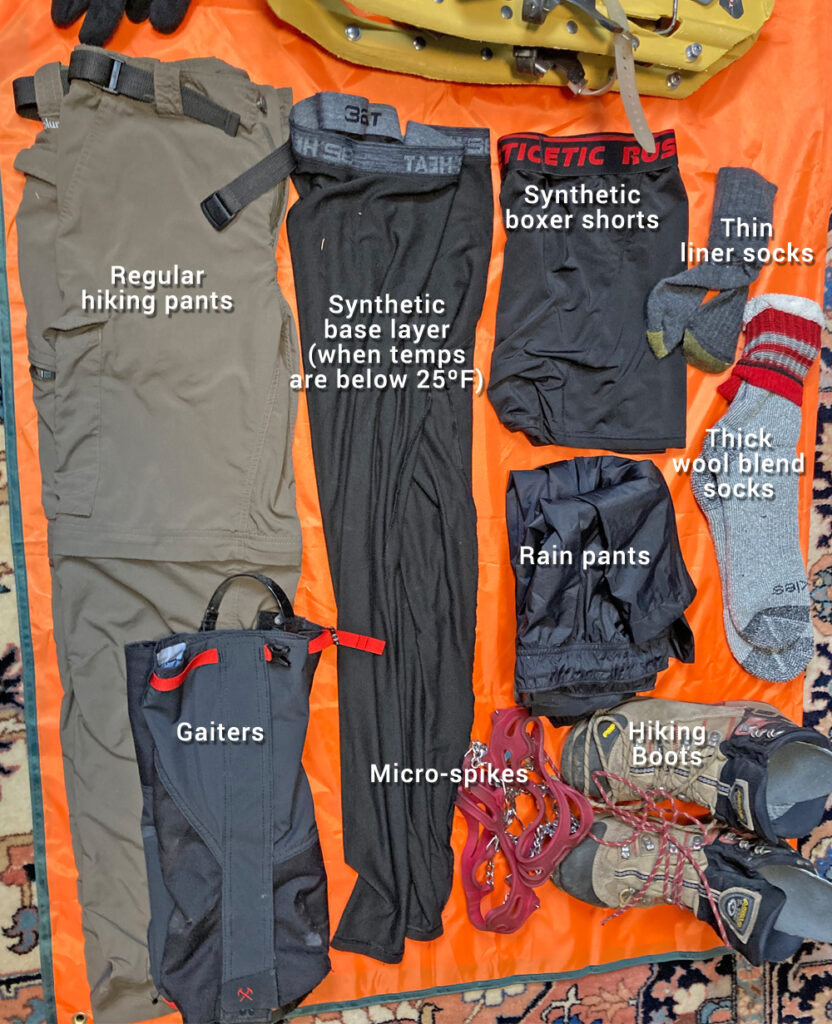 For all my hiking clothing, I avoid cotton materials. It is important to use quick-wicking synthetic or wool clothing to help prevent hypothermia.
Hiking pants (regular synthetic summer pants). I use these instead of softshell pants preferred by many climbers because they are cooler and extra warmth can be added with a base layer or rain jacket.
Base layer bottoms. I wear a regular light-weight synthetic base layer while hiking if temps are below 25º F and or for temps below 15º, a mid-weight Capilene.
Synthetic boxer shorts
Rain pants: I rarely wear these while hiking, so they are usually in my pack. But, if there are high winds and temps below 20º F, I prefer rain pants for wind protection. In these conditions, I will also wear my rain jacket.
Gaiters
Hiking boots. I'll use heavier and more rigid boots if crampons are required.
Miro-spikes
Liner socks
Thick wool-blend socks. These socks can be 100% synthetic too as long as they are warm and thick to provide cushion and ease of circulation.
Everyone must decide for themselves the level of warm clothing they require while hiking. Some people hike in the snow in shorts and t-shirts, others wear softshell pants and coats. It may take a few trips before you know your own requirements.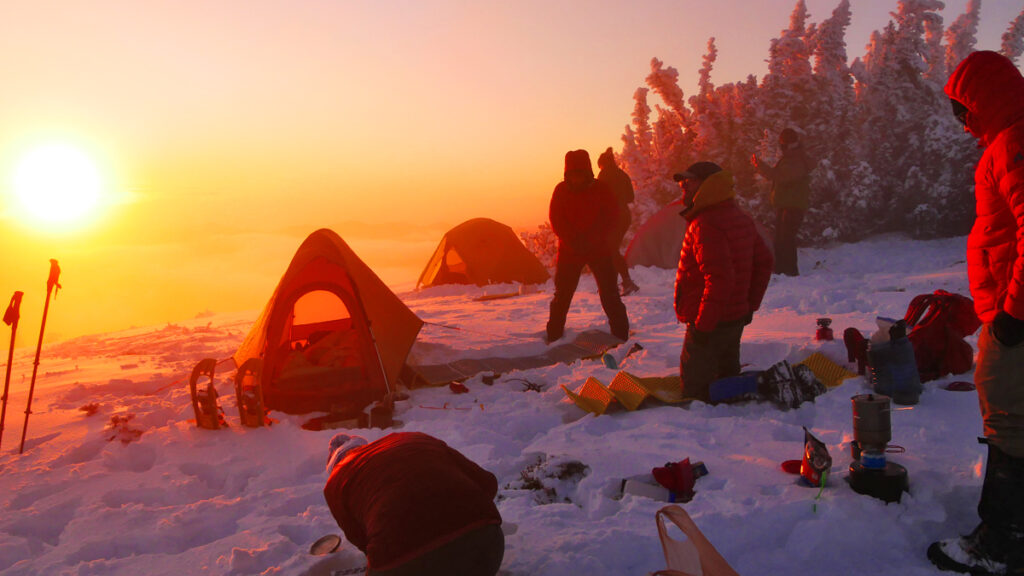 Managing layers
The general tendency for many new winter hikers is to start out with too many layers. This is especially problematic when the unnecessary layers are on your legs. Removing a needless layer from your legs while wearing boots and snowshoes in the snow is difficult. When you're not moving, your body gets cold, so no one wants to hold up the group while changing out of an unnecessary layer. However, trying to hike while you're overheating and getting soaked in sweat is no good either. The heat will slow you down and the moisture from the sweat will cause you to be even colder when you stop.
To manage warmth, I prefer to start my hike cold knowing that I will heat up. This is also the reason I bring full-zip rain pants if I think I may be hiking in the wind and my regular hiking pants may not be enough to keep me protected. Full-zip rain pants are easy to put on or take off while wearing boots and snowshoes.
It is unlikely that you will ever need to wear a coat while hiking unless you are coming downhill very slowly. On a typical weekend hike, the first day involves going uphill and the following day, descending the same route. This means you may need a base layer on the second day that wasn't required on the first.
Thanks for reading my blog. If you have a question, please leave a comment below.