This post was updated on January 15, 2021.
You may have heard some controversy about the switch failing on the Pieps DSP Sport Avalanche Transceivers, especially when used incorrectly. There are now many videos showing the issues, such as this one. Pieps is a company owned by Black Diamond. I received a letter from REI (below) and have decided to post it here for anyone who may find it of interest. It includes an important Instagram safety video link (https://www.instagram.com/p/CGT6EzAlgLn/) from Pieps. If you're using an older Pieps Transceiver, watch this video because it provides important use and inspection information about the devices that every user needs to know.
I contacted Black Diamond on November 11, 2020, and arranged to return my two Pieps DSP Sport Avalanche Transceivers. Black Diamond agreed to send me two Pieps Power BT Transceivers, which arrived on January 15, 2021. I did not return the beacon harnesses, but I received complete packages, transceivers including new harnesses and batteries. Although it was a two-month wait, I'm very satisfied with their customer service.
Below you will find important safety information, the REI notice I received, and my correspondence with Black Diamond.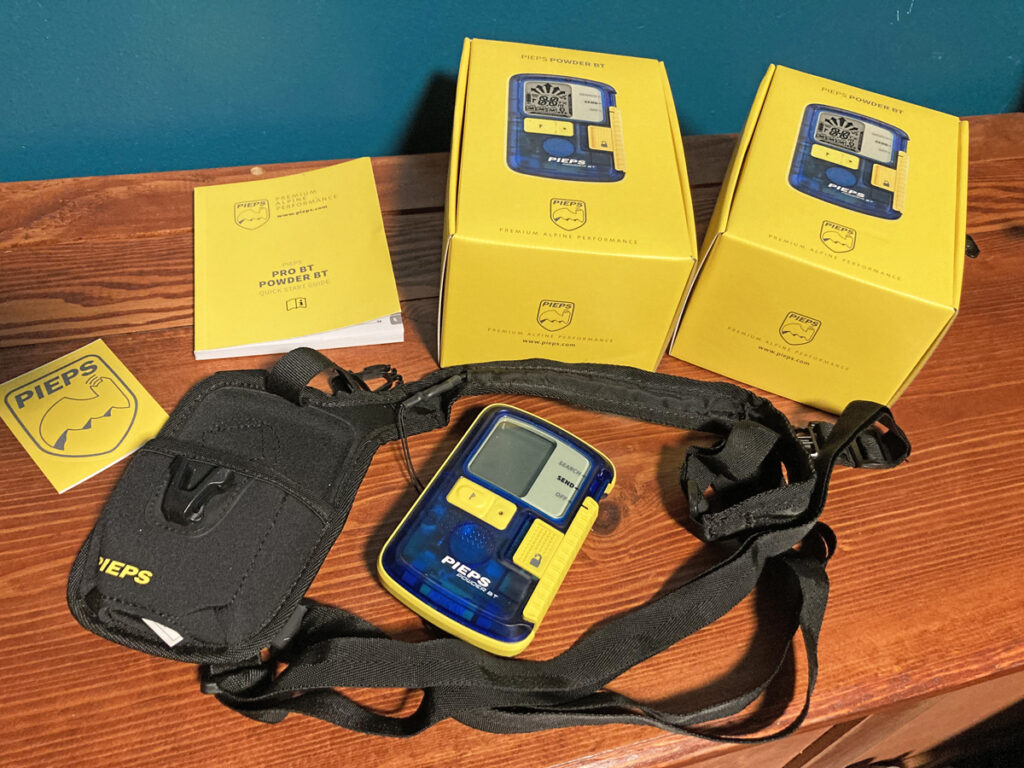 Important Safety Information for Those Using the Older Model
"A beacon is a personal safety tool that must be properly used and maintained. Any misuse may compromise its functionality. Please refer to the video on the fourth slide for how to inspect your beacon."
It may be that some problems are due to misuse, but it is a design concern if incorrect use as simple as described could cause a switch failure. Notice in the video he forces the switch and it moves. There's no locking mechanism to prevent the device from moving to the off position when enough force is applied.
I think most of the winter backpackers in our group, including myself, use the Pieps DSP Sport Avalanche Transceiver. I decided to contact Black Diamond to get replacements.
I think the company may eventually issue a product recall, but there is no indication of that happening based on the REI letter (below), despite a class action lawsuit.
Gear Lab recommends not using the Pieps DSP Sport Avalanche Transceiver if you have one. You can read Gear Lab's opinion here: https://www.outdoorgearlab.com/topics/snow-sports/best-avalanche-beacon. The reaction to accounts of the transceivers being accidentally switched off may persuade Pieps to reconsider.
---
The Notice From REI
The Pieps DSP Avalanche Transceiver Product Letter
Thu 11/5/2020 1:21 PM
Dear Valued Customer:

You are receiving this letter because our records show you bought a Pieps DSP Sport (#862050) or Pieps DSP Pro Avalanche (#862049) transceiver from REI.
It has come to our attention over the past few months Black Diamond, the parent company of Pieps, has received concerns from the backcountry ski community who believe the design of the lock-button slider on these devices can slide to the "search or off mode," unbeknownst to the user. Recent social media discussions and news coverage center on two incidents in Canada that occurred in 2017 and 2020, where a backcountry skier perished, and another skier was caught in an avalanche and survived.
Black Diamond has informed REI that they, along with Canadian authorities, have performed extensive investigations of the incidents where the failure happened and did not detect any sign of the products in question having failed. Additionally, Black Diamond shared that they have since comprehensively tested the Pieps DSP transceiver and found through testing that they "have concluded that Pieps beacons perform above industry standards, unless the beacon is compromised." Additionally, Black Diamond said these devices "have been sold globally since 2014 and have been used by countless backcountry users ever since."
In October of 2020 Black Diamond issued a video (https://bit.ly/2GkfUEy) on proper inspection of the device to verify whether it has been compromised. For customers who were concerned about their device, Black Diamond also issued an upgrade to users of the Pieps DSP Pro and Pieps DSP Sport transceiver, to the latest generation of the Pieps transceiver.
Information on contacting Black Diamond:
If you have a Pieps DSP Pro or DSP Sport transceiver, please check the integrity of your device. If you are concerned that your transceiver may be compromised, please contact Black Diamond directly by emailing dsp@pieps.com, for an upgrade to the latest generation of Pieps device that uses a different switch design.
For our customers:
The safety of our customers is our highest priority, and we care deeply about our customers' satisfaction. Even though the products listed above are not subject to a safety recall, we understand that customer concern and confusion may still exist. As such, we are reaching out to our customers directly to ensure that you have direct contact information for Black Diamond and are aware of the actions they are taking to address the concerns regarding their Pieps DSP Sport and DSP Pro Avalanche transceivers.
Please note, REI no longer carries the Pieps models in question. Other Pieps and Black Diamond transceiver models, including current Black Diamond transceivers sold by REI, feature a different mode locking mechanism design and are not eligible for an upgrade.
If the transceiver is no longer in your possession, please share the information contained in this letter with the current owner.
We apologize for any inconvenience this may cause. If you have additional questions after contacting Black Diamond, please contact your local REI store or REI Customer Service at customer-service@support.rei.com or 1-800-426-4840.

Sincerely,

Chris Speyer
REI Vice President, Product
---
My Letter to Pieps Black Diamond
Date: Wed, Nov 11, 2020 12:52 pm
Dear Pieps Customer Service
I have two Pieps DSP Sport (#862050) Avalanche transceivers. One purchased from from REI (03/06/2018) and another from Mountain Gear (Nov 25, 2017), a company in Spokane Washington. I have both receipts.
I recently received a notice from REI about the beacon and have read Gear Lab's report. Can I exchange my two beacons for the new design?
Michael Rohani
---
First Reply from Black Diamond Equipment
Date: Nov 24, 2020
Dear Michael,
A service representative is currently reviewing your request. We'll contact you shortly with an update.
Thanks,
Black Diamond Equipment
---
Second Reply from Black Diamond Equipment
Nov 24, 2020
Hi Michael,
Thank you for your inquiry regarding the warranty on your Pieps beacon. We have undertaken an extensive investigation of all Pieps beacon models, which includes subjecting them to our own analysis, testing by an independent third-party, and evaluating them against the beacon market at large. Through this testing, we have concluded that Pieps beacons perform above industry standards, unless the beacon is compromised. Our rigorous testing is a reflection of our commitment to your safety and to ensuring that our customers feel confident in the field.
For users of the DSP Sport and DSP Pro beacons, we will undertake a thorough inspection of your beacon and, regardless of what we conclude, we will send you a free replacement from our current beacon family. Attached to this email is a pre-paid shipping label for you to send in your beacon for inspection and upgrade. Please clearly label the outside of the return package with RA 311380. Once we receive your beacon, we will contact you regarding a replacement. Canadian customers will receive an additional form for customs titled "Pieps Beacon Return Invoice" which they will need to fill out the highlighted fields and attach to the exterior of their returning package. This form is for customs, and our package will not be delivered without it.
If you have multiple beacons in your claim, your RA number will cover all beacons and the prepaid shipping label sent to you will cover the cost of all beacons being sent.
Due to the high volume of requests we are fulfilling, please expect 1-2 weeks for your new beacon to ship.
Please do not send the beacon harness in with your DSP beacon. Feel free to keep this harness or dispose of it. All of the new Pieps beacons include a new harness.
For more than 45 years, Pieps has been the worldwide technology leader in avalanche transceivers. Our mission is to bring you state-of-the-art equipment and peace of mind. Thank you for taking us with you on your backcountry adventures and for your continued support.
Sincerely,
Pieps Customer Service Team
RA 311380
2084 East 3900 South
Salt Lake City, UT 84124
---
The above email included a shipping label and I returned my two transceivers. On November 29/2020 I shipped the two transceivers to Black Diamond.
Third Reply from Black Diamond Equipment
Date: Dec 14, 2020
Michael,
Thanks for sending in your Black Diamond/Pieps product. Your package has been received and one of our service specialists is working on your case. Due to the ongoing outbreak of Coronavirus (COVID-19) in the US, Black Diamond is doing its part to help limit the spread of this illness by restricting many employees to work-from-home duties. Because of this you may experience some delays in your warranty claim. We appreciate your understanding in this matter.
Thanks,
Black Diamond Service Center
---
I received a FedEx Shipment Notification on January 13, 2021 and the new transceivers arrived January 15.
---