Will a 3-season Tent Work in Pacific Northwest Winters?
The short answer is yes. I'm not going to do a detailed review of particular tents, but I want to mention a few models that I see often on our trips. I'll also discuss a few pros and cons of using 3-season tents in the Pacific Northwest winter conditions and some of the best 4-season options available. In context, I'll be referring to small and light tents for backpacking rather than tents that are used for basecamps and long stays in one location.
3-Season Tent Examples
Here are some of the better examples, used by winter backpackers in our group.
These three use the X-Frame design:
These two use a 3-point pole design: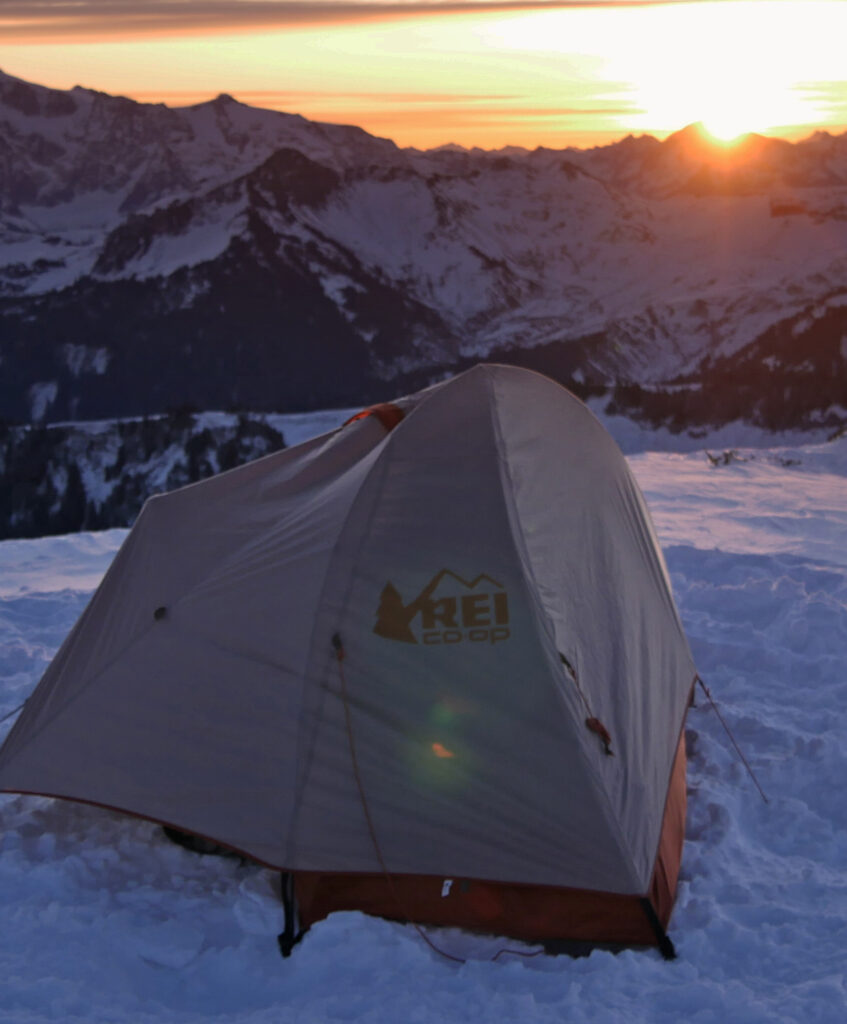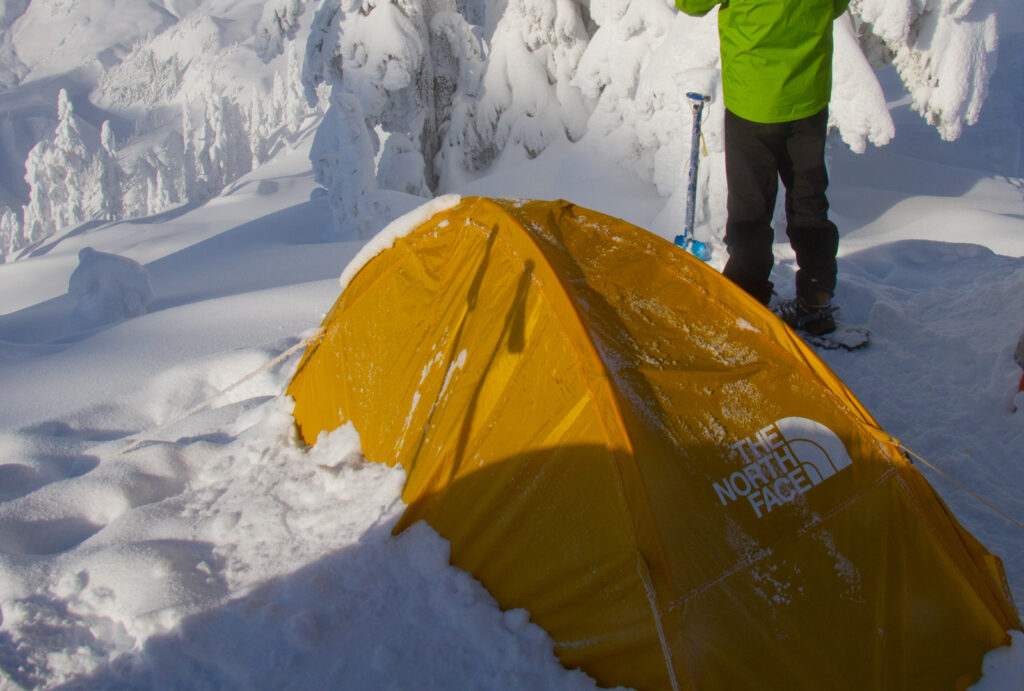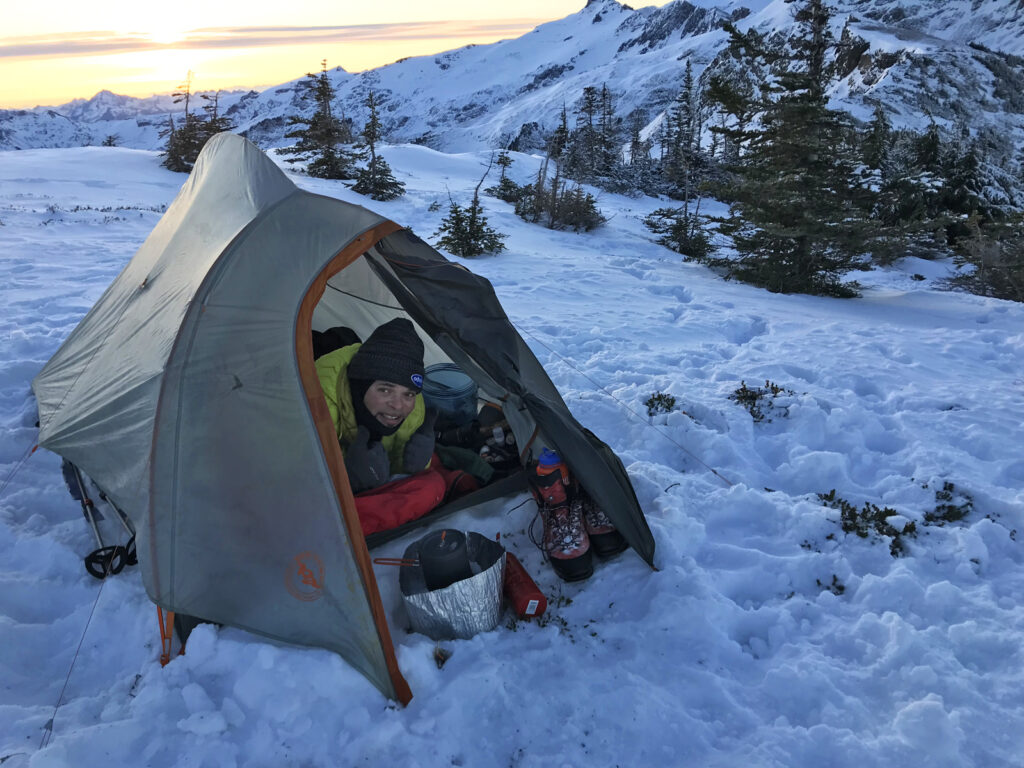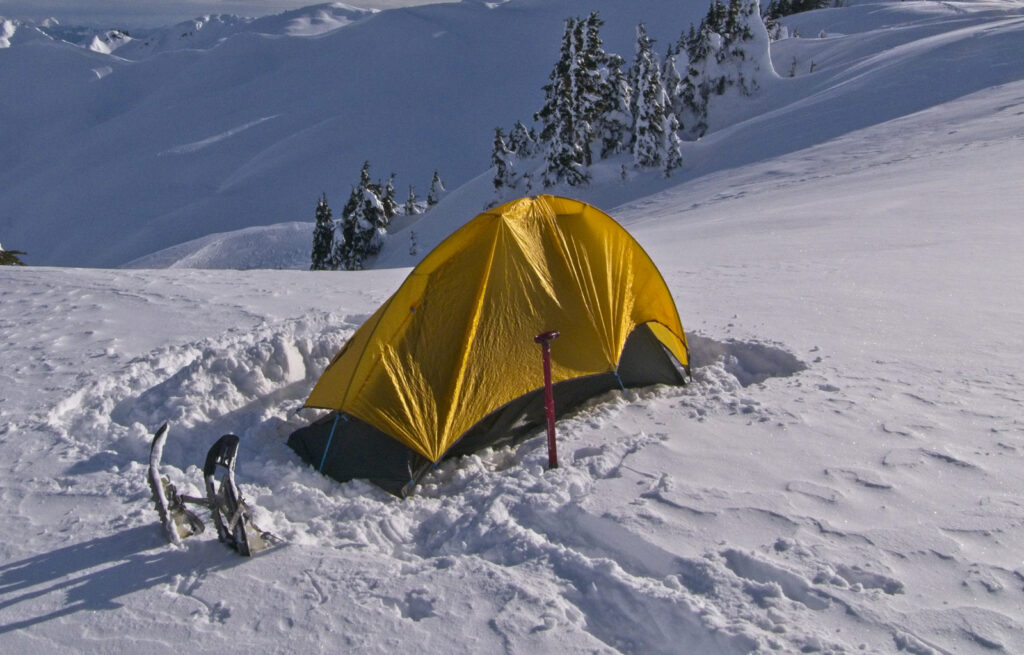 All of these tents are lightweight and packable. They shed snow and withstand mild wind well. Be aware that most tent designs will be fine when there are low winds and no heavy snow falling. My aim is to point out examples that will do better in at least mild winds and some snowfall.
The wind is an important consideration because stronger winds are more frequent in winter. The wind passes through 3-season tents more easily than 4-season tents making the tents colder inside. Sometimes drifting snow will pass through the mosquito-netting too. These problems make 3-season tents less comfortable. Otherwise, in calm weather, the experience of being in one is similar to being in a 4-season tent.

I have used a Big Agnes Copper Spur HV UL1 (1-Person 3-Season) tent shoulder-season snow camping, but not for trips when snowfall was anticipated. This tent has a top cross pole that makes it difficult for the tent to shed snow. The Big Agness Fly Creek HV UL1 has a steeper pitch making it a better choice for winter.
My own Copper Spur HV UL 1-person version has also withstood 20–30 mph winds, but the wind has broken the poles on two different occasions for the 2-person version of the same tent. This is probably because the tent is larger but uses the same strength poles.
X-frame design
3-season tents that use an X-frame design (the poles form an X from corner to corner) are sturdier in windy winter conditions. This is the design type used most often for small mountaineering tents that need to withstand high elevation winds. (More about PNW winter wind, see Preparing for Winter Wind.)
The X-frame design such as the North Face Stormbreak 1, REI Co-op Half Dome 1 Plus Tent, and Kelty Solstive 1, is likely to be more wind resistant than other designs. That said, the Big Agnes Fly Creek, which doesn't have an X-frame design has proven to be stable in high winds because the walls are so steep.
It appears that the REI Co-op Half Dome 1 Plus Tent has been discontinued, but the REI Co-op Passage 1 Tent is very similar. Be aware that the North Face Stormbreak 1 is a tight fit.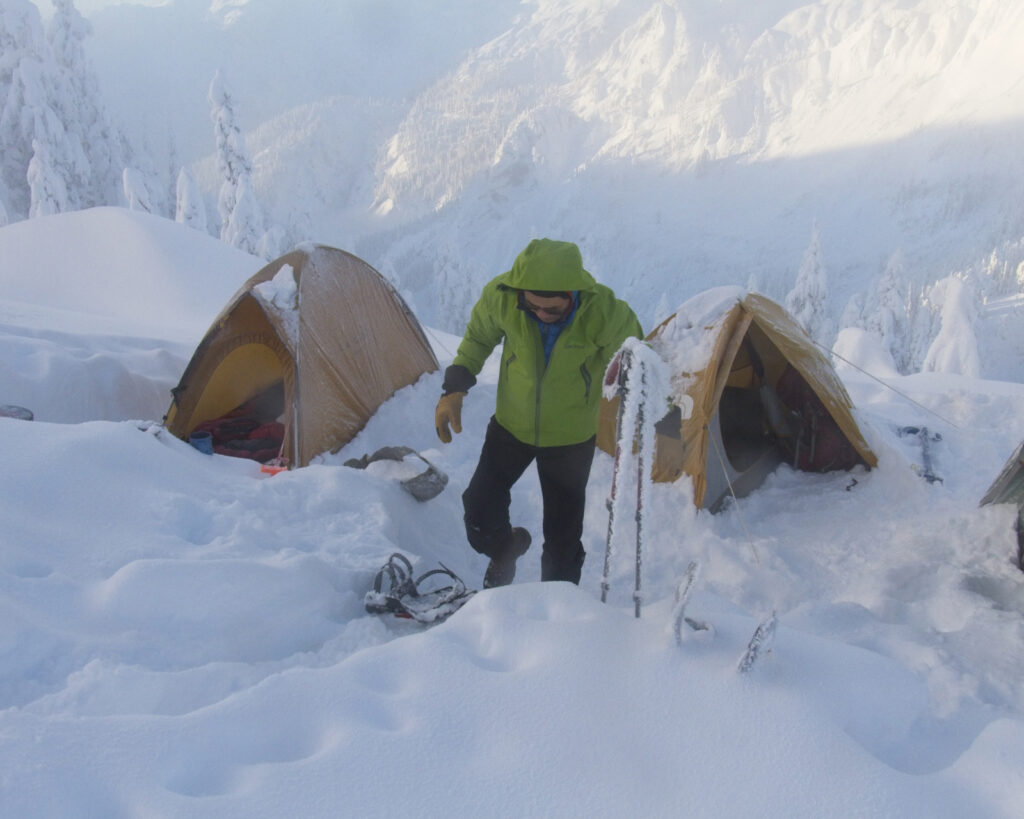 Bear in mind that it is unlikely that any of the 3-season tents mentioned here have been pitched in winds exceeding 30 mph on any of our trips. On one trip, winds were likely gale force (40–45mph), but not when the tents were pitched. If the wind forecast is over 20–25mph or gale force, it is better to change plans. Expedition and mountaineering tents are made for high winds because sometimes such winds cannot be avoided, especially at higher elevations. Mountaineers tend to climb in the summer or shoulder seasons when weather is warmer and high winds less frequent. If you are winter backpacking, pay attention to the wind forecast and be prepared because you may encounter tougher conditions than many mountaineers experience. When you are inside a tent, you are out of the weather, so you don't need to fear the wind, just be prepared for it. (For how to prepare for winds, see "Wind and Tents: What to do if your tent fails").
Packability
How much space a tent takes up in your pack, or packability, is also a consideration. This photo compares four tents. The North Face tent and the Big Agnes fit loosely in the stuff sacks so they will compress further, probably close to the size of the Snow Peak. A 60–65 liter pack can carry all the winter gear required for a week long trip depending on gear choices.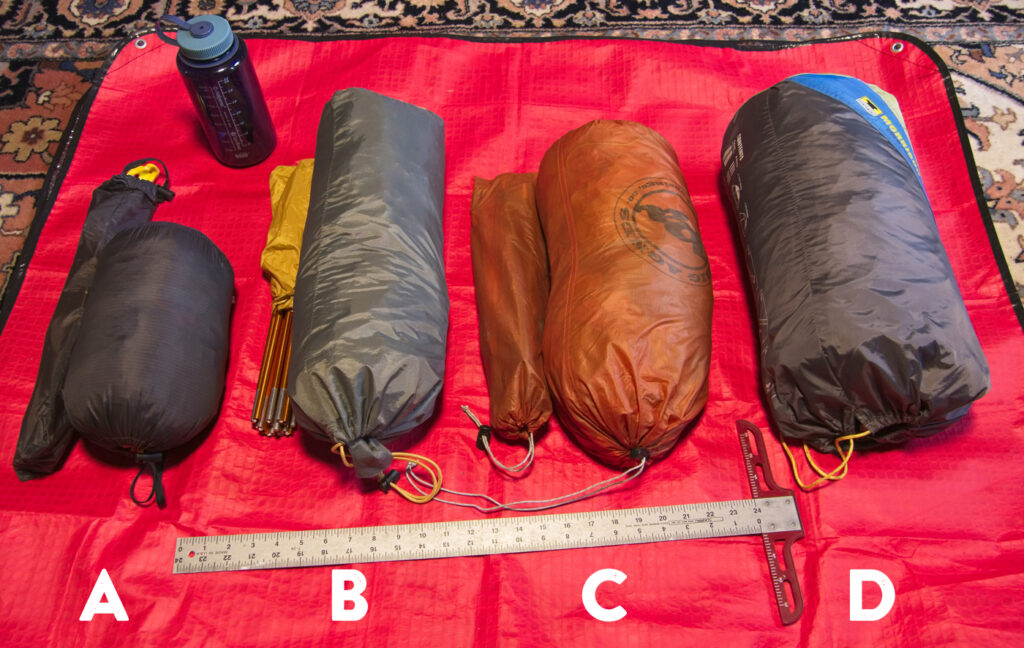 If you plan to share a tent to reduce weight, which is fine, arrive self-sufficient anyway in case that person is unable to show up or no one volunteers to share. The safest strategy is for everyone in the team to pack a kit that is complete and not reliant on others. This provides backups for important essentials such as stoves, fuel, first aid, etc. Everyone should show up fully packed and self-reliant.
Three Winter Tent Tips to Know
For camping on snow, you do not need a tent footprint, which reduces some weight and expense.
You will likely need some snow stakes or snow pegs. The pegs with more surface area work best. Tiny aluminum pegs that come with summer tents are almost useless in soft snow. There are many different types of tent pegs designed for snow. The yellow plastic ones are lighter than the brass ones and work well in most situations.
You will also need some utility cord for the tent corners because the stakes must be buried in the snow to hold the tent. For more about staking out tents in the snow, see How to stake a tent in the snow without tying knots.
4-Season Examples
One and two-person 4-season tents are warmer and more durable than 3-season tents, and sometimes even lighter. These tents will add about 10ºF in warmth and keep out the snow and wind. The main advantage is better wind protection. I'm not so concerned about the tent adding warmth, but I am concerned about the tent's ability to stop wind that will rob you of warmth even when you are in your sleeping bag.
For nearly all my trips I use a 4-season tent—the Lago 1, an X-frame mountaineering tent designed by Yukio Yamai and no longer made by Snow Peak (it is nothing like the new model with a similar name). The company stopped making it when they shifted focus from mountaineering equipment to camping equipment. This is unfortunate because I have not seen a better solo 4-season tent made by anyone.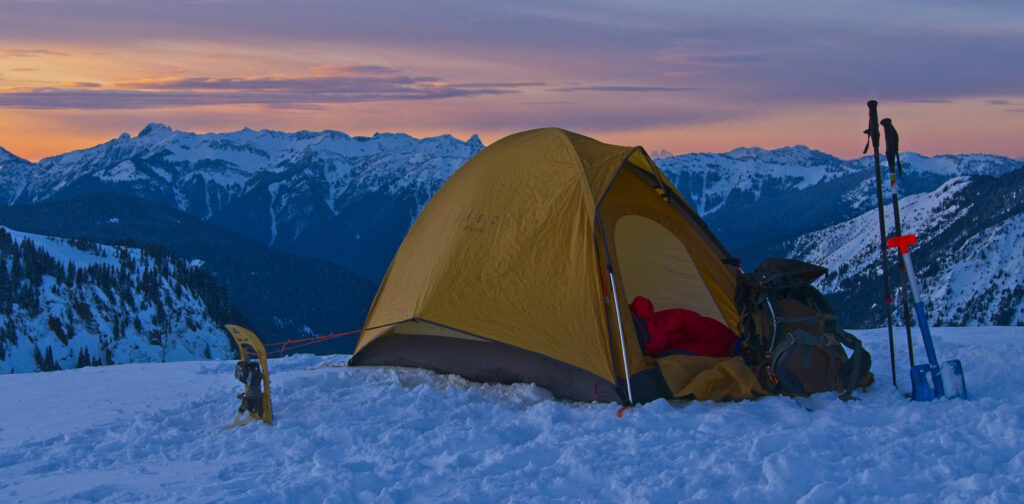 Disadvantages of 4-season tents
Why not get a 4-season tent and use it year round? There are a few negative issues with 4-season tents:
They have more condensation.
They can be too hot for summer use (less ventilation).
Some models perform worse in rain (leak through the air vents).
Some models are heavier.
They are more enclosed, allowing less of a view. Removing the fly—if there is one—doesn't open up views because the walls are solid rather than just mosquito netting.
They are usually more expensive.
In some ways, a 4-season tent is really a 1-season tent (winter) or a tent for three different seasons (fall, winter, spring).
Advantages of 4-season tents
Better wind and snow protection
Quick and easy to set up (if X-frame design)
Freestanding (X-frame design)
Warmer inside
In fall and spring, if you are camping at high elevations, these features make 4-season tents a good choice.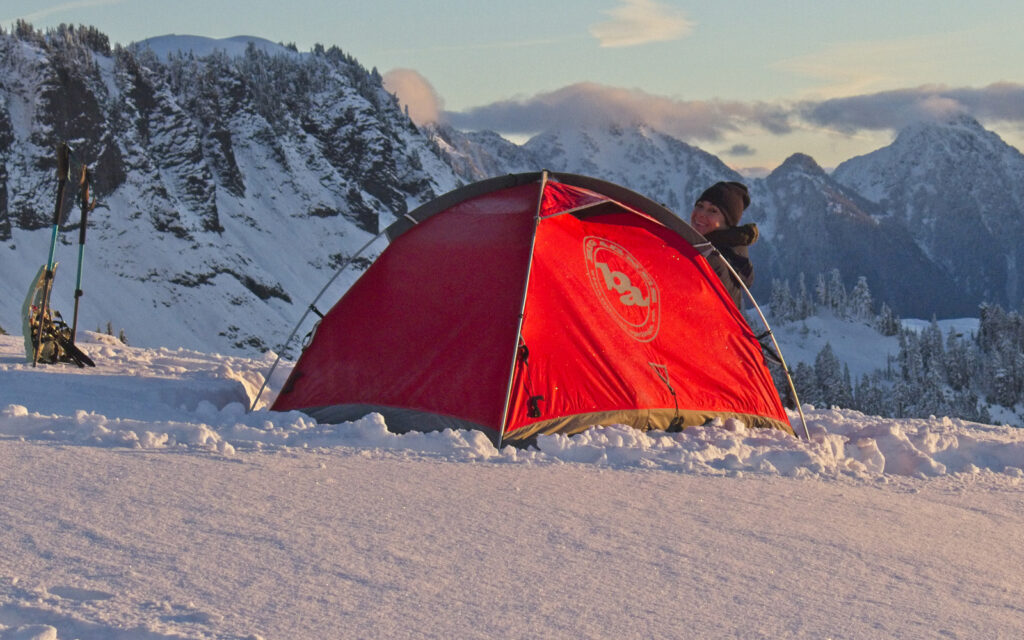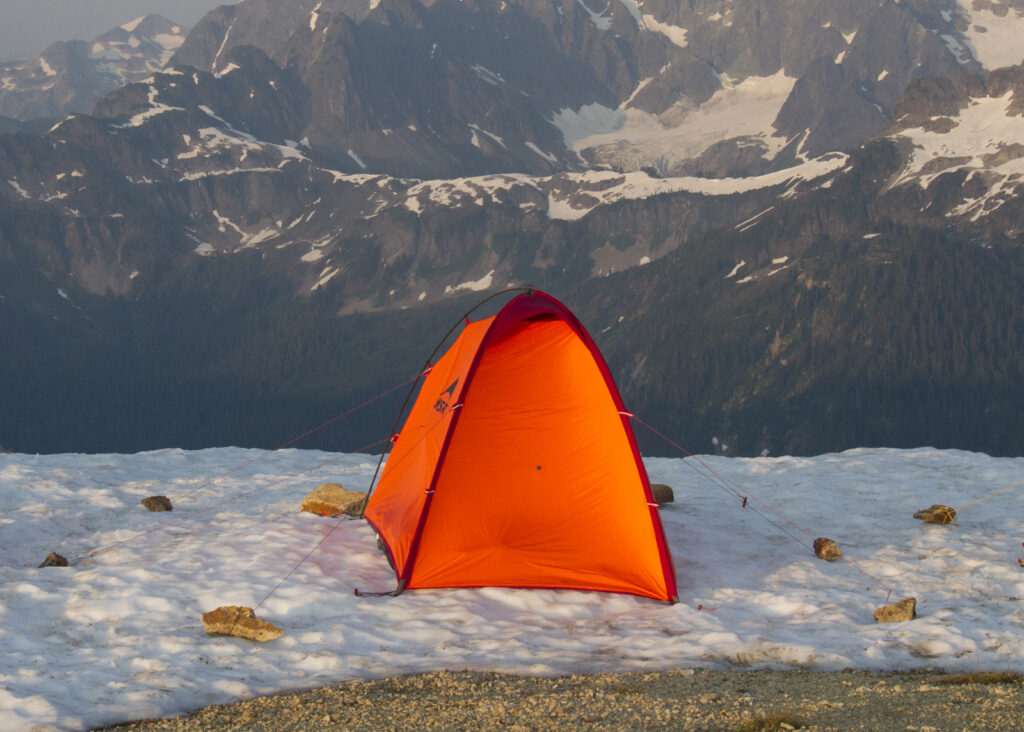 What to look for in a 4-season tent
Ideally, for winter backpacking, you want a tent that is
lightweight (around 2–4lbs),
able to withstands high winds (typically this means an X-frame design)
easily sheds snow (steep sides, no flat top),
easy to vent or breaths sufficiently to reduce condensation,
freestanding so it is easy to set up in harsh conditions and can be pitched on ice, such as a frozen lake,
small enough to easily fit in a 60-liter pack with all your other gear (larger packs just add more weight to carry),
situated with a door that opens on a narrow side. This feature is less essential, but helpful because it allows the tent to provide the most stable wind barrier while cooking.
Three additional features that are sometimes hard to find in small 4-season tents are (1) some front-door mosquito netting (usually not necessary in winter, but helpful in the shoulder season), (2) tent vestibule (helpful in wind and rain, but adds weights), and (3) a fly or double wall construction. Single wall tents tend to have more problems with condensation.
Even though a 4-season tent can add 10 degrees, you may not want the extra warmth it provides. If it is 25º F outside it will be 35º F inside your tent. This means that instead of turning into frost, condensation will run down the inside walls of your tent and collect on your sleeping bag. To minimize condensation, I usually leave my tent door open as much as possible except when it is windy or snowing. My sleeping bag provides more than enough warmth. That is, it is often best to just enjoy the fresh and crisp winter air.
So what are your options?
Here are some popular and current (2020) examples of 4-season solo or 2-person tents, listed from lightest to heaviest:
The MSR Access 2 (4 lbs, 1 0z., $599) is also considered a 4-season tent, but it is not an X-frame design, so it is less secure at high elevation or above the treeline and less able to shed snow. While the MSR Access 2 may be a weak winter option, some 4-season tents, such as the Hilleberg Soulo are very strong (expedition level) and consequently heavier than necessary for weekend winter backpacking in the Pacific Northwest. Many 4-season tents are what some would call "basecamp" tents designed for teams that are sharing weight and/or pulling gear sleds or staying in one location for longer periods of time.
The Tarptent Moment DW 1P (2 lbs 2 oz, $325.00 – $391.00) doesn't look like a 4-season tent and doesn't use an X-frame design, but it does claim to be 4-season capable. I haven't seen the new version is used and can't comment on it, but it looks more on the level of a treeline tent, similar to the MSR Access 2. I also don't know if their carbon poles have anything close to the durability of the MSR Easton "Syclone" poles, that flex in high winds.
REI and MSR (once owned by REI and now owned by Cascade Designs) are based in the Seattle area next to the Cascade Mountains. These companies are well situated to create gear suited for backpackers and climbers in the Cascade Range. Black Diamond Equipment originated in California and relocated to Utah near the Wasatch mountain range. Their global headquarters is located in Innsbruck, Austria. Big Agnes, Marmot, and now The North Face (originally California) are based in Colorado. NEMO Equipment is based in Dover, New Hampshire. Rab is a British manufacturer based in Somercotes, England (the wet cold weather of Britain is similar to the Pacific Northwest). Hilleberg is a Swedish company that now has an American division in Seattle. All these companies create some great gear for recreational use around the world, but you will likely not find one company that meets all your gear needs perfectly.
The ability to utilize modern lightweight gear, some of it originally designed for climbers is what makes winter backpacking possible.
Most 2-person tents are very tight for 2 people and a bit heavy (over 3lbs) for use as a solo option. This makes MSR's Advance Pro a good current choice for winter backpacking.
The prices for 4-season tents are high but think of it this way, it is still cheaper than 1–2 nights in a resort hotel, and it is often possible to get them on sale or secondhand.
What About Ultra-Light Dyneema Tents?
Ultra-light Dyneema tents seem to work well enough for the snow we encounter on most of our trips, but I have not seen them put to the test in heavy snowfall or high winds (over 20 mph). Also, once set up, you no longer have trekking poles to use when exploring around camp. Trekking poles and snowshoes are essential in deep snow conditions. Using these tents in winter isn't ideal but you can likely get by in moderate conditions and shoulder season snow camping.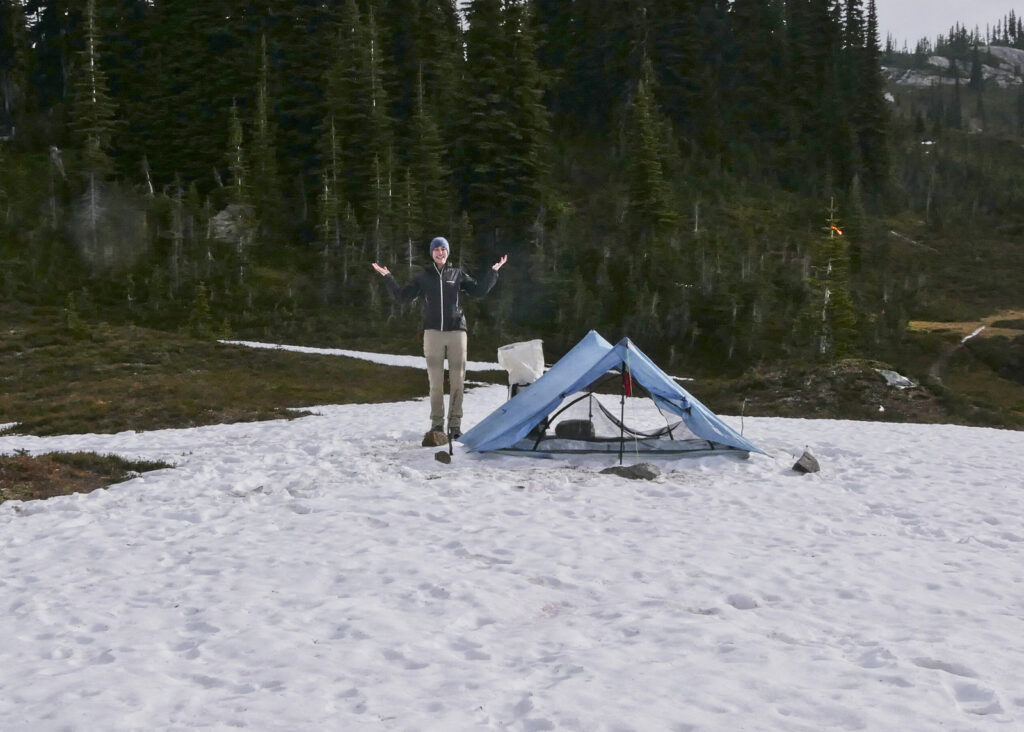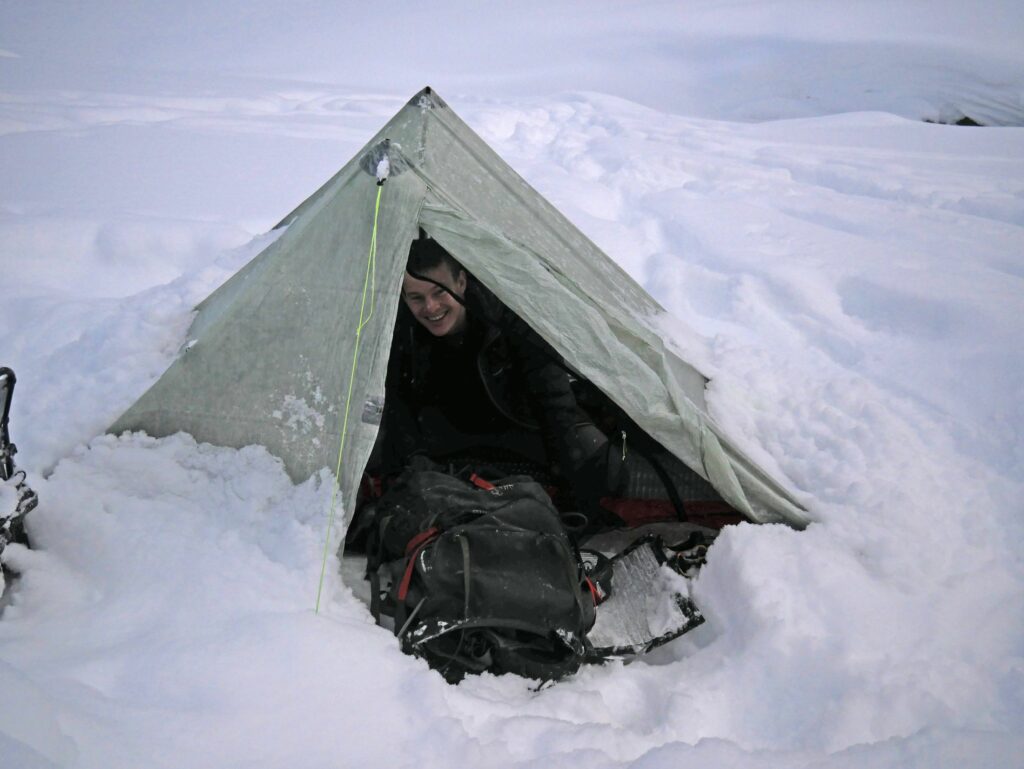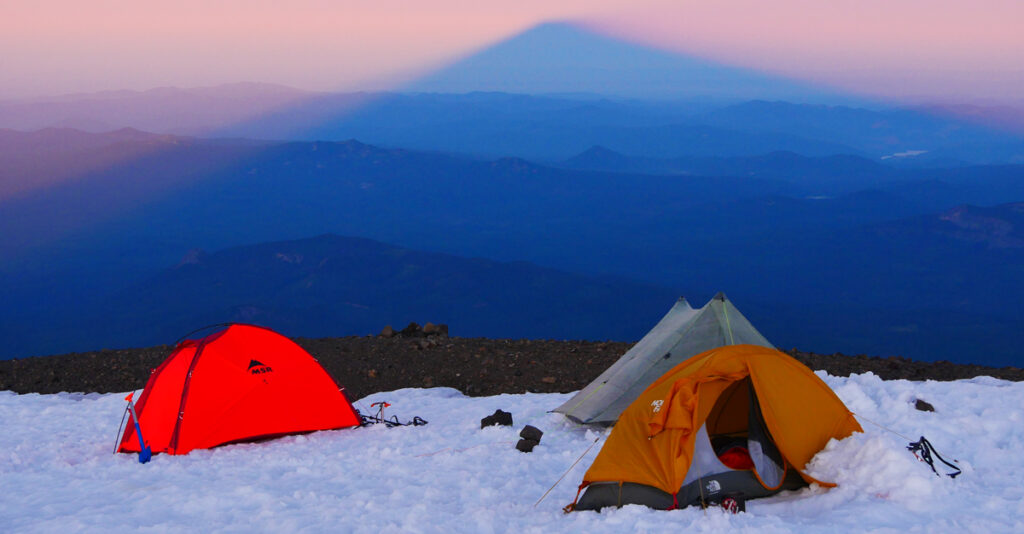 What About Expedition Tents and Hammocks?
Expedition tents are great for extended trips in very harsh conditions. Here in the milder winters of the Pacific Northwest they are unnecessary for short 2–4 day backpacking trips. If you want to carry a 7–10lb tent, you can, but there are plenty of reason to avoid that.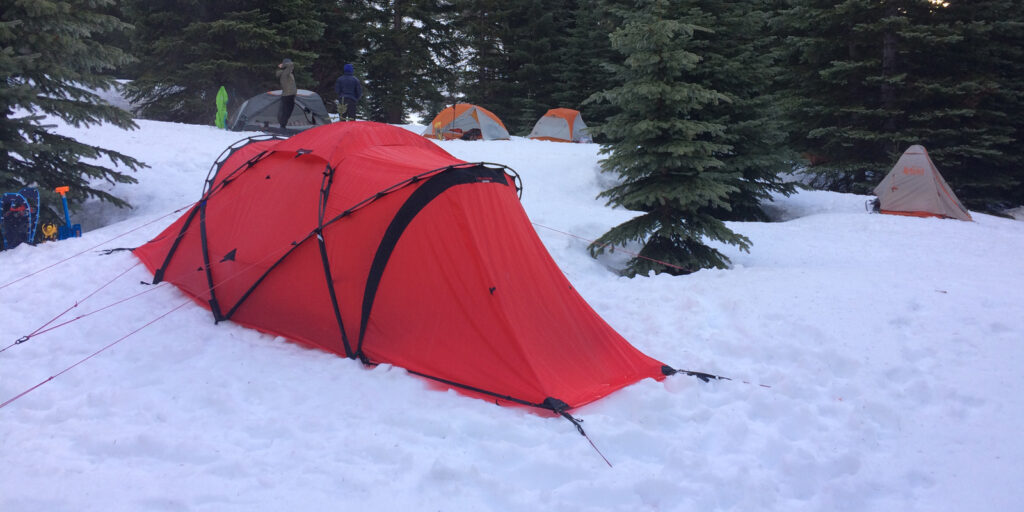 Winter backpacking didn't really exist in the past because the required gear was too heavy to carry on long-distance treks. Winter travel was mostly done on skis on mostly flat terrain with the gear strapped to a pulk or sled. Modern light gear is what makes long-distance mountain travel possible. The easiest way to lower weight is by reducing the weight of the big three—1) your pack (a pack with reduced size, frame, and features), 2) your tent (an ultra-light solo version), and 3) your sleeping bag (by upgrading to higher fill power, such as 800–950 down). Reducing these three items can often cut as much as 9 lbs off a person's kit.
Hammocks: You will likely find that a hammock is impractical in winter and at the higher elevations of the Cascade Mountains. The trees are often covered in snow, dangerous to approach due to tree wells, or too small or non-existent on the ridges and summits where we are usually headed. It can be done, but to allow the greatest level of group freedom concerning camp selection, bring a tent instead.
Note: In many locations, it is also not possible to hang a bear bag from a tree. A bear canister allows better protection and more freedom.
Should You Upgrade to a 4-Season Tent?
If you already have a 3-season tent that works for winter, should you upgrade to a 4-season tent?
A 4-season tent offers noticeable advantages, especially an ultra-light freestanding one that is capable of withstanding high winds. However, now may not be the best time to upgrade. There is a rush among gear manufacturers to produce lighter and better gear. Even mountaineering tents made with Dyneema will probably become available soon, although they will likely be expensive and condensation will be a hurdle for Dyneema. I also expect more tents to adopt lighter flexible poles like the Easton "Syclone" poles used by MSR.
Any 4-season tent is going to be an investment. That being the case, it is worth considering your priorities. Is your winter backpacking kit complete? That is, rather than upgrading specific items, first be sure you have everything you need for the safest winter backcountry recreation. In particular, if you're already on a limited budget and have a workable 3-season tent, be sure you first have avalanche gear—beacon, probe, and shovel. And, of these three items, realize that the beacon is the most important. Without it, the chances of anyone finding you quick enough in an avalanche is greatly reduced. With all three items not only will you increase your own chance of survival in an emergency, but you may be able to help save the life of someone else as well.
Likewise, if you only have a 15ºF sleeping bag, maybe a 0ºF sleeping bag is a bigger priority over a 4-season tent.
***
Obviously, this is a very brief presentation on backpacking tents, but the 3-season tent question comes up so often I wanted to quickly sketch out some key points and include actual examples of tents I have seen in use. Perhaps later this topic can be revisited in more detail.
Let me know your thoughts and comments.