Some hikers ask me, "Do I hike in the summer?" Yes. Despite my focus on winter backpacking and my dislike of the bugs and hot weather, I try to get out year-round, even in the summer and early fall when there is minimal or no snow. The goal is to camp on snow whenever possible even in July and sometimes in August. This usually means going farther and higher up, but it allows our group to experience some excellent views. It also provides a comfortable clean surface and allows us to leave no trace where we stay.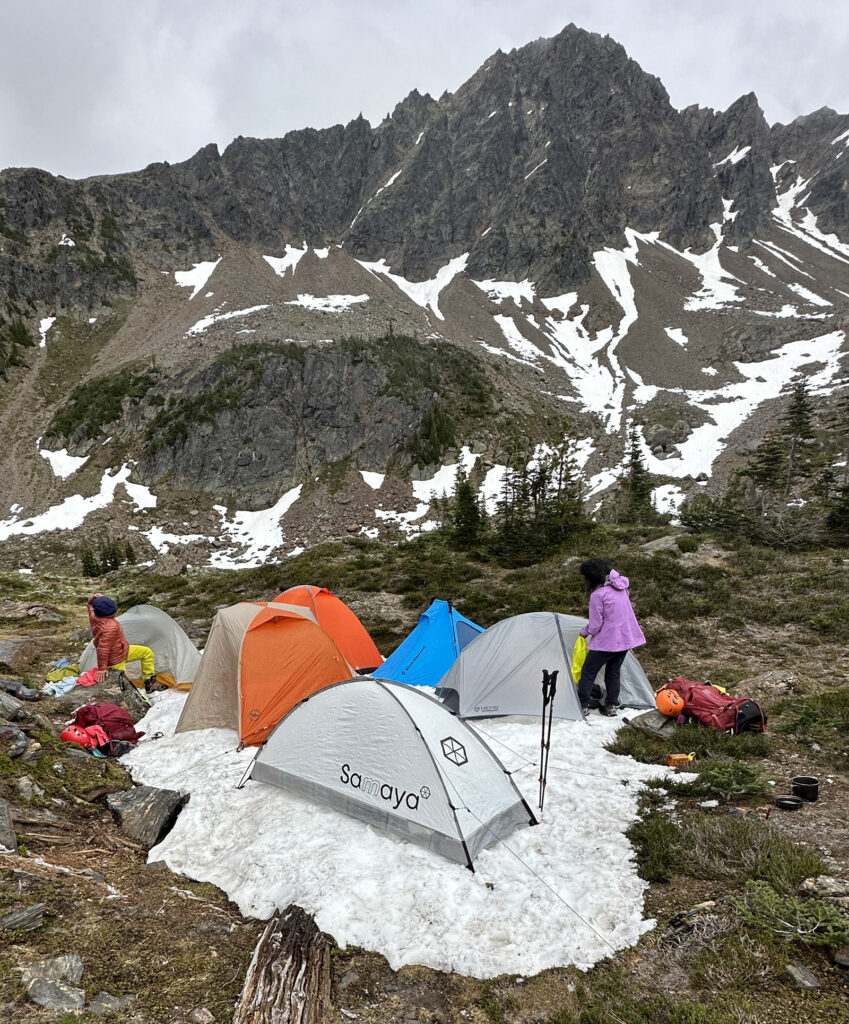 That said, I generally get out less in August and September, especially now that a fire season has emerged creating a new hazard and poor air conditions. Some years, in late September, there is the possibility of an early snowstorm above 3000 ft providing relief and the opportunity to get back out into the wilderness.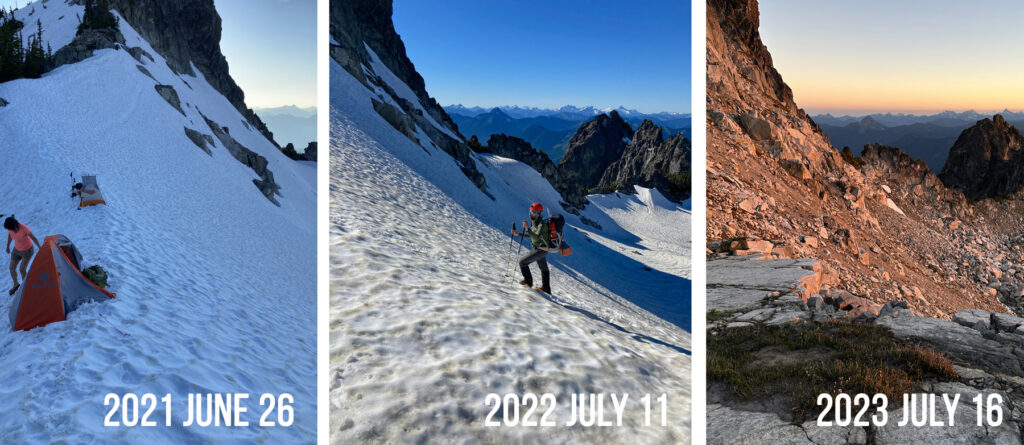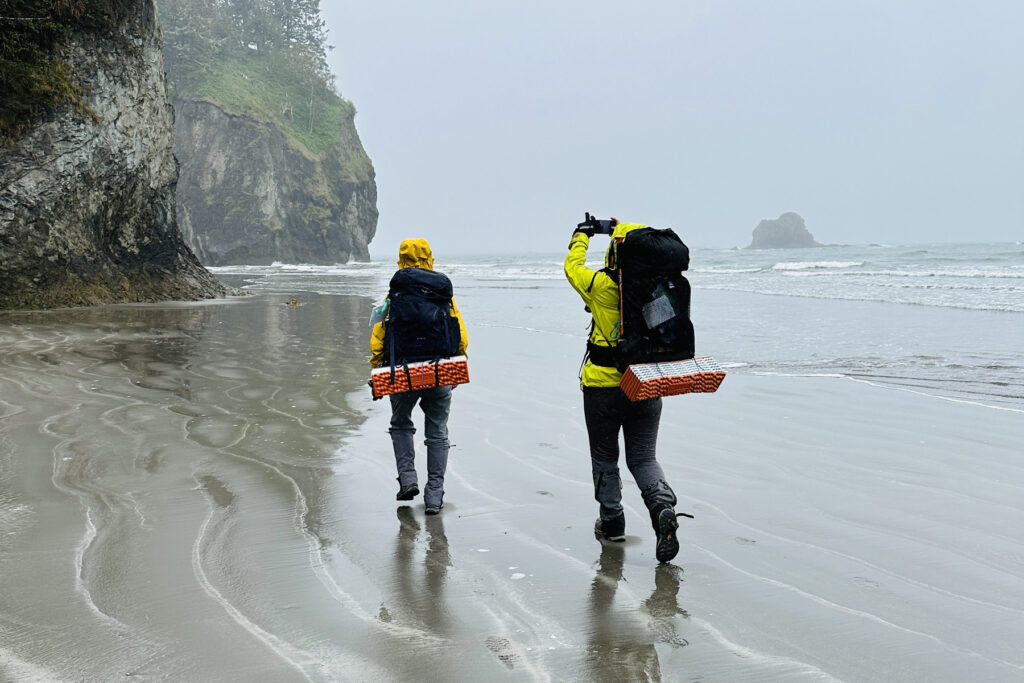 Summer Gear Checklist
Before leaving for the trailhead, I recommend laying out your gear and doing a visual check using a written checklist.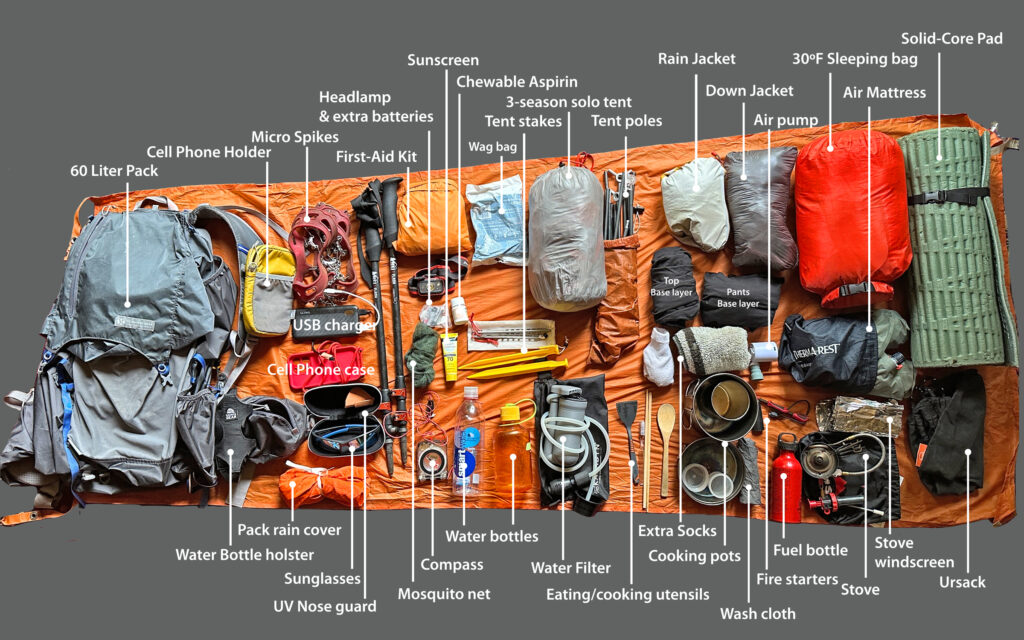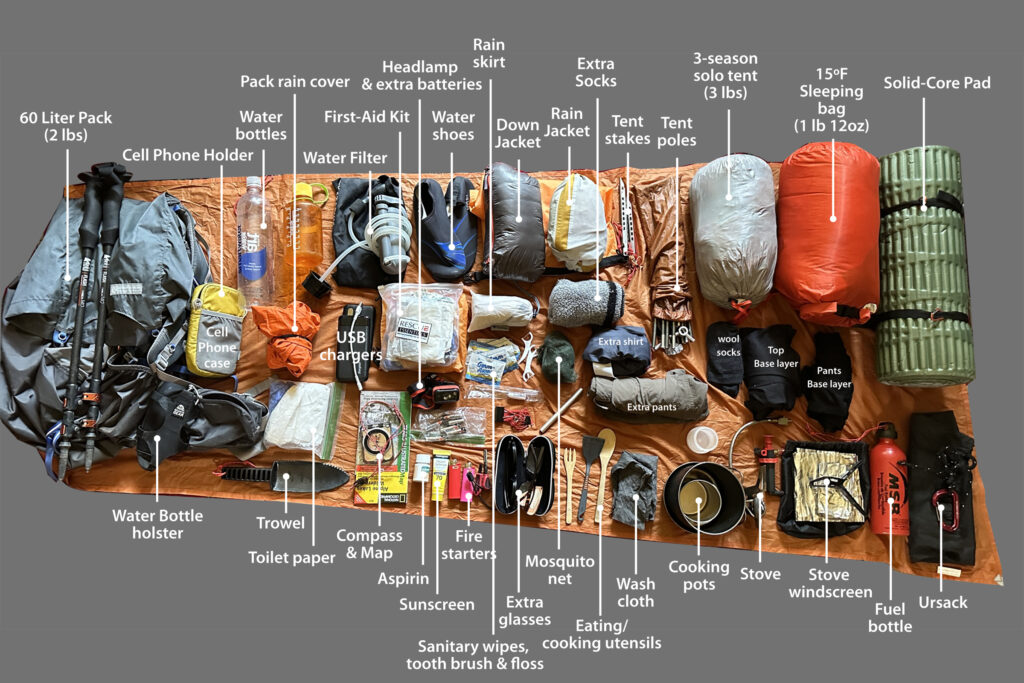 The main list, shown here and below, contains what I am most likely taking on a summer or early fall trip when snow on the ground is still possible. Overall, I try to keep my pack light. An ultra-light backpack is said to be a base weight of less than ten pounds. Despite trying, with my lowest base weight being 15–16 lbs, I don't come close to that level. It is, nonetheless, a substantial reduction from my winter gear. For a weekend trip, with water, fuel, and food, I can expect my total summer pack weight to be in the 20–24 pound range, depending on the terrain requirements.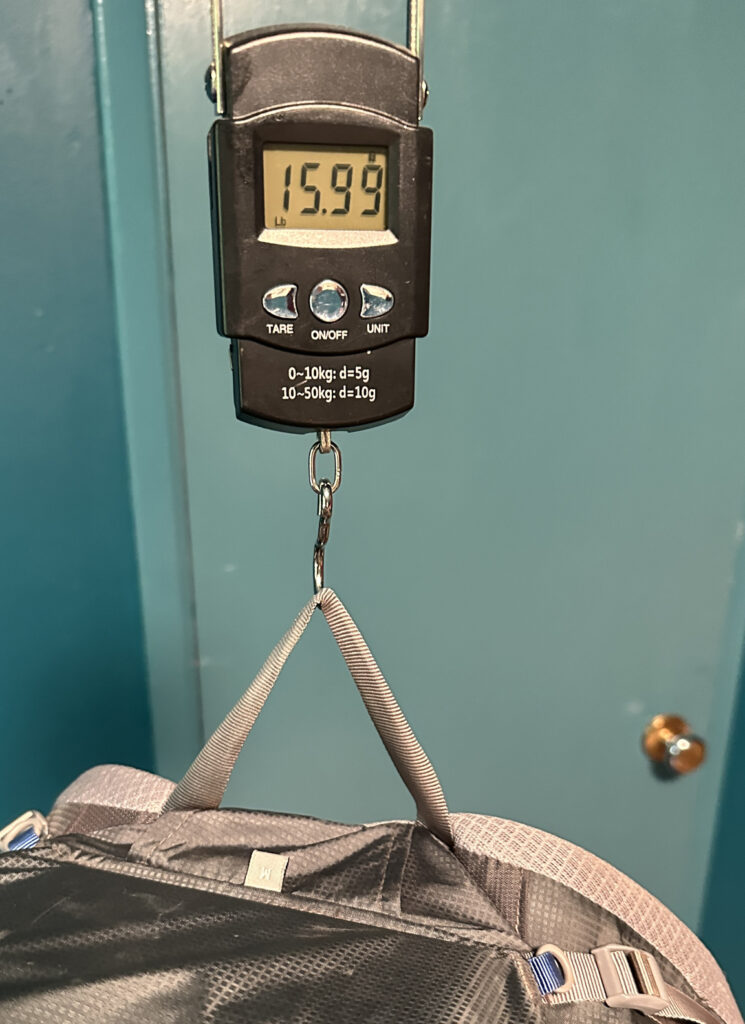 Why So Heavy?
There are several barriers preventing me from going ultra-light. First, I like to camp up high, often on snowy or rocky terrain where stronger winds are frequent. For that reason, I'm using a free-standing tent. I also use a liquid-fuel stove. I like it and can't adjust to the waist of the canisters. I also like to cook fresh food and on a short 2–3 day hike, I'm going to bring fresh food and the gear to cook it. If I could give up those things, I could probably get closer to being ultra-light.
Different Gear for Different Situations
Gear will vary depending on weather and trail conditions. If I'm likely to encounter snowfields or compacted trail snow, I'll pack micro-spikes. If I'm hiking on the Pacific Coast, where there are miles of slippery rock shorelines and boulders, I'll leave the microspikes and take Trekker Chains.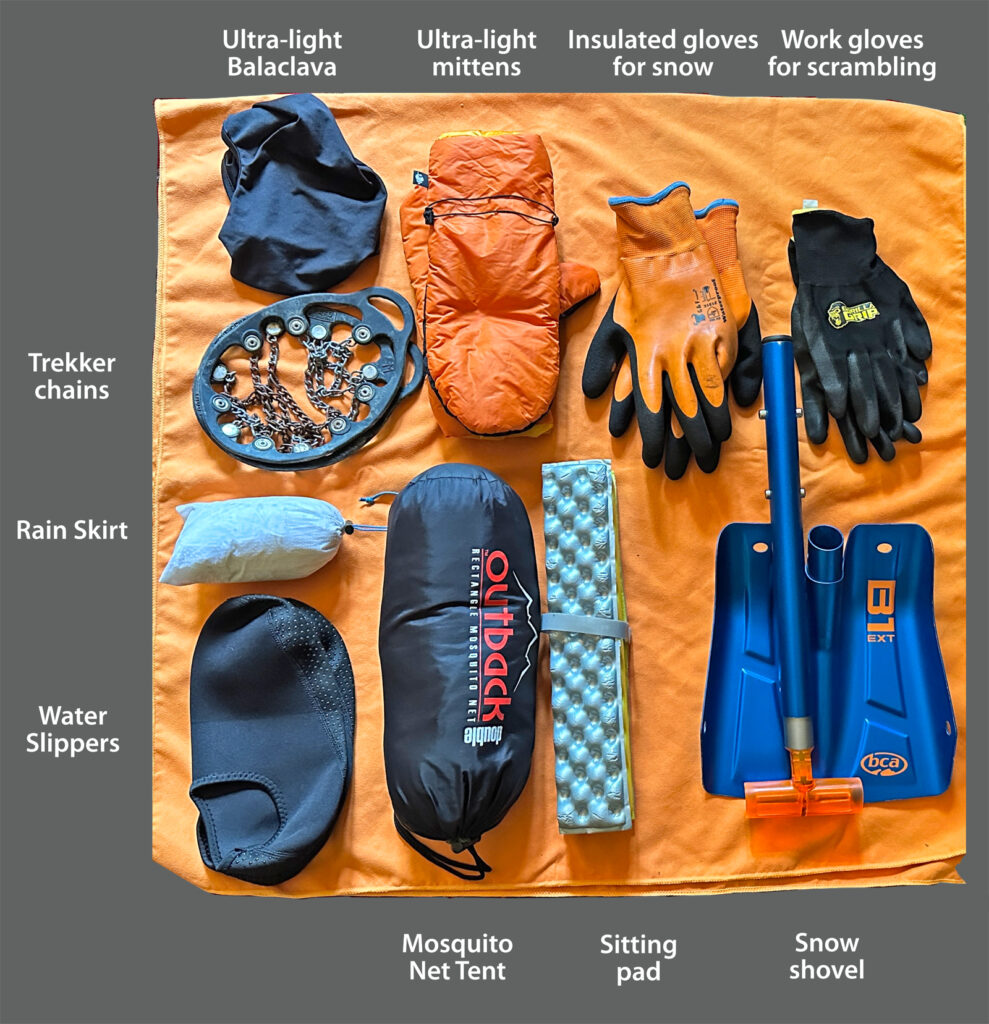 Mosquitos and flies
The main difference between winter and summer gear is that there is a lot less gear in the summer. There are only a few additions, such as a water filter, river shoes, and mosquito netting. Trying to deal with mosquitos adds the most weight. Mosquitos and biting flies are one of the reasons I prefer to hike in winter. With the snow gone, so goes the communal cooking pit, which is one of the great facilitators of our wilderness social life. For that reason, if mosquitos are anticipated, I have started taking a large mosquito net tent to create a common cooking area. Otherwise, everyone is trying to stay zipped up in their tents to avoid the bugs. The extra tent adds 14.7 oz.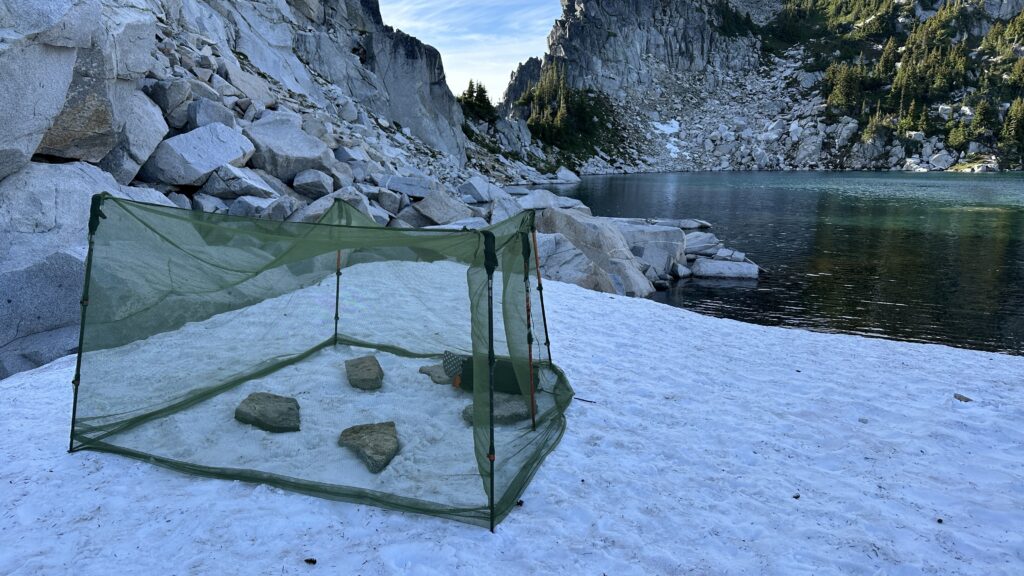 The Essentials
For more about the essentials, especially in winter, see The Fifteen Essentials for Winter Backpacking.
First Aid* 4.00 oz.
Bandage roll (4.5″ x 4YD)
ABD pads (2 quan., 5″x9″)
Triple layer pads (3 quan., 3″x4″)
Large band-aids (3 quan., 2.5″x3″)
Band-aids (3 quan., 3 inch)
Band-aids (2 quan., 2 inch)
Antiseptic towelettes (2 packs)
Iodine prep pad (1)
Alcohol prep pad (1)
Antibiotic ointment pads (4)
Burn cream (3 pk)
Burn jell (1 pk)
Hydrocortisone cream (1 pk)
Ibuprofen tablets (4)
Moleskin (5 pre-cut pieces)
Leukotape (1 yard)
*All items packed with labels and expiration dates. Burn cream/jell because of stoves. Moleskin and/or Leukotake because of blisters. ABD pads or large bandages because of potential injuries (esp. ice ax, crampons). I build my own first-aid kit. Small packable sizes can be found online at sites such as Rescue Essentials (https://www.rescue-essentials.com/).
Extra First Aid Gear
Scissors (0.55 oz.)
Tweezers (0.30 oz.)
Duck tape 2×50″ (0.60 oz.)
Hygiene supplies
Wag bag or Biffy Bag (2.55 oz.)
Extra toilet paper (0.55 oz.)
Sanitary wipes (2) (0.45 oz.)
Latex glove
Toothbrush + paste (1.40 oz.)
Repair kit
Sewing repair kit (0.50 oz.)
Air Mattress repair kit (1.05 oz.)
Tent pole repair sleeve
Stove maintenance kit (partial) (0.55 oz.)
Snowshoe clevis pin
Navigation gear
Compass (2.55 oz.)
Map (3.30 oz.)
Altimeter watch
UV Protection
Sunglasses (1.15 oz.) or Glacier Glasses (category 4)
Sunscreen (1.10 oz. available in 1 oz containers)
Chap-stick (0.14 oz.)
Lumination
Fire-starters (take two types)
Flint (1.15 oz. or 31 grams)
Lighter (full .80 oz.)
Cooking Supplies
Bear vault food container (32.00 oz.) or Ursack (7.6 oz)
Spoon (Bamboo) (0.40 oz.)
Cooking pot (4.40 oz.)
Pot lid skillet (2.30 oz.)
Spatula (0.35 oz, for quesadillas)
Cup (2.10 oz.)
2 oz Sauce container (0.80 oz., occasional use)
Hand towel (0.3 oz.)
Stove Kit (29.05 oz.)
Water Supply gear
Wind and rain protection
Balaclava (2.65 oz. or ultralight option)
Rain jacket (10.65 oz.)
Rain skirt (2.9 oz. breaths better than pants. Pants are better in cold weather.)
Packed clothing
The Big Three
Backpack
Backpack, (2.03 lbs, Gossamer Mariposa 60 liter)
Pack rain cover (1.95 oz.)
Water bottle holster (1.83 oz., fits on hip belt)
Cell phone case with lanyard (This provides added security for your phone in the wilderness. One hiker leaned over to collect water and his phone went straight into the stream never to be recovered. A lanyard case could have saved his phone.)
Cell phone holder (1.35 oz, attaches to shoulder strap)
Sleeping system
One sleeping bag based on summer weather forecast:
30º Sleeping Bag (1 lb. 3.8 oz., REI, lower limited rated 30º I use it for 45–65ºF weather)
15º Sleeping Bag (1 lb. 12.2 oz., REI Magna, lower limit rated 16º. I use it for 25–45ºF weather. )
Dry sack or plastic bag to protect sleeping bag (0.40 oz.)
Sleeping pad (air, 6.9 r-value) (17.50 oz.)
Solid-core foam pad (Therm-a-Rest Ridgerest Classic, 2 r-value, 13.75 oz., regular size)
Tent
3-season solo tent (2 lbs 12.5 oz., including poles, Big Agnes Copper Spur UL1 or North Face Stormfront for higher winds)
Tent poles with pole sack (14.50 oz.)
Tent stakes (x4) (5.95 oz.)
Guylines for rocks (x6) (o.70 oz.)
Stuff sack (0.65 oz)
Traction
Micro-spikes (13.45 oz., shoulder season)
Crampons (1 lb. 12.5 oz., rarely taken)
Ice ax (14.35 oz., rarely taken in summer)
Luxury gear
Air-mattress pump (3.15 oz.)
Circumstantial / Miscellaneous backpacking gear
Many of the items on my gear list above will only be included in my pack depending on weather and terrain conditions. Here are some other contingent items:
Extra fuel (As a safety measure, I recommend every team member have a stove, extra fire starter, and extra fuel)
Mosquito Net Tent: (14.7 oz.) Sometimes a large mosquito net tent (square type) is useful for communal cooking.
Ice Ax (16.50 oz. Important for some destinations, especially in the shoulder seasons, but also in winter. Sun and wind can create very hard and icy slopes at any time of the year. Not useful in early-season fresh or deep snow.)
Crampons (28.00 oz. Important for some destinations in the summer and shoulder seasons.)
Bear-resistant food container (32.00 oz. A generally helpful tool that is now required in much of Washington State beginning April 2023.)
Seat pad (2.15 oz. Optional. I take this if it is unlikely the full-size pad will be needed.)
Water filter (13.75 oz. Useful in the summer and shoulder seasons. Problematic and not recommended in freezing weather.)
Pants, extra. (10.00 oz. Recommended if river forging and/or wet weather is anticipated. Sometimes, rather than take a baselayer for when I'm sleeping at night, I take extra lightweight hiking pants and t-shirt. I always want some sort of night layer that is fresh to stay warm and keep the sweat and grim off the sleeping bag.)
Alkaline batteries (extra, recommended for all trips. Lithium batteries are not recommended for avalanche transceivers because of sudden battery death without warning.)
Bear spray (12.30 oz. If you want self-defense, this non-lethal tool is the only method I recommend. There has been only one fatal black bear attack in Washington State and that was 40 years ago. The entire state of Washington has an estimated 2000+ cougars and over the past *century*, the state has experienced only two fatal cougar attacks. Accidental hunting incidents in Washington state between the 1950s–2010s were 1,811, most by hunters aged 10–29. A report published by American orthopedic surgeons Randall Loder and Neil Farren in 2014 showed that between 1993 and 2008, 35,970 firearm-related injuries involved in hunting were reported to U.S. hospitals or about 2,400 per year over the 15-year period of the study. If you are concerned about safety, wear bright clothing, and don't run or bike on trails.)
River shoes for river crossings (6.15 oz.) or water slippers (1.1 oz.)
Trekker Chains: Similar to microspikes, but with chains and no spikes. These are useful on coastal hikes that have long stretches of large slippery shore rocks.
Dry sack or plastic bags for boots and camera when crossing rivers. This assumes you already have a dry sack for your sleeping bag and extra clothing.
Cathole Trowel (2.85 oz. Better to pack your poop out with a Wag Bag.)
Pack cover (3.15 oz.)
Tent ground cloth (4.45 oz. Not necessary on snow but helps your tent longevity on dirt and rock surfaces.)
Snow Shovel: Sometimes worth taking in the summer to dig a cooking pit. Bear in mind that snow shovels are not made for hard snow. You chop the snow first before lifting. Do not leverage the shovel in hard snow.
Clothes checklist (wearing)
Rather than search for hiking clothes the morning you will be leaving for the trailhead, use this list or your own list to gather everything you need in one place the day before the event.
Briefs (2.80 oz.)
Hiking pants (14.70 oz.)
T-shirt (4.25 oz.)
UV shirt with hoody (known as a "fishing shirt" 7.85 oz.)
Thermal shirt base layer 3.60 oz.)
Liner socks (wool, 1.60 oz.)
Socks (wool) (2.60 oz.)
Belt (2.00 oz.)
Cap (1.75 oz., I recommend a "jogging/running" cap because those are lighter and made of nylon, meaning they will dry off quicker.)
Gaiters (6.30 oz., Useful in rainy and muddy conditions in the summer.)
Boots (3 lb 2.70 oz.)
Hiking poles (15.65oz. Attach to your pack to make sure they get to the trailhead the day of the hike.)
Camera gear (optional)
Camera (wearing) (1 lb 12.90 oz.)
Lens cover & harness (4.06 oz.)
Extra battery (1.75 oz.)
Extra Flash card (0.15 oz.)
Plastic bag for the camera (0.40 oz.)
Regular Extras
Cell phone (4.00 oz.)
Cell phone USB charger (6.85 oz., 10,000mAh)
Keys (0.70 oz.)
Wallet (1.25 oz.)
Glasses (+ extra 1.60 oz.)
For the car
After-hike car clothes
Shoes
Socks
Shirt
Plastic bag for boots
Gas money
Forest/Park/Snow pass
Cell phone charger cord
30″ bow saw (for downed trees)
Tow straps
Tire chains (+pliers and gloves)
Flashlight
Comments: Please leave comments below. I like hearing from other hiking and wilderness enthusiasts. Help me improve my content with your suggestions. Be aware I get a lot of AI-generated spam. You have to be specific so I can recognize your comments as genuine.