Looking for backpacking meal ideas? I was recently invited to hike a section of the Pacific Crest Trail (PCT) which required putting together a 5-day meal plan. I'm sharing my meal plan here because some hikers are looking for ideas and because some of these options are also suitable for winter backpacking.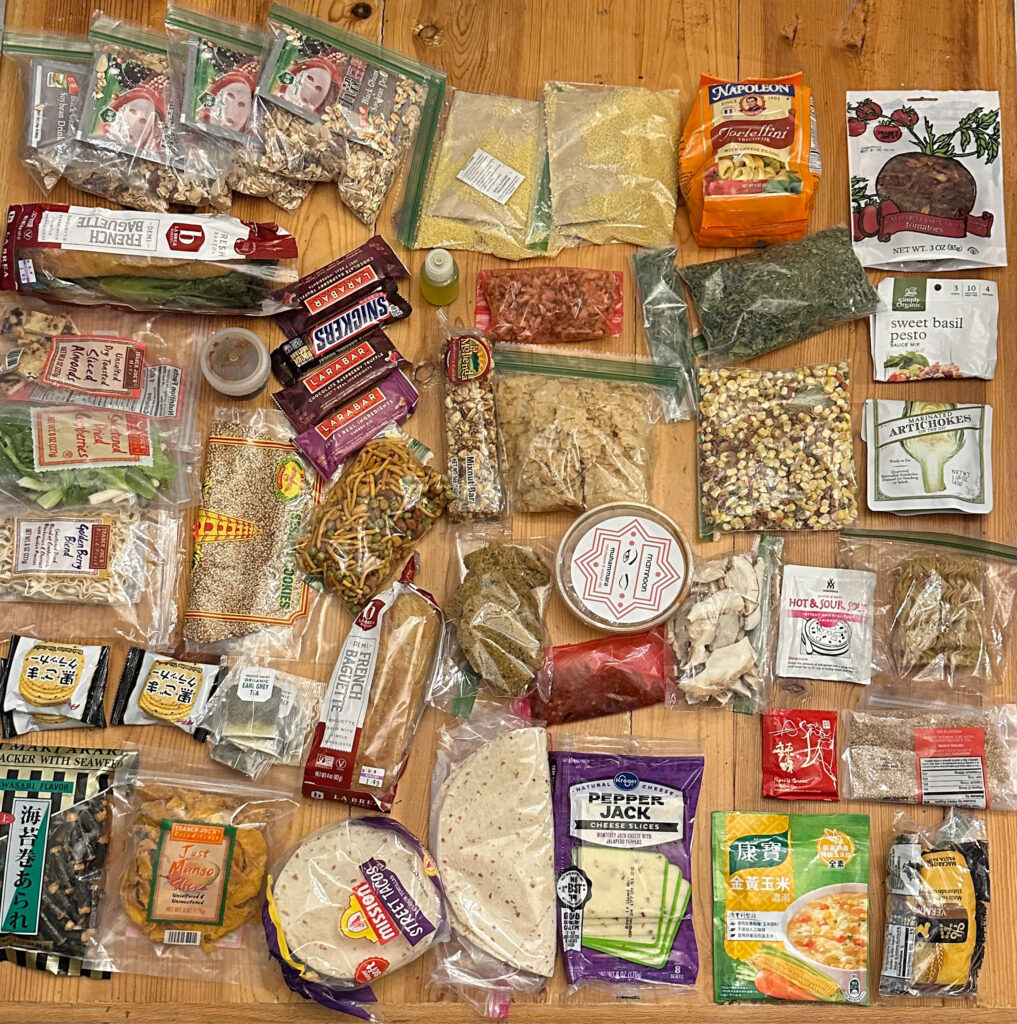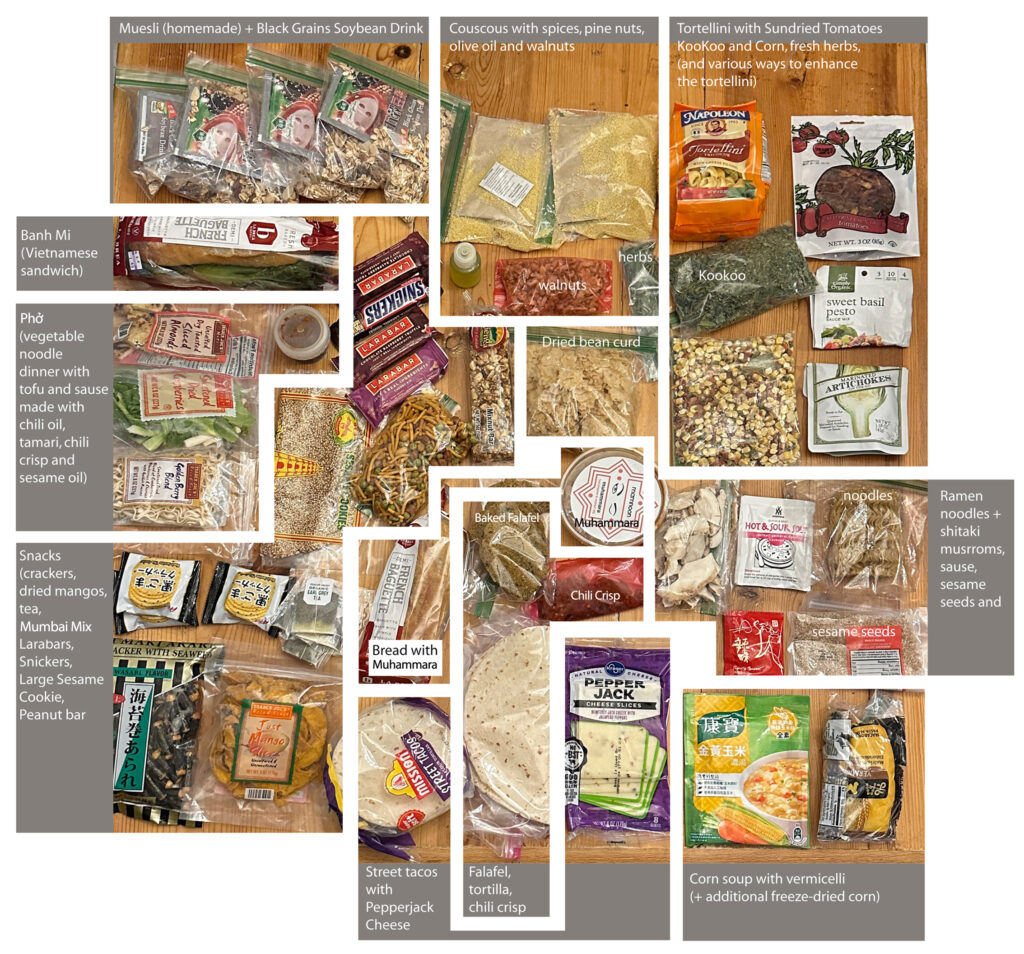 Here's the basic 5-day meal plan
Day 1
Lunch: Bánh mì Sandwich
Dinner: Phở (noodles, fresh vegies, and tofu)
Day 2
Breakfast: Muesli with black grains soybean drink
Lunch: Small Baguette and Muhammara
Dinner: Tortellini with herbs, sun dried tomatoes and corn
Day 3
Breakfast: Muesli with black grains soybean drink
Lunch: Tortilla with Falafel and Chili Crisp
Dinner: Couscous with herbs, pine nuts, sun-dried tomatoes, and walnuts
Day 4
Breakfast: Muesli with black grains soybean drink
Lunch: Tortilla with peanut butter and Muhammara
Dinner: Corn chowder with vermicelli
Day 5
Breakfast: Muesli (ended up eating couscous instead) and Cheese Quesadillas
Lunch: Snacks (Larabar, Mumbai mix, Sesame cookie)
Typically, I am doing two- to three-day hikes that are short enough to take fresh food. My pack is light enough that I don't mind the extra food weight that results from fresh vegetables. However, for a five-day journey I needed more light-weight solutions. I'm not a fan of high-sodium pre-packaged and instant meals packed with unholy chemicals, so I decided to see what alternatives I could find at my nearby grocery stores. Because I live in the Seattle area, there are many Asian grocery stores near me (mainly Chinese, Vietnamese, and Indian), as well as the standard American grocery stores and a few Middle Eastern and Mediterranean stores.
For several years, I have been trying to learn how to cook more Asian recipes (mainly Vietnamese, Japanese, and some Chinese) to reduce the amount of dairy in my diet (that is, to reduce saturated fats), so I have become familiar with the Asian grocery stores in my area. Asian stores have a wide variety of vegetables and products. For most winter trips I make some form of either Phở or Ramen, but this is because these work well with fresh vegetables and are easy to keep warm. For a longer trip, I needed to cut back on fresh vegetable to save weight. Most of the Asian recipes I was using relied on fresh vegetables, so I found it much easier to put together a meal plan based on Mediterranean options.
The final meal plan started off with fresh food—a Bánh mì sandwich for my first lunch and Phở for dinner followed by meals made with muesli, couscous, falafel, tortellini, corn, vermicelli, and baguette and tortillas with Muhammara, peanut butter and cheese. Everything as plant based, excepting two meals that included cheese tortellini and quesadillas.
Weight
One of the other hikers shared her food list, which seemed insufficient, so I over compensated. Ultimately, I brought three extra meals (or double portions) and too many snacks. My base weight was around 18 lbs and total food weight around 7–8 lbs. On the first day, my pack was roughly 28 lbs total. There was abundant water along the 65 mile route so I never needed to carry more than a 16 oz bottle of water. If this base weight seems high it is because I'm not using any Dyneema summer gear, I packed a extra USB battery charger I didn't need, and I packed for temps in the low 40s. It's summer, but high in the Cascade Mountains it can still get cold.
Ideas, Tips and Lessons Learned
A fresh bánh mì sandwich. I wouldn't have to carry it far, so I decided to go heavy on my first lunch with a fresh home-made bánh mì sandwich. The bánh mì is a popular Vietnamese sandwich made with a baguette spilt lengthwise and filled with savory ingredients. For mine, I sawtéed thin marinated tofu slices, added cucumber, avocado, grated carrots and daikon and vegan mayonnaise (keeps better) mixed with Gochujang (red chili paste).
Phở with fresh vegetables. For the first dinner I also brought fresh vegetables and made Phở. This usually includes rice noodles (I brought flour Ramen noodles this time) and a vegan Phở broth (available in small boxes containing 4 packs). Most noodles take 4–5 minutes to cook, so I add the vegetables after 3–4 minutes, then the sautéed tofu, and finally my own topping sauce of Chili oil, Chili Crisp, Sesame oil, and Tamari (Japanese version of soy sauce). For vegetables, I chopped up Bok choy, Gai lan (Chinese broccoli), carrots, daikon, enoki and king mushrooms. The vegan broth has a lot of ingredients, but nothing too disturbing: Organic Vegetable Stock (Filtered Water, Organic Vegetable Stock [Organic Celery, Organic Carrot, Organic Onion, Sea Salt, Organic Dextrose, Yeast Extract, Organic Natural Flavor]), Organic Onion Puree, Organic Vegan Beef Flavor, Sea Salt, Organic Cane Sugar, Organic Ginger Juice [Organic Ginger Juice, Citric Acid], Organic Garlic Puree, Organic Star Anise Extract, Pacific Kombu (Kelp) Extract (Water, Kelp, Salt), Organic Mushroom Powder, Organic Coriander Extract, Organic Cinnamon Extract, Organic Clove Extract.) I have some questions about "natural flavor", but probably better not to ask.
For breakfasts, I brought Muesli and powdered soy milk. Muesli is a swiss cold breakfast made mostly from rolled oats, nuts and dried fruit. It differs from granola in that it is not coated in a sweetener such as sugar or honey. It is an affordable breakfast option in Europe, but expensive and hard to find in America. For that reason I buy rolled oats and make my own by baking the oats in the oven and adding nuts and dried fruit (typically sliced almonds, peanuts, raisins, and dried cranberries). If I am doing a short one-night trip I sometime bring an 8-ounce package of soy milk. For this 5-day trip I picked up some small packages of Chinese powered black grain soy milk drink from an Asian grocery store. Which makes more sense, powdered cow's milk or powdered soy milk?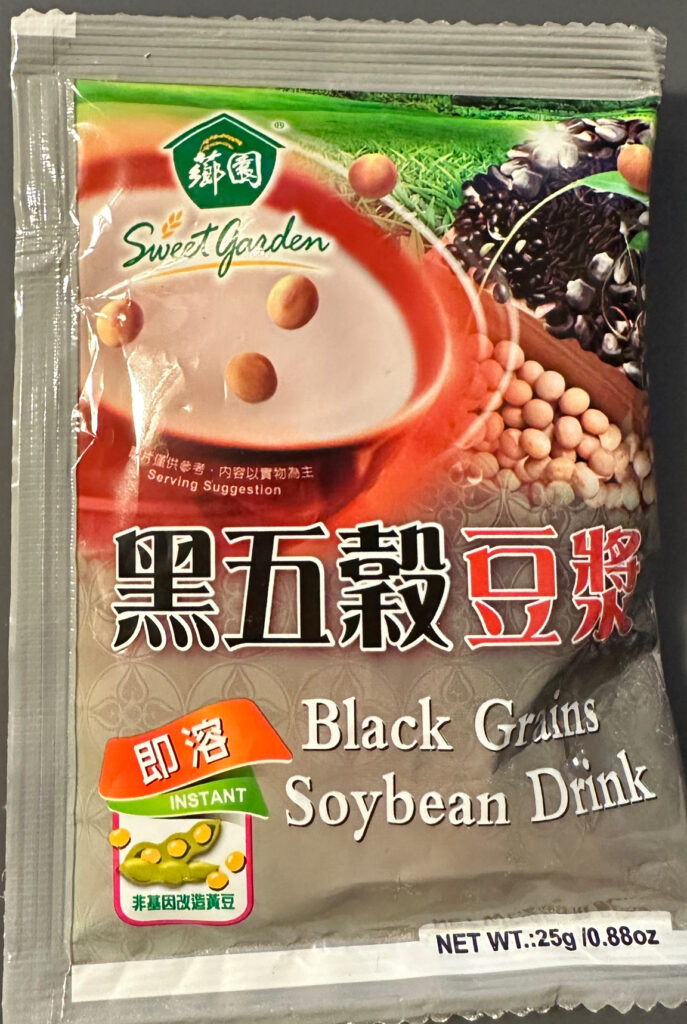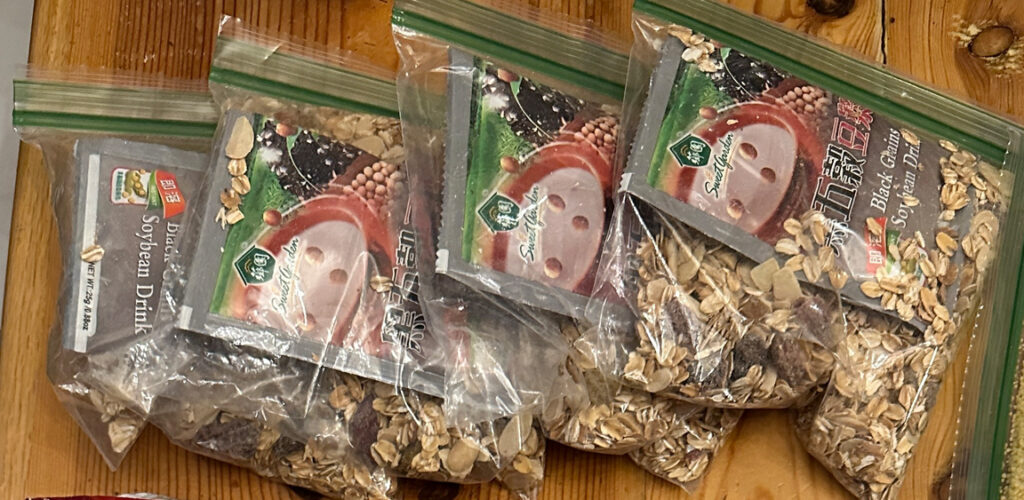 Repurposing freeze-dried corn chowder mix: My regular American grocery store (QFC) carries Anderson House "Frontier Soups" which consist of 7-ounce packages of mostly freeze-dried corn and herbs (Corn, Rice, Onion, Carrot, Bell Pepper, Celery, Chive, Bay Leaf). According to the packaging, it is non-GMO, has nothing artificial, and no added salt. Because the packets requires additional ingredients and contain a small amount of rice at the bottom, the cook time is too long for backpacking (about an hour). However, I simply removed the rice. The remaining ingredients will cook in 4–5 minutes. The corn, vegetables, and herbs can be repurposed to enhance soups and pastas. The packages cost around $8–9 and has enough to mix into 2–6 meals. The package claims to have 11–12 servings. On this trip I mixed the ingredients with tortellini for one meal and with an instant Corn Chowder package.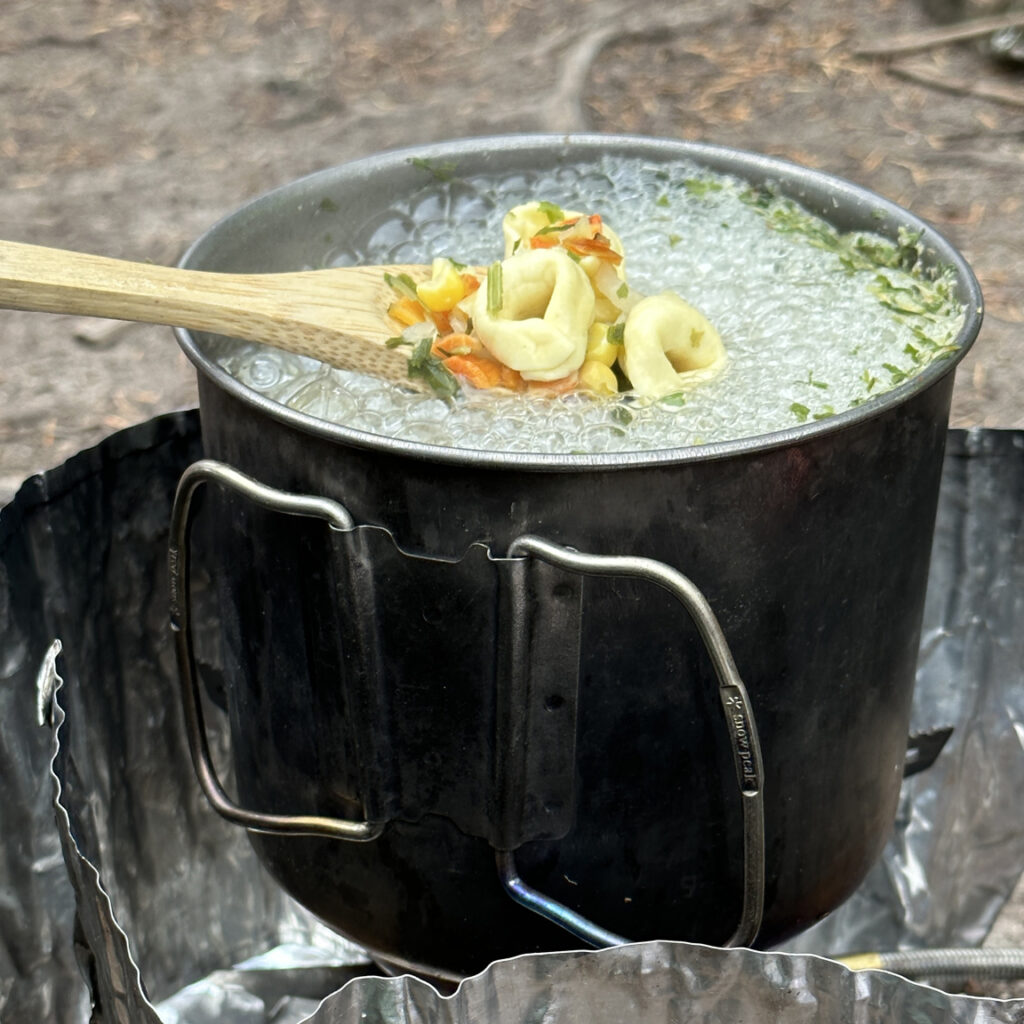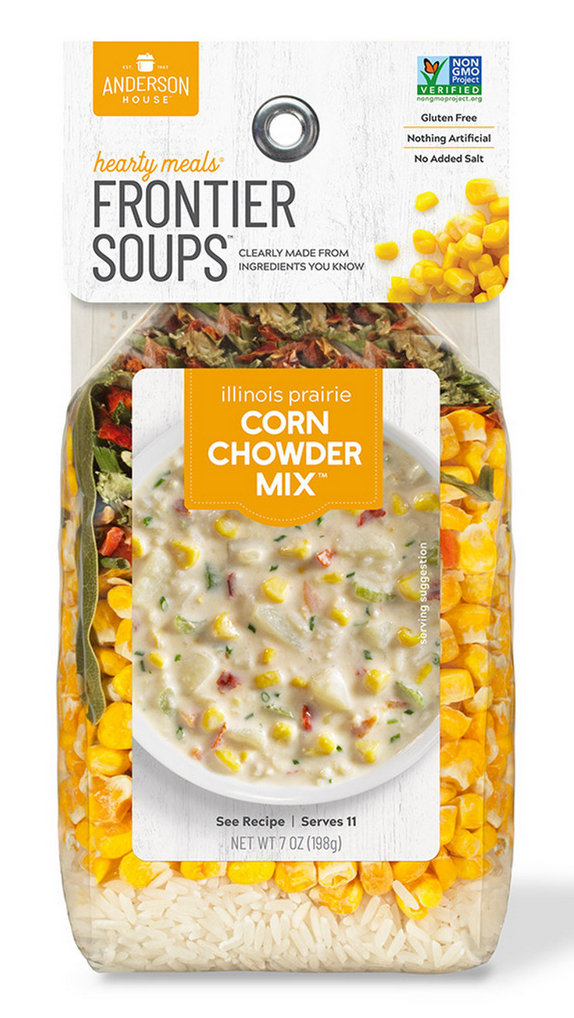 Kuku Sabzi. The Middle-Eastern store near me sells packages of dried vegetables for KooKoo or Kuku Sabzi. This is a popular Persian frittata usually made with eggs, vegetables and herbs (Parsley, Leek, Basil, Cilantro, Dill, and Fenugreek). A large 100g bag cost around $5–6 and it can be used as a low-cost dried option to enhance soups and pastas. I added it to the tortellini and corn chowder. Next challenge will be to find a way to make some actual Kuku Sabzi frittatas, maybe with chickpeas, flax seed, and tofu.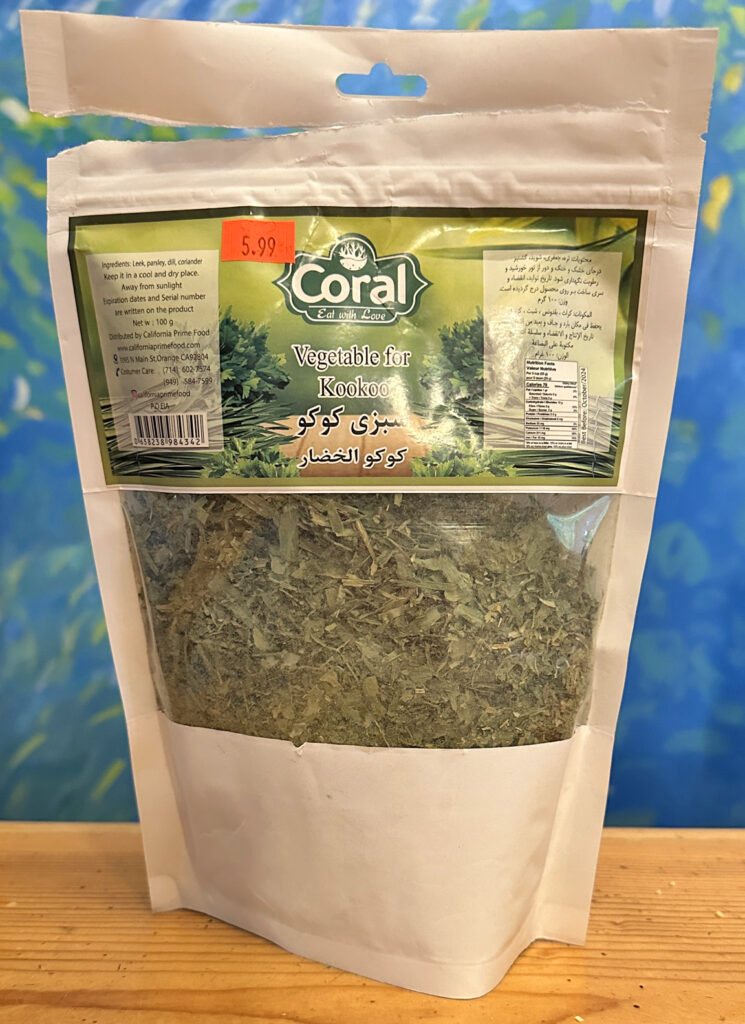 Baked Falafel travels and keeps well. Falafel is a popular Arab fast food (especially Egyptian and Levantine) made with Chickpeas (Garbanzo beans) and herbs and usually served in Pita bread with a salad or pickled vegetables, tahini (sesame paste) and some form of hot sauce. Typically it is made into small balls and deep fried. However, it can be pre-baked, which makes it drier and firmer. I didn't bring any salad, but rather topped the baked falafel with Chili Crisp and wrapped it in a flour tortilla. Basic, but good. An easy no-cook lunch option.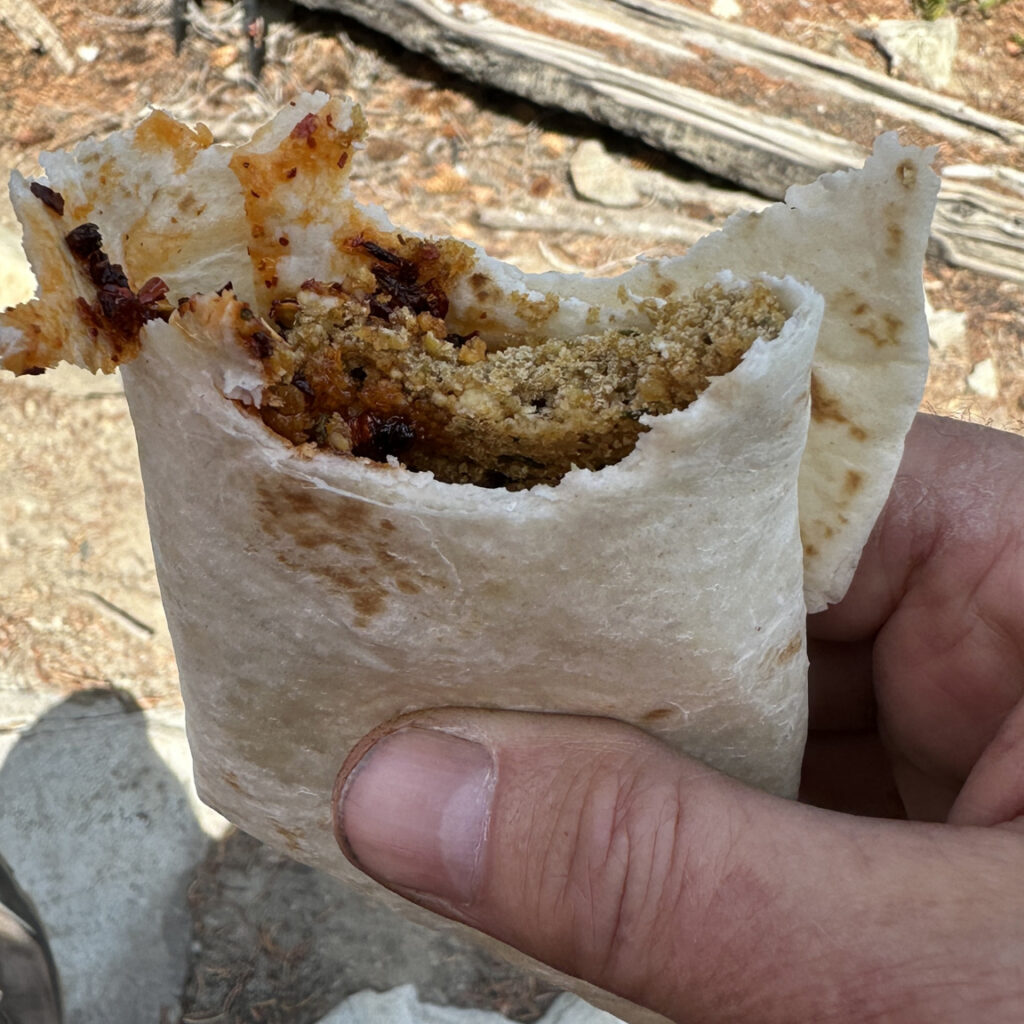 Bread and Muhammara. Muhammara is a popular Syrian spread usually made from blending walnuts, red peppers, tahini, cumin, lemon juice, scallions (green onions), pomegranate molasses, garlic, bread crumbs, and olive oil. I bought it ready made from a nearby PCC Community Market. I simply brought a small baguette and used the Muhammara as a spread. Another easy no-cook lunch option.
Corn chowder with vermicelli. I found this Knorr Corn Chowder at an Asian grocery store and it is the type of processed food I usually avoid. It contains Maltodextrin, a highly processed white powder made from corn, rice, potato starch, or wheat. Maltodextrin has no nutritional value and spikes blood sugar and is said to suppress the growth of probiotics. I added corn from the Anderson House "Frontier Soups" corn chowder along with vermicelli noodles. Although it tasted good. In the future I'll just use the Anderson House "Frontier Soups" corn chowder, add some olive oil, corriander, tumeric powder, vermicelli and potato starch as a thickener. No one suffers from a Maltodextrin deficiency. As with many instant foods, it is possible to create your own version without the highly processed ingredients, excessive salt, and hard to pronounce chemicals.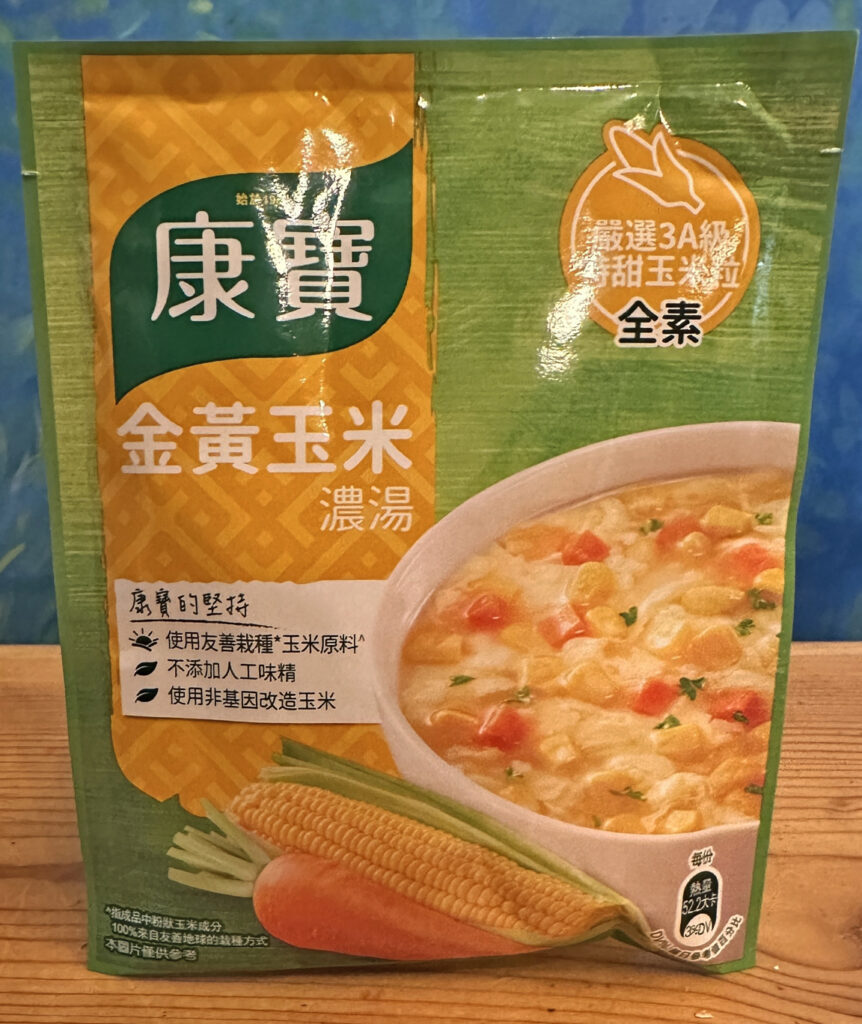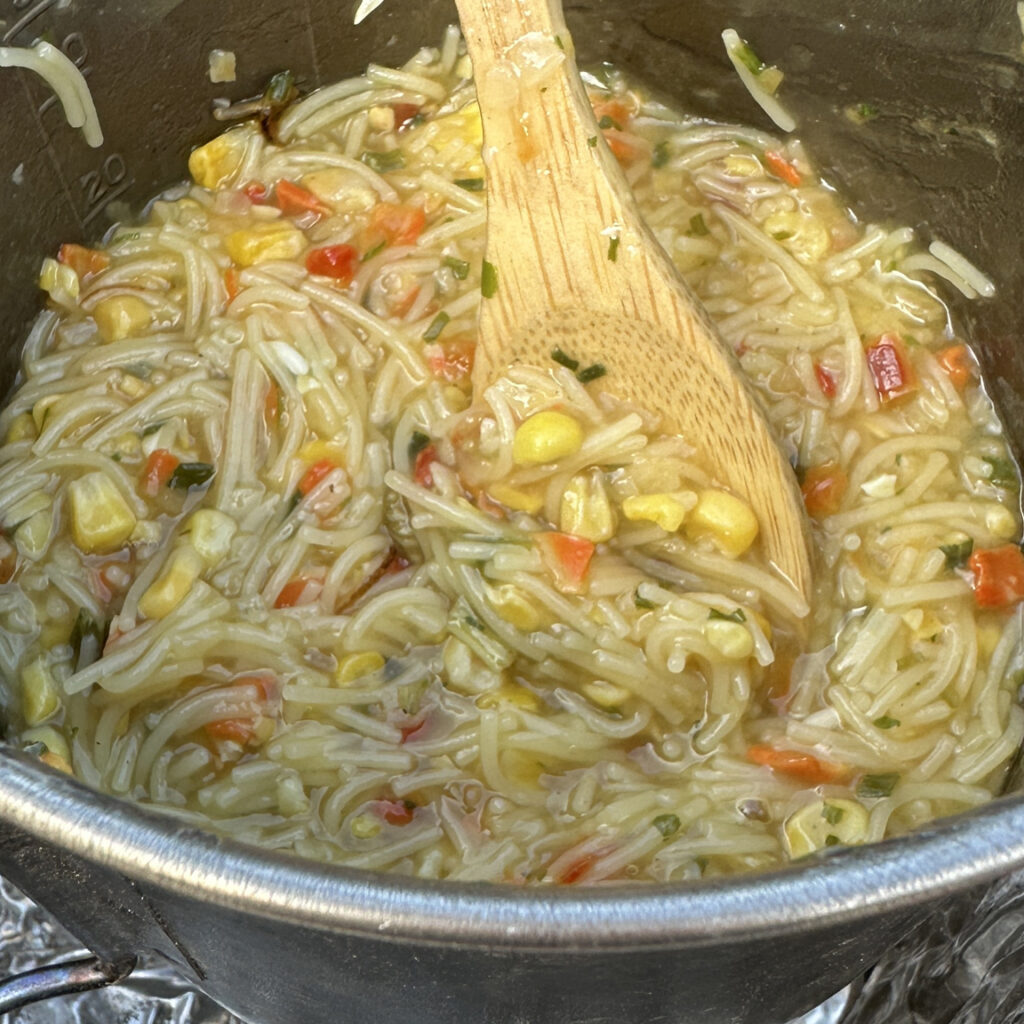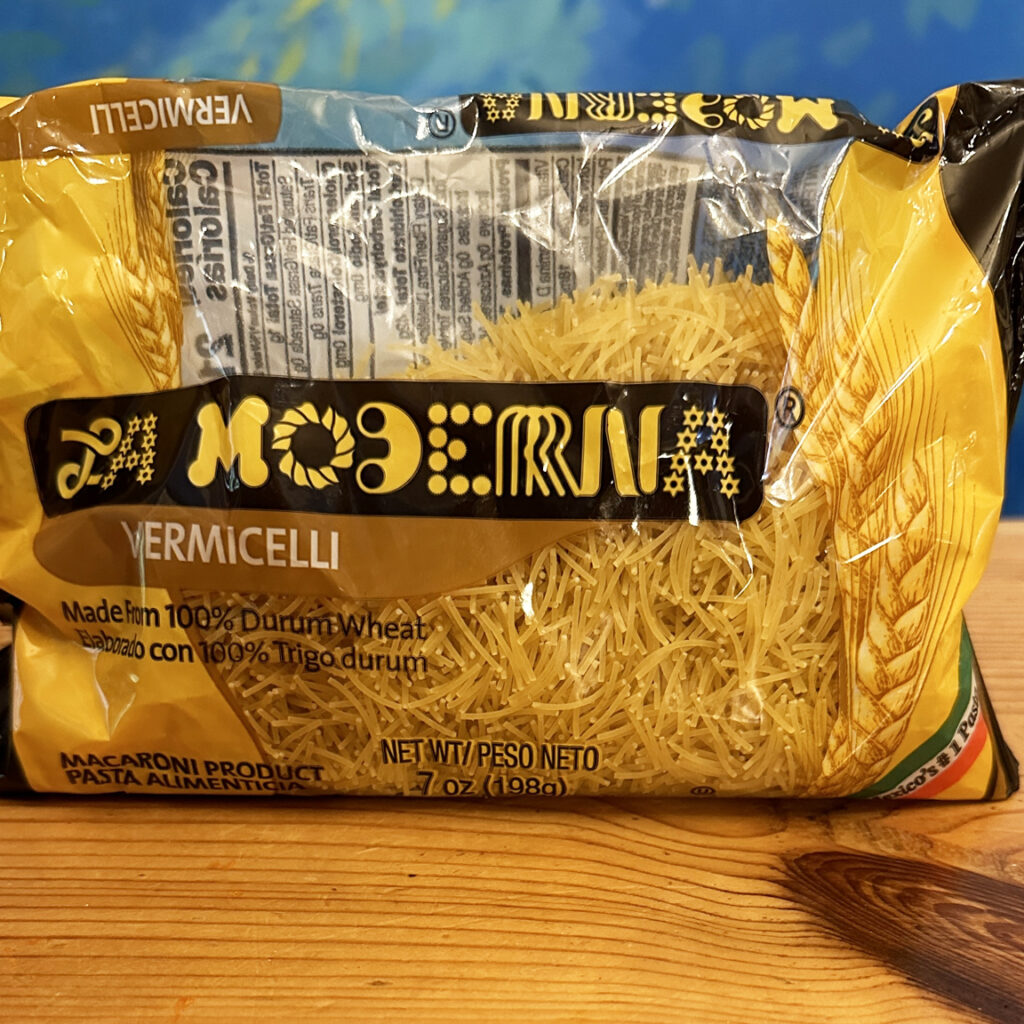 Small miso soup packages will work as easy noodle broths. This was the plan, but it turned out to be more food than I needed. It was among the extra food brought home.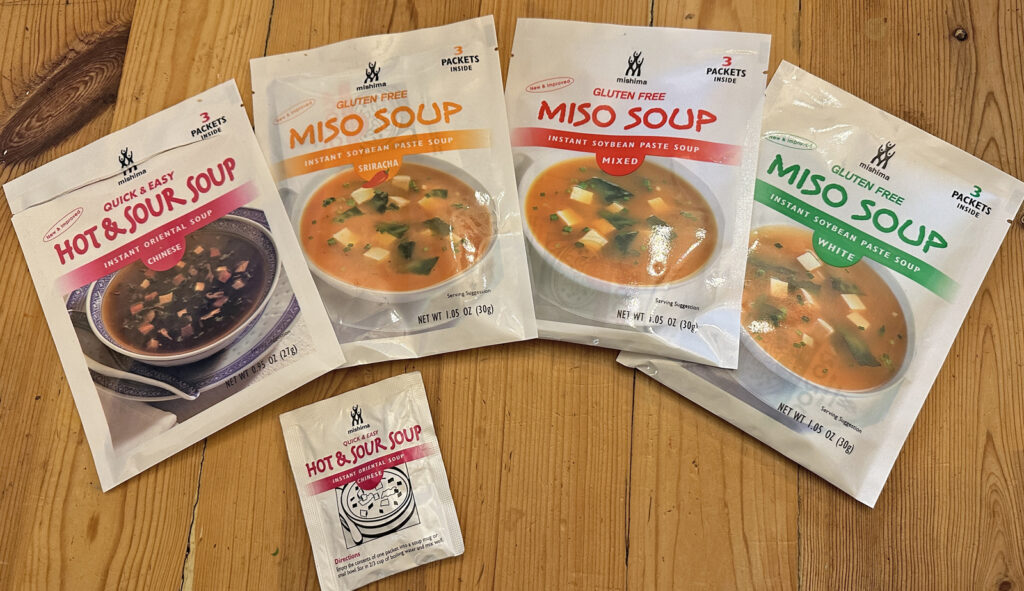 Couscous. Couscous is an excellent light weight meal option. I don't use it in winter because I want a hot meal and dishes with broths work better in cold weather. Although couscous can be used to thicken soups. For a summer hike, couscous on its own is simple to fix and easy to dress up with basic ingredients such as walnuts, sun-dried tomatoes, and herbs. The version I bought included seasoning and pine nuts (ingredients: Durum Wheat Semolina, Pine Nuts, Salt, Autolyzed Yeast Extract, Onions, Garlic, Leeks, Yeast Extract, Natural Flavor, Olive Oil, Mushrooms, Soy Protein Isolate, Sunflower Oil, Black Pepper). Even though it had pine nuts and seasoning package, I added walnuts, sun dried tomatoes, fresh garden herbs (Rosemary and Tarragon) and olive oil.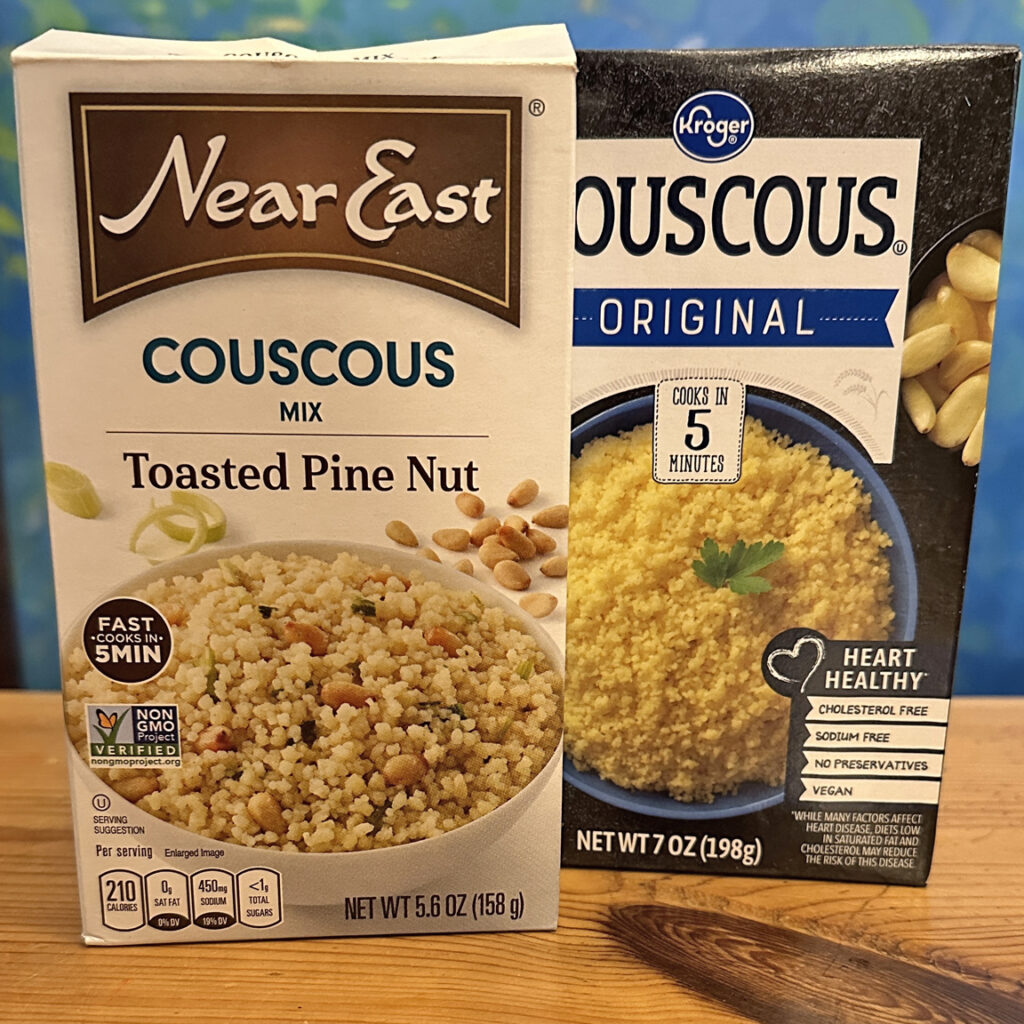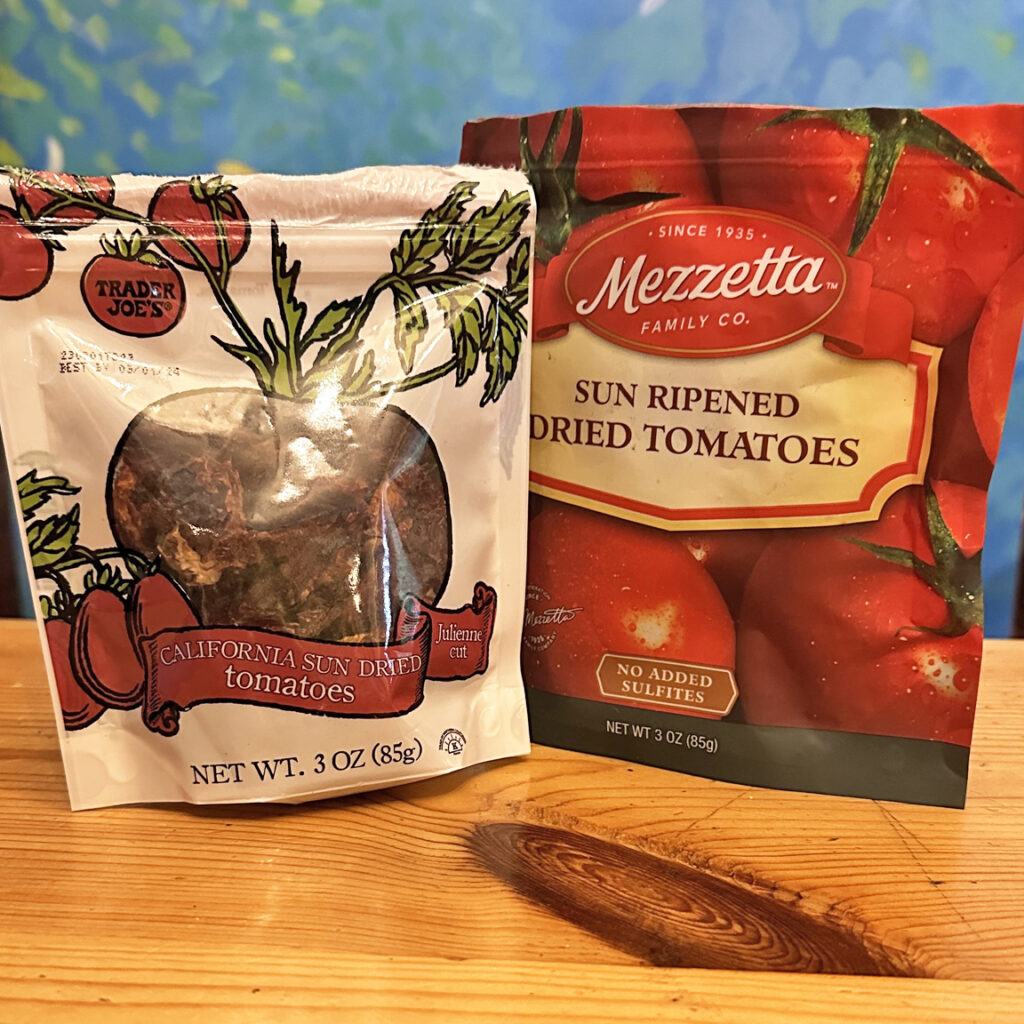 Snacks. For snacks, I brought Mumbai mix, Larabars, Snickers, Mixnut bar, large Sesame cookie (Vietnamese), small packs of crackers, dried mangos, and tea. Much of this came back uneaten. I mostly ate the dried mangos, Mumbai mix, and large Sesame cookie.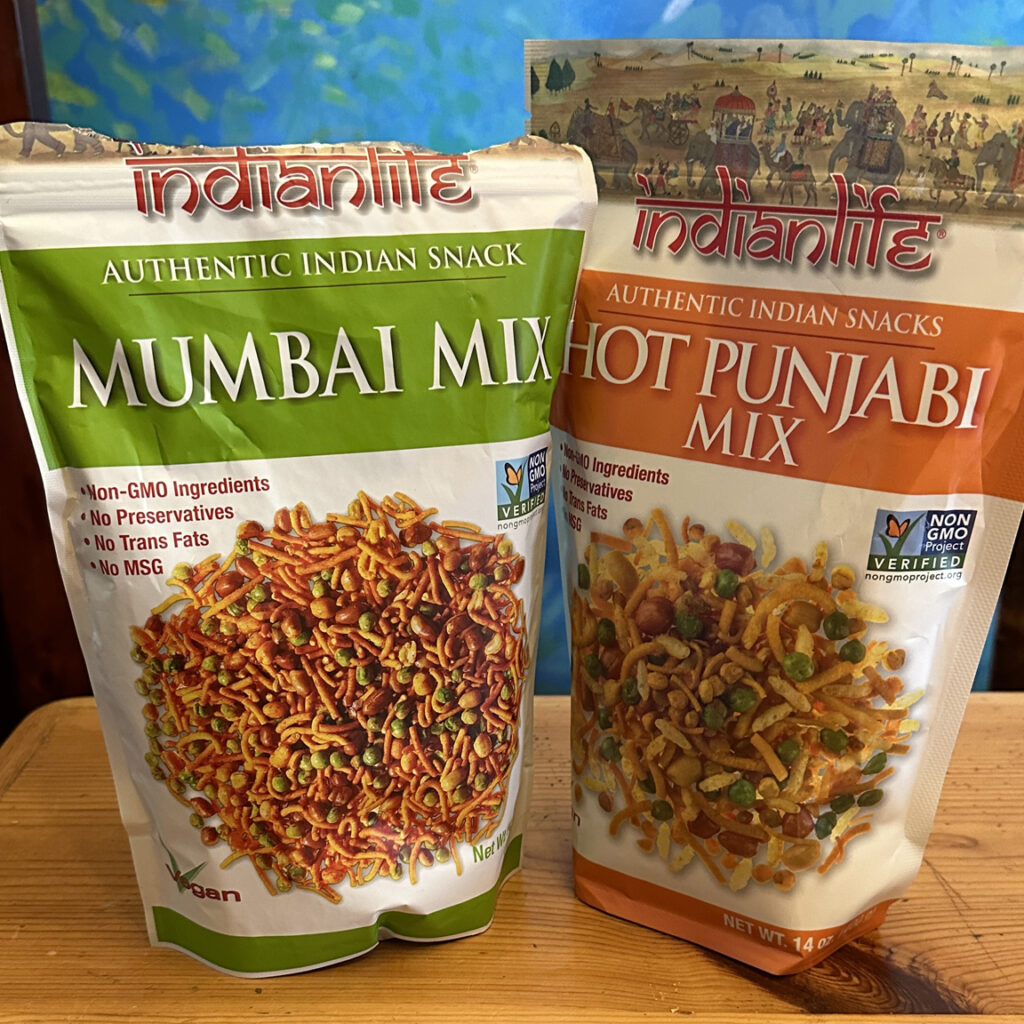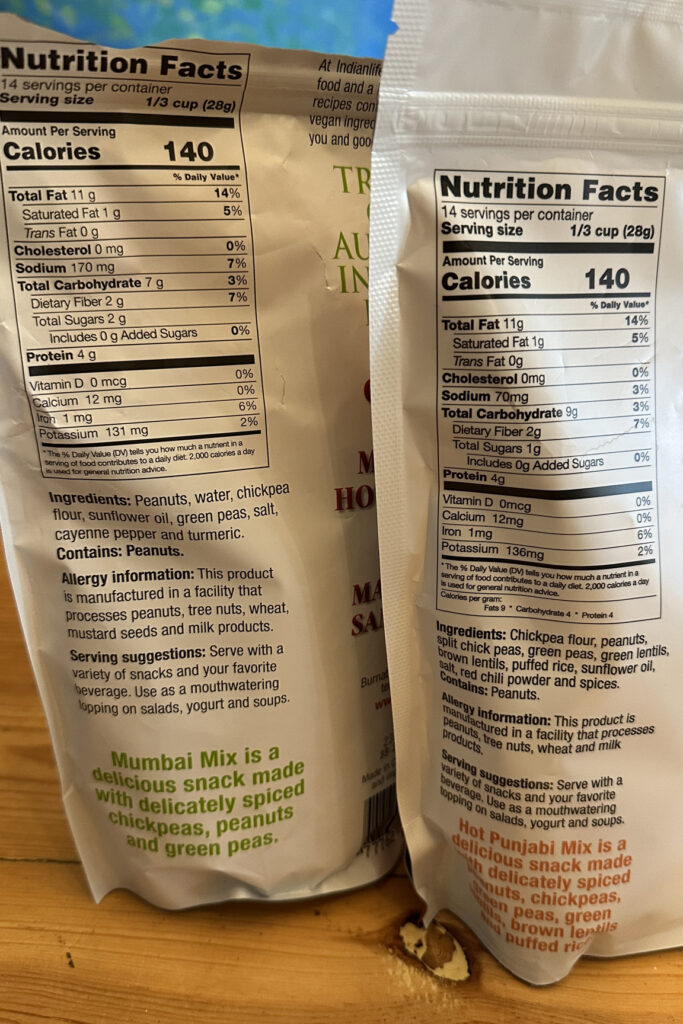 Unused food 
I brought marinated artichokes and a package of sweet basil pesto to use with the tortellini, thinking that I might be able to prepare the tortellini in several different ways. I didn't use the pesto and I ate the artichokes as a separate snack. Most of the Pepperjack cheese and street tortillas were eaten, but there was some left over. I brought some Ramen noodles, dried Shitake mushrooms and dried bean curd along with some miso soup and Ramen broth to make Ramen. I was thinking I could add some of the freeze-dried corn as well. As it turned out, this was unnecessary and I ended up bringing al the Ramen ingredients home unused. For the last breakfast, I decided to have couscous instead of muesli, so one package of muesli went unused. I also didn't eat most of the trail bars. I probably had 2 lbs of extra food at the end of the trip. I'm not bothered by this because I usually bring a little extra for emergencies and if anyone in the group needs it.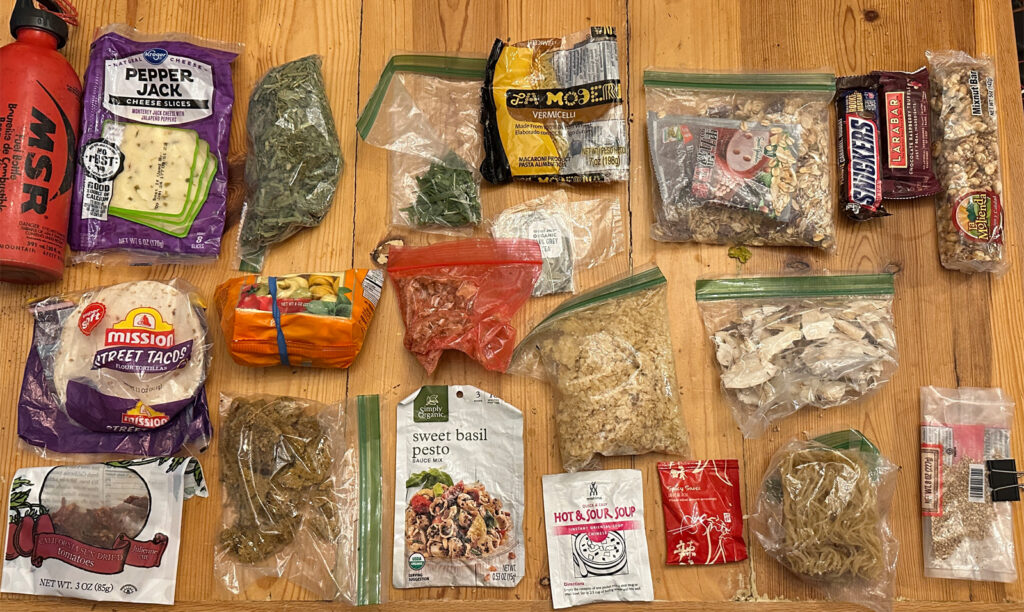 Adapting for Winter
Even though this meal plan was for summer, much of it can be adapted for winter. The Ramen, corn chowder with vermicelli, dried bean curd, soy drink, miso, and kuku will all work well. The one thing I would not make in winter is couscous, but it can be used as a thickener for soup. The tortellini can go in a soup broth too. I probably would not want to eat a cold baked Falafel wrap in winter, but the Bahn Mi sandwich and Muhammara would be fine, and especially hot Quesadillas.
Share your comments
Have any interesting plant-based food ideas for backpacking? Please leave your comments and suggestions below.