The French outdoor gear company Samaya sent me one of their groundbreaking ultra-light Radical 1 tents to try out. This is a minimalist 4-season solo tent.
I don't review gear that I wouldn't myself use, and there are not many tents I would even consider, but this one meets many important criteria, so I agreed. I took it out to the Mount Baker area, which gets an annual average of around 16 meters of snow. This was a short trip in deep snow conditions and almost constant snowfall. The persistent snowfall wasn't our expectation. We assumed the clouds and snowfall would clear in the morning as forecast but that never happened. It was an enjoyable trip anyway.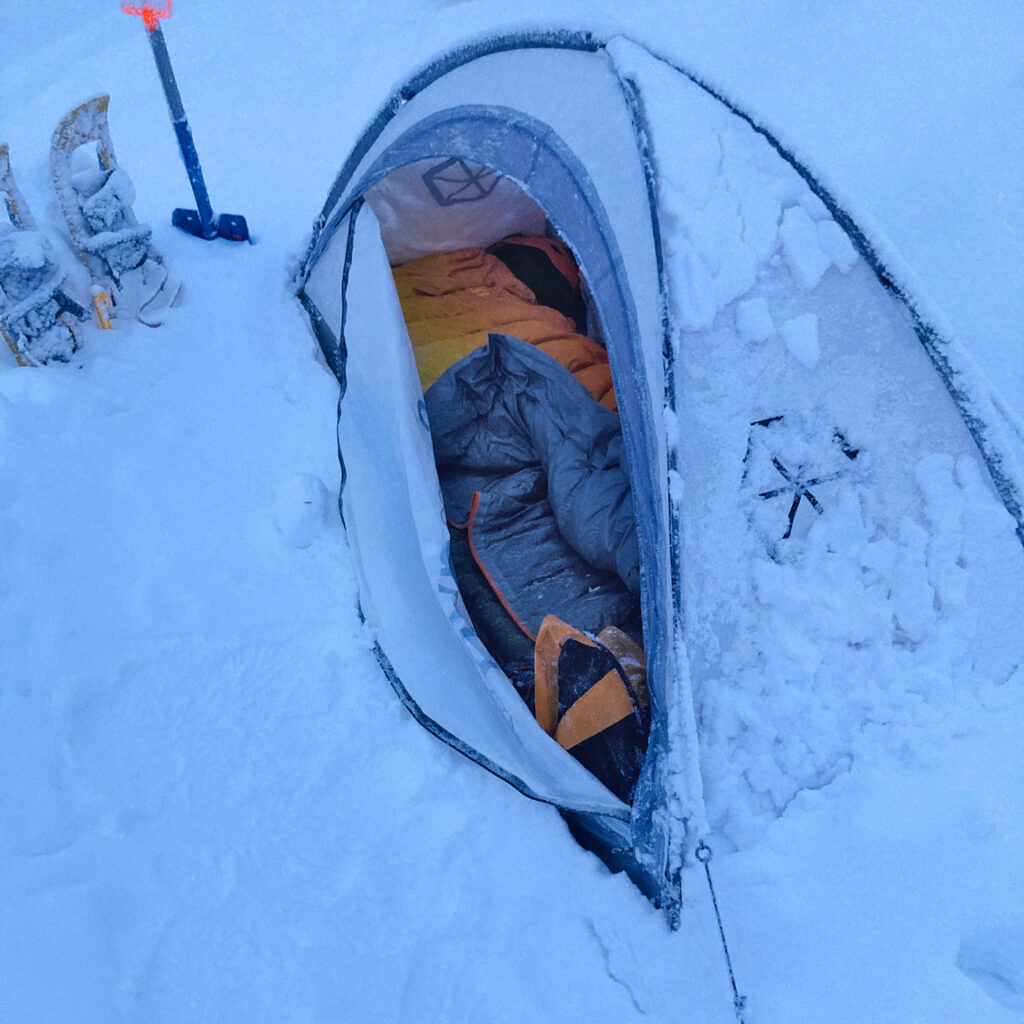 My hope is to experience the Radical1 in a variety of conditions, so I definitely want to try it when there isn't constant snowfall and especially on my longer trips coming up in the fall. That will provide an opportunity to set the tent up in more weather conditions. So, I will swing back and update this review throughout the year.
Here are a few initial thoughts
Like most of the hikers I know, I only need a 1-person tent and the 1-person x-frame designs I like are lighter (1250gm and 1357gm) than the Samaya ASSAUT2 8K (1510gm). The Samaya ASSAUT2 ULTRA (980gm) beats my preferred tents on weight by 377 grams. The Samaya ASSAUT2 ULTRA has better ventilation than the Radical1, but is unlikely to be as dry as a double-wall tent. The 377gm difference would only be worth it if another hiker would agree to share or, if as a group organizer, I needed to help someone when their shelter fails (rare, but it has happened). Typically, everyone uses solo tents and those who bring 2-person tents use them as solo tents. This leaves the Radical1 as the most attractive option in the Samaya tent lineup for what we do—especially for the longer and harder hikes.
As I understand it, this tent is designed for Alpinists to use in the climbing season. In that context, I can see that the Radical1 provides superior comfort compared to traditional bivy sacks. And, compared to all the best 4-season tents it offers a dramatic reduction in weight that is extremely desirable for long approaches. From around March–July, I will be doing hikes that are 12–18 miles per day (1200–2400m elevation gain on overall route) and camping on consolidated snow at 1800–3300m). On these types of trips I and many other hikers would appreciate the weight-reduction the Radical1 offers. For winter trips with snowfall and shoulder-season trips with rain, even though the reduced weight is excellent, the smaller space and condensation are concerns.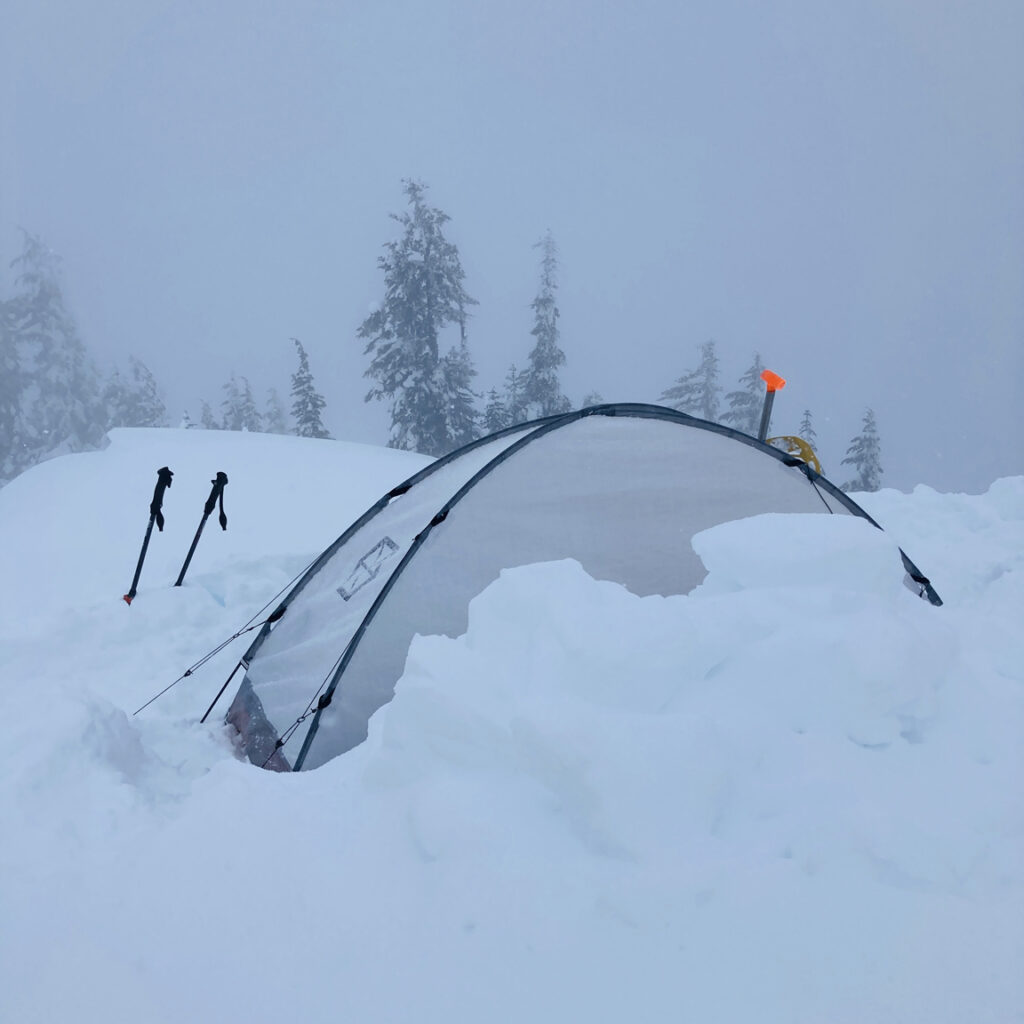 Winters have stronger winds that are more frequent than in summers. Having a easy to set up tent that is free-standing and sturdy is critical for avoiding hypothermia when you arrive at a windy ridge in sweaty gear and need to quickly change into dry camp clothing. You simply install the poles, toss your pack inside to anchor the tent and climb in. Once out of the wind, I can layer up and then go back out to finish anchoring the tent, dig a cooking pit and do other camp choirs. For this reason I have been hoping to see a x-frame design appear on the market that is lighter than the tent I have been using. This tent aims to fulfills that need.
First use experience
We headed out in cloudy conditions with light snowfall and low visibility. 1500m elevation, –7 C., 24 km wind., 25 cm of light, almost constant snowfall.
I kept the door slightly unzipped next to my face at night, but otherwise needed to keep it zipped up to stop the snow from getting in. Normally, I sleep with the tent door open at night, including in winter (sleeping bag and hot water bottle are sufficient for warmth). I only zip up the door if it is snowing or windy. The open door allows me the best wilderness experience, viewing the stars and moon-lit mountains with crisp fresh air.
By morning, the condensation in the Radical1 was significant, though not a serious problem for a one-night trip. Had it not been snowing at night, I would have had the door completely open. With a better forecast, I would still take the Radical1 out on winter trips, but not when there is a lot of snowfall in the forecast. I need to be more selective about when to take the Radical1 compared to double-wall tents. I like the large open door design and it would probably eliminate the desire to drag my pad and air mattress out of my tent on clear and moonlit nights for a better connection with nature.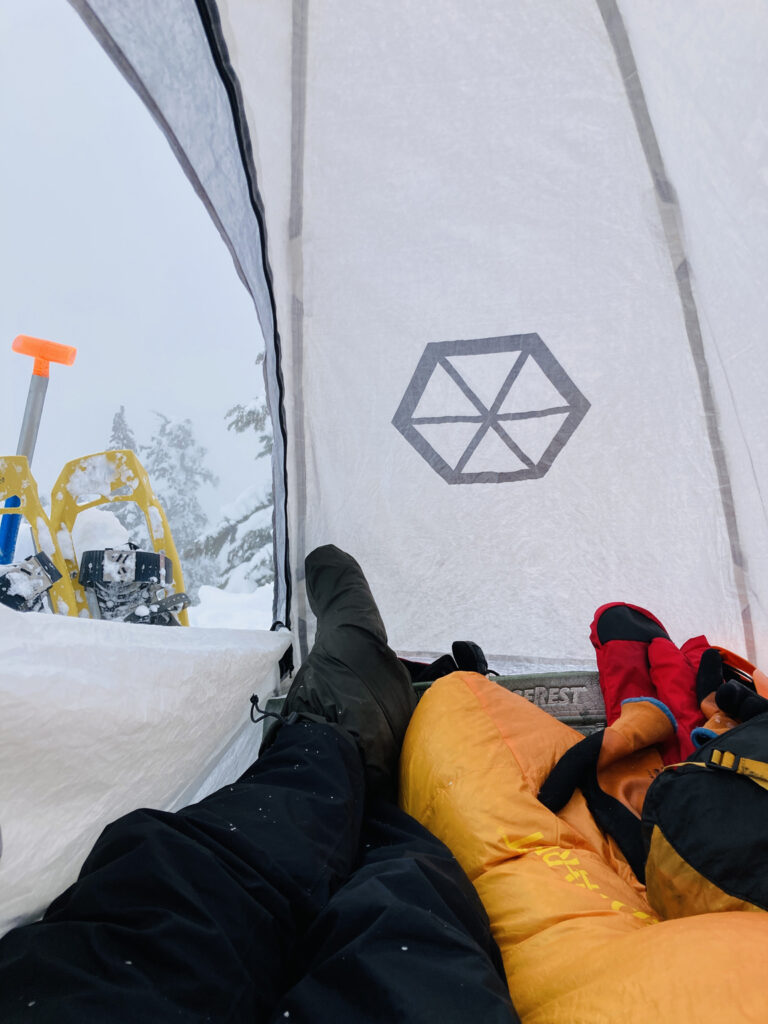 Samaya Radical 1 Weight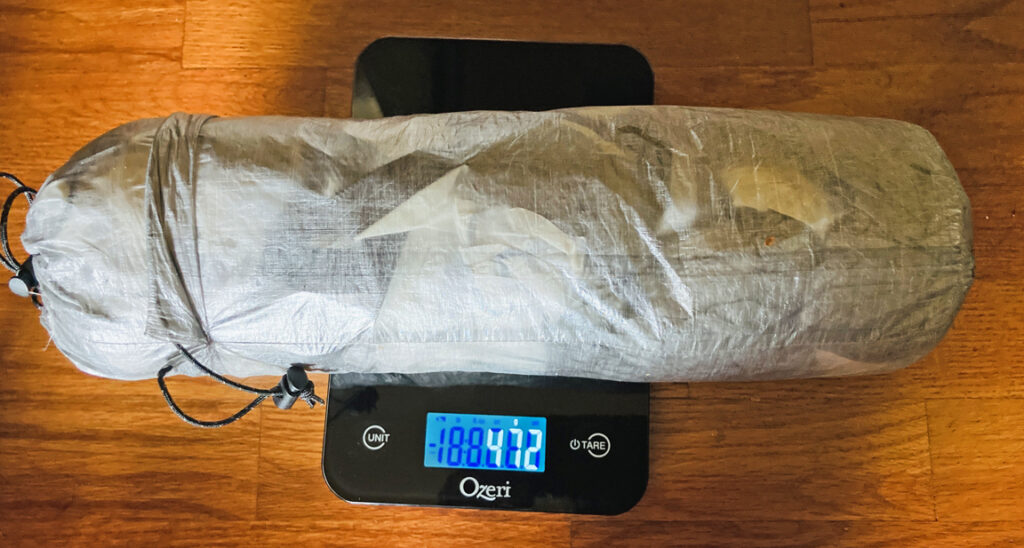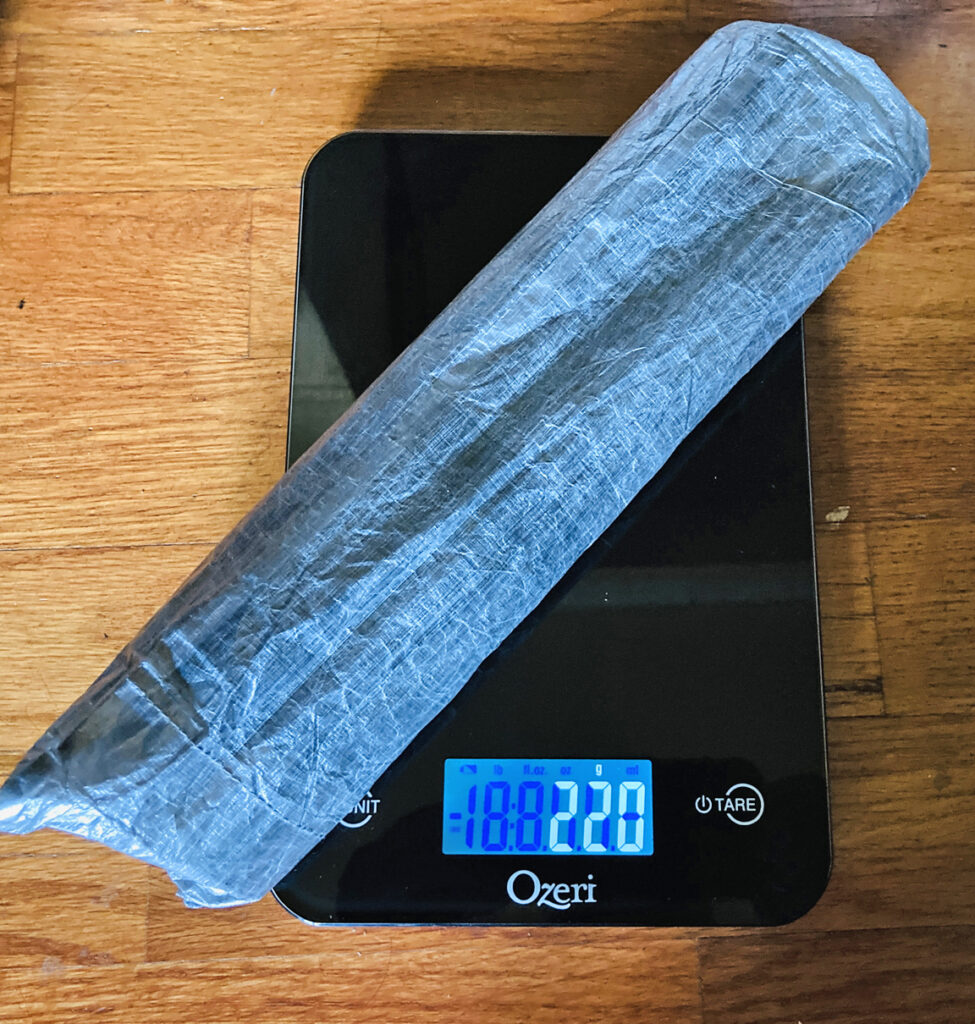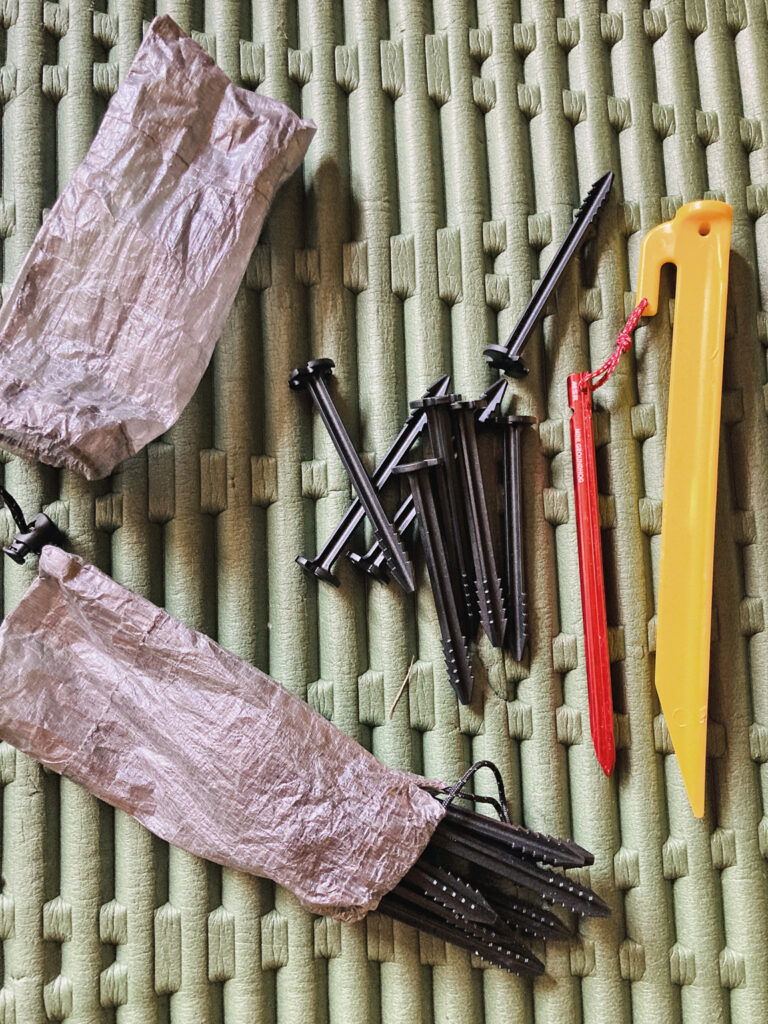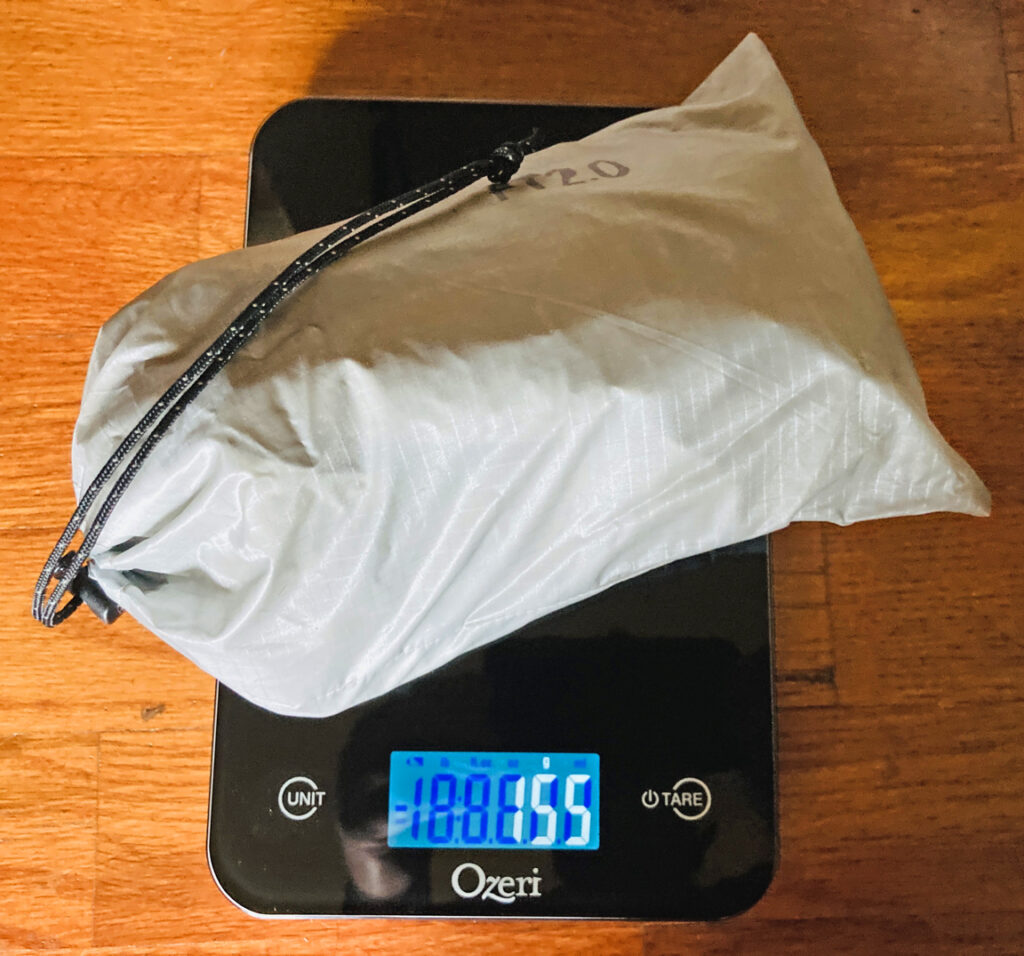 Pros:
It has impressive weight reduction for a free-standing tent. By comparison, other ultra-light Dyneema tents that require a trekking pole for set up are unstable in deep soft snow and don't offer the level of security the Radical1 x-frame design provides for high winds. In my opinion, the Radical1 is the most cutting edge alpine option in its ultra-light weight range.
It is easy to use and set up, which are critically important features in windy and cold weather conditions.
The carbon poles were warmer and more comfortable to handle in cold weather than standard aluminum poles.
The minimal footprint allows for set up on narrow ridges and other tight places.
Excellent packability. The original 2-liter bag holds both tent and poles, but it is a tight fit. Even in a 2.5–3 liter sack it is very packable.
The large side door offers luxurious visibility. For me, views determine destinations and campsite selection, and this side-door design provides maximize view enjoyment.
The simple tie-down system was easy to use and didn't require any additional utility cord for deadman staking.
Best use: I would recommend this tent for trips when weight matters most, especially long distance and difficult mountain-terrain trips in the shoulder-seasons. I would also use it for winter trips with mostly blue-bird forecasts – any trips when it is likely the door can stay open most of the time to mitigate the tight-space and condensation issues. Context or perspective is everything. If you compare this tent to most 4-season tents, you will immediately sense a loss of space and comfort, but if you compare it to Bivy sacks, which are closer in weight, it is palatial.
Cons:

Aside from the tent's expected small space and condensation, there are only a few cons (in order of significance):
Color: I sense that the white color is part of the Samaya branding or product differentiation strategy, but for the North American wilderness, especially here in the Pacific Northwest, white is problematic. Bright colors (red, orange, yellow-orange) are helpful for three important reasons: Helping hikers find their camp when returning in windy conditions (wind carries away snow tracks) and severe whiteouts, helping hunters realize humans are nearby, and helping rescuers find the camp if necessary. I assume these are less significant problems in the Alps.
The tent pegs: The small tent pegs don't inspire confidence. I would be willing to test them in some conditions, but I have 3 alternative types of ultra-light pegs that I would trust more in 3-season conditions. In deep soft snow and winter conditions there is no way these pegs will secure the tent for high winds. I took 4 Coghlan snow pegs instead for dead-man anchors and all four of these pegs fit nicely in the Samaya tent-pole sack with the poles. Maybe Samaya should offer a snow peg option. The best designed aluminum snow pegs are heavier than the plastic Coghlans, so there is an opportunity for Samaya to create a better snow peg than what is currently available on the market.
The stuff sack: The sack is too tight, the opening too small, and it lacks a quick-release handle. When first unpacking the tent, I found it was too difficult, taking too much effort and time. I was concerned the tent would get damaged just getting it out of the sack. My main 4-season tent also packs ridiculously tight into its stuff sack, but the sack has a wide opening, so the tight fit is less of a problem. Many stuff sacks have a strap or handle on the back end that you can hold with one hand while pulling out the tent with the other hand. It only takes a second in cold weather to remove the tent from that type of sack, whereas I struggled with the Samaya stuff sack for too long because there's nothing to grip. Consequently, I didn't take the Samaya sack. I used a standard 2.5-liter stuff sack instead and packed the poles separately. My normal practice is to slip the end of the tent into a 1-liter cook pot so that the cook pot doesn't take up space in my pack, so that's what I did with the Radical1.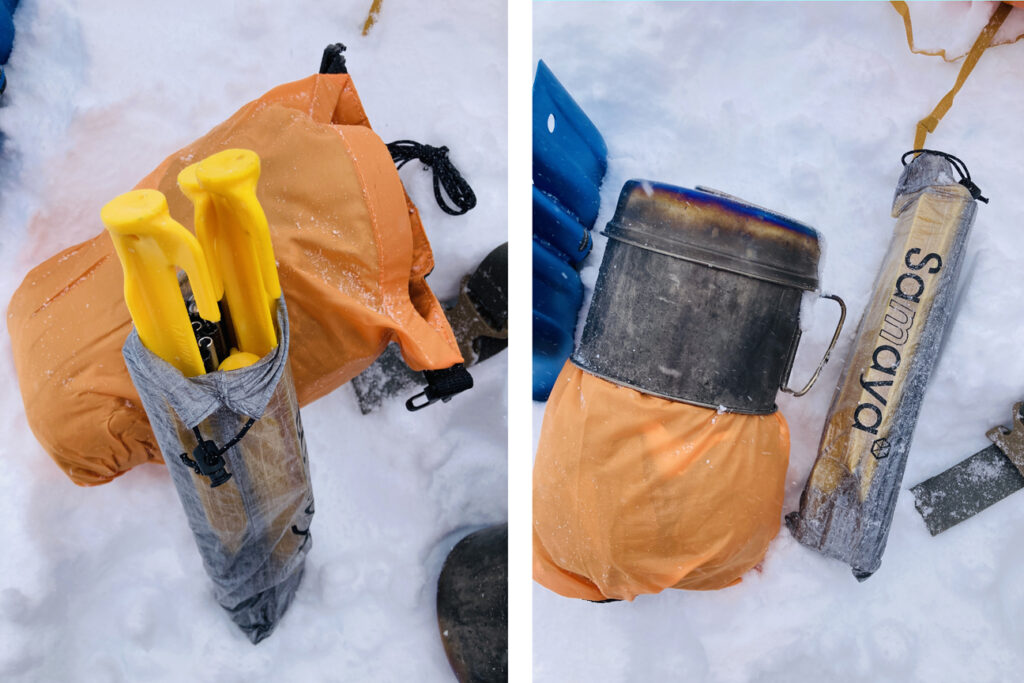 For more technical specifications, you can visit the Samaya website here: https://us.samaya-equipment.com/products/samaya-radical1
Photos from two more recent trips: