This is one of my favorites. Although it has a creamy sause it is not soupy enough to reheat easily so in cold weather it will go cold quickly. It works best in temperatures above freezing, more in the 40–50ºF range.
Ingredients
Rice noodles (2–3 ounces)
Cashews
Vegetables of your choice (A portion of Eggplant, a small broccoli crown, half a carrot, about 1/4 onion)
Tofu or Cashews
Soy, oat, or almond milk (optional)
Yellow Curry sauce
Yellow Curry sauce
You can make your own or buy it ready made. I just buy the Mae Ploy version which is made with regular ingredients and is entirely plant-based: Lemongrass, Garlic, Shallot, Salt, Galangal, Dried red chili, Coriander seed, Kaffir lime peel, Cumin, Cinnamon, Mace, Turmeric, Cardamom.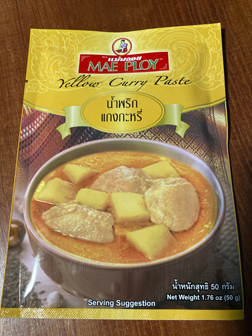 Typically, this dish includes 1.5 cups of coconut milk. Coconut milk is, of course, super delicious, but if you want to avoid the saturated fats, oat or soy milk can be used as a substitute. Whichever milk you prefer, you can pack it in an 8 oz. leak-proof Nalgene bottle. If you want to avoid the weight, you can also just use water because the curry has plenty of flavor on its own.
For the batch shown in this video, I made a 2 oz. serving of Cashew cream sauce. This was made by grinding up cashews, garlic, and oat milk with a hand blender. You'll get creamier results with a higher speed blender.
Prepare at home
Chop vegetables and mix in bowl with olive or sesame oil.
Roast chopped vegetables in oven (pre-heat to 400ºF)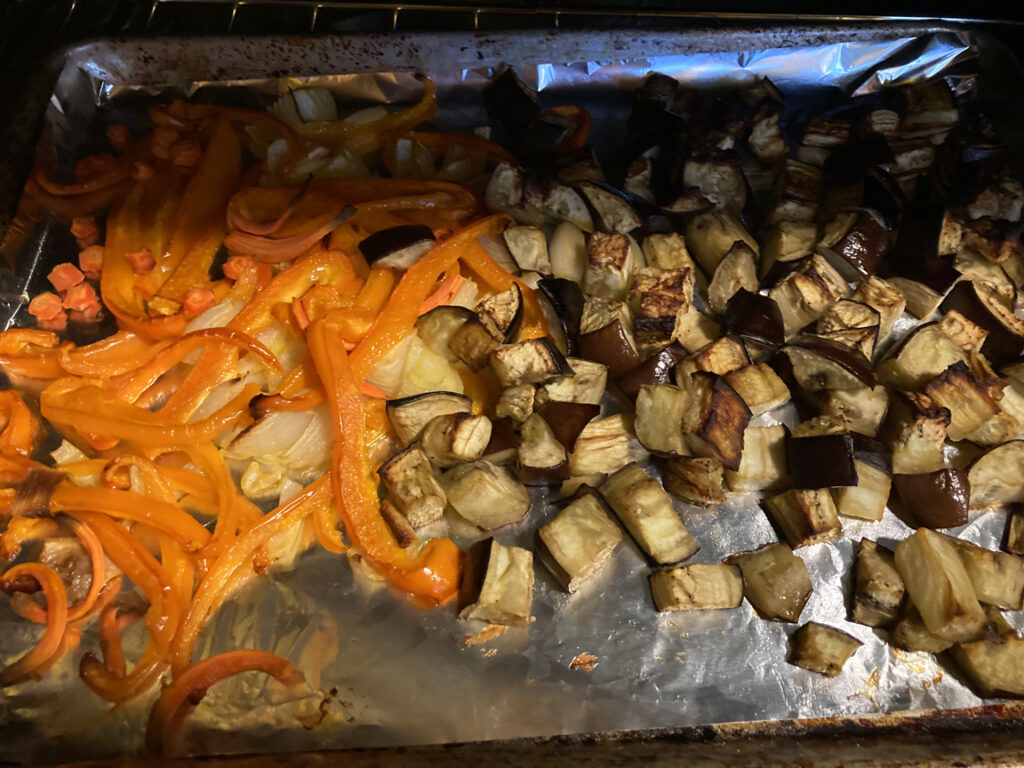 Roasting vs Dehydration
For this dish I roast the vegetables, which only partially dries them out. There's a difference between roasting vegetables and dehydrating them. Roasting requires a higher temperature, such as 400ºF. If you want to dehydrate vegetables, use a low temperature such as 140ºF and leave the oven door open slightly to allow the moisture to escape. Dehydration time will depend on the density of the vegetables and the chop size. Check it after the first hour and then again every half hour until the vegetables are dry (2–3 hours). You may want to blanch the vegetables if you are not using frozen vegetables. Roasted vegetables taste better in my opinion, mostly because of the olive oil, and can be added to the sauce and quickly heated and eaten. Dehydrated vegetables should be added while the noodles are cooking so there is time to rehydrate. Roasting is preferably for the added flavor, whereas dehydrating is better for reducing weight and extending shelf life.
Directions at camp
Boil noodles
Add sauce
Add vegetables (If raw, about 1 minute before the noodles are done. If roasted, add when noddles are done).
Add Tofu or Cashews

Enjoy.
Weight